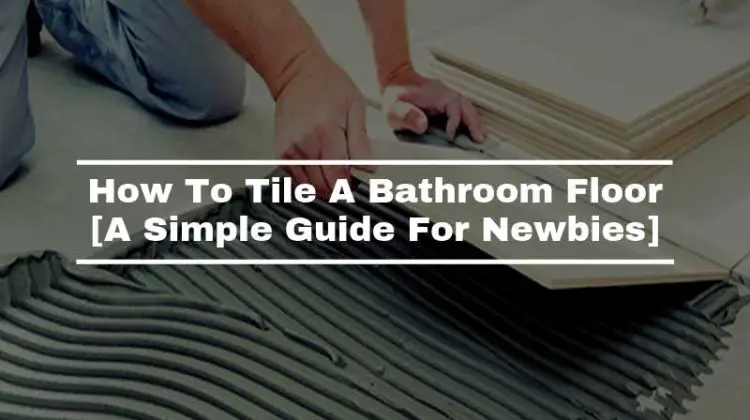 The bathroom is one of the most frequented areas in the house. That's why keeping your bathroom on point should be a priority; if you don't, you will soon realize bad smell, mildew, and even molds around your bathroom.
One way to give your bathroom the best face lift is to install the best floor around it. However, many homeowners find this rather expensive. But what if I told you that you could lay new flooring on your bathroom all by yourself?
Well, it is very possible. In this post, we are going to show you how to tile a bathroom floor using the simplest guide possible. Our guide is super helpful for starters and also experienced homeowners. It will help you to save a lot and still have one of the very best bathroom floors around your home.
Here is the best step by step DIY guide for bathroom floor tiling.
​
how to tile a bathroom floor : step by step guideline
Step I: Measure Your Bathroom's Size
Use a tape measure and get the exact dimensions of your bathroom. This will help you to determine the exact number of tiles that you will need. It will also help you to quantify the mortar, backing board, and grout that you will need.
Working with a definite estimation will make your work really easy and extremely fast when you start. It also reduces the risk of running less on other materials and having to blend in a mismatch.
Step II: Prepare the Underlayment Set
Many people will ignore this. But you should care to know that when looking at how to install a bathroom floor preparing an underlayment is vital. A cement board underlayment to sub-flooring will give you a sturdy and highly leveled surface.
This will make a durable surface for where bathroom tiles can be set. You can use the best-wet tile saws to cut sizable panels that will be super ideal when setting up the bathroom fixtures that you have.
Step III: Lay the Underlayment Setup
To attach the underlayment set up on the bathroom floor, you will need a drill and a driver bit. This will help you to attach the backer-board screws to the subfloor's underlayment. Make sure your screws are spaced in about 6 inches apart and that their heads are flashed with the subfloor.
Step IV: Choose Your Tiles Layouts
This should be really simple as you have already determined your colors. While some people will prefer a contrasting layout, others might choose to go with the same design. Here is what you must know when choosing layouts to use: –
Use tile spacers – they will help you to determine if tiles are square and evenly laid out.
If you choose a contrasting layout to ensure you start by laying the edges of the room first.
Ensure the tiles are well positioned to minimize the visibility of cut tiles as much as possible.

Finish laying out full-sized tiles first before measuring the sizes of tiles that must be cut.
Step V: Choose the Tiles to Be Cut and Cut Them
From your best tile saws buying guide choose the right saw that will give you a symmetrical cut necessary to leave your bathroom with the very best finish ever.
Step VI: Place in the Cut Tiles as Measured
Because you need a neat finish, you should place the cut tiles in such a way that they fit in evenly and leave an appealing layout to the eyes.
Once the layout is right for you, you can remove the tiles and apply a thin layer of mortar over the subfloor underlayment.
Do this in small parts and replace the tiles. Use the spacers to keep the tiles to a position. This can be done using a notched trowel.
Step VII: Leave the Mortar to Dry Up
Give the mortar and the tiles time to dry. A 24-hour period is often very ideal. Do not remove the spacers during this period too.
Step VIII: Apply Tiling Grout to Floor
Once you have confirmed that your tile and mortar is dry, you should mix the grout as directed by the manufacturer and apply it to the floor. Remember the following tips when doing this process.
Remove tile spacers
Mix your grout as directed by the manufacturer
Use the grout float to fully fill the spaces between tiles.
When the grout is completely applied, you will notice certain excess spillage above the floor. Take a damp sponge and wipe off this excess grout. Do this until your bathrooms floor is left clean, smooth, and leveled.
Step IX: Apply Your Grout Sealer
The one thing that many people tend to forget how to install a bathroom floor with tiles is the need to seal the grout. Leaving your grout exposed to water will easily damage the grout and remove in a short while.
You must, therefore, apply the best grout sealer. Sealers can be bought in the local hardware. And using a grout sealer will give your bathroom floor the best finish, protection, and reduce on the staining.
Additional Tips
Excess grout, when left on the tiles, will bring about a "grout haze" that's often difficult to wipe off and leave the floor with a sleek touch. It's also very important to remember that grout once applied can be walked on within 24 hours. However, it will take several weeks to fully cure – a grout sealer will help.
Required Tools and Materials for this Project
Tile spacers

Tile Saws

Notched Trowel

Backer-board screws

Cordless drill

Damp sponge

Tile underlayment

Thin-set mortar
Conclusion
I guess now your job is easy. You can always count on this guide if you are looking for how to tile a bathroom floor. It is simple, and you will have the best floor in no time. Don't worry about losing edges of the floor you can always tighten this if you are working on an old vinyl or wooden floor.
Also Reviewed – In case You may check that out