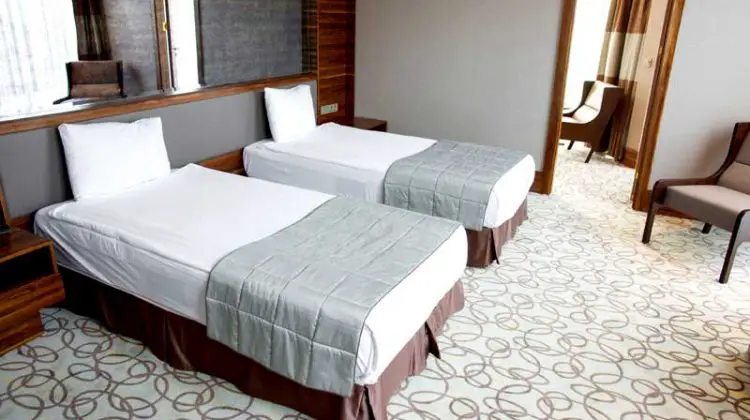 Gone are the bulky, unfeasible and expensive beds for overnight guests.
If your home has no designated guest room but still needs to host a couple of guests, why wouldn't you give space-saving temporary beds some thoughts?
But which is the best temporary bed for guests that will fit your decor, functionality and budget?
If this question is top of your mind, this space-saving guest bed reviews will help you.
Below, you'll find an in-depth review and complete buying guide on how to pick the right beds for your needs.
Read along!
Our top recommended temporary guest bed comes from Inofia. This folding guest bed with 5″ mattress ensures comfort and support for night sleep. It's space-saving, easy to assemble, and folds in half, which makes it a real space saver. Overall, this bed is well-built and reliable that's unlikely to disappoint you.
Our choice for the best budget-friendly option is the milliard tri-fold foam folding mattress and sofa bed. It's inexpensive yet comfortable for several purposes and, of course, sleeping. It's also one of the best portable travel bed for adults. Made out of CertiPUR Certified high-density foam, it's s an elegant alternative of traditional full-size sofa beds. Overall, it's the ultimate in comfort solution at an affordable price.
Best Temporary Bed For Guests- Quick Comparison Chart
In a hurry? Here's a glimpse of the eight best options you can get.
You'll find out more about these products in the detailed reviews below.
Reviews of The Best Temporary Bed For Guests- 8 Top Options
Finding the best temporary guest bed is challenging. We've scoured the market in search of the best temporary bed for visitors. And finally shortlisted to 8 top options.
In this list, each product is outstanding in terms of quality, durability and price. They are not only functional but also trendy to bring some style into your home.
Check it out!
1. Inofia Folding Guest Bed
Inofia is the most luxurious folding bed available and our top pick on this shortlist. This portable folding guest bed overcomes the drawbacks of conventional bed mattress which is bulky and difficult to store.
So, why this rollaway guest bed stands above the rest?
Let's find out. 
Space-saving, foldable design
This twin size bed measures 38-in. wide and 75-in. long when extended. The size is certainly large enough for a person to use. But once folded up, the frame along with the 5-inch mattress takes only room as small as 44 x 38 x 13.5 inch. This makes it a perfect solution for homeowners with small spaces.
Strong metal construction
Constructed with the tubular-metal frame, this thing is remarkably hardwearing. The metal frame is coated with environ-friendly painting, making it safe to use. Moreover, it's rust-proof for long term use.
Memory foam mattress included
This includes 1.5-inch memory foam over 3.5-inch high-density supportive base foam. That means your guest will experience superior comfort on it. Moreover, the mattress is neither too soft nor too hard. It conforms to the body curve to ensure the right support and comfortable sleep on it. The zipper cover is a nice addition that makes the cover removable and washable.
Lockable wheel for mobility and stability
This portable bed comes equipped with rolling wheels that make it super convenient to move anywhere you need. Of course, the wheels are of high-quality and flexible to move around. Importantly, the wheels allow you to lock the bed in place. 
Worry-free purchase
What's more, it boasts a 5-year limited warranty that implies the manufacturer's trust in the quality of their product and is willing to stand behind it.
We recommend this Inofia folding rollaway bed because of its ease of use. Of course, the installation is straightforward and very fast. If you're looking for a reliable and space-saving bed for sleepovers or guests, don't miss it. Overall, it's an excellent extra bed that worth the price!
2. Milliard Tri-Fold Foam Folding Mattress and Sofa Bed
Who says that you've to spend a fortune to get the best temporary beds for sleepovers or guests?
Not Milliard! This folding sofa bed foam is a brilliant pick if you're on a tight budget. This is excellent for a portable sleeping or sitting solution.
Let's explore right through it.
Alternative to an air mattress
This thing unfolds in seconds with minimal effort. What's more, it's also excellent for use on the go as a "Take along Mattress" for RVs, camping, treehouse, or anywhere else where space is limited. Of course, it's lightweight, compact and portable enough for use while travelling.
Dual function mattress
Guests for the night? No worry!. This Tri-Fold Foam bed is perfect for what you need. When not being used for sleep, you can fold the mattress to a comfortable couch- a perfect option for lounging, or video gaming or reading a book.
Space saver design
This folding tri-fold mattress offers excellent storage solutions. No need to store it in the attic space! The space-saver design allows you to tuck away it neatly under the bed or in the closet.
Plush firm foam
The 4.5″ foam construction provides unmatched comfort when sitting or sleeping.  On the floor, it offers firm yet comfortable support even for side sleeping. This high-density foam won't sag or flatten with two adults lounging on it.
Special attention to safety
This foam is CertiPUR Certified. That means there is no CFCs, heavy metals, lead, or ozone depleters. You can rest assured it's safe to use and doesn't affect your indoor air quality.
3D mesh cover
The mattress comes equipped with a 100% polyester 3D mesh cover. The removable cover is machine washable and easy to care for.
In summary, Milliard Tri-Fold Bed is a simple but elegant alternative of full-size sofa beds that serves double-duty. It comes at a very reasonable price among the cheap options in our shortlist.  If you're in search of a dual-function bed, then this option by Milliard is a worthy choice to consider.
Definitely worth the price.
3. Zinus Memory Foam Resort Folding Guest Bed
Next up, we have this most luxurious guest bed from Zinus. The Zinus resort folding bed will provide you comfortable and healthy sleeping solutions while remaining portable and cost-effective.
It's very convenient to use for family dens, or small apartments, since you quickly set it up in confined areas, and then stow away when the floor needs to be cleared.
Here's what makes this guest bed stand out.
Durable solid steel foldable frame
This unit features a solid steel frame with matching fabric to enhance its looks. Moreover, the heavy-duty steel construction adds to its longevity. Usefully, you can fold the frame and mattress together to store it away.
Wheels for easy mobility
The wheels on the frame allow you easy mobility within the house. The strap and hook are the excellent additions to keep the bed securely folded in half during storage.
Designed for ultimate comfort and support
Zinus memory foam guest bed relies on 5-inch mattress to provide both support and comfort to your guest. The 4-inch base layer gives your guests plenty of support for their back. On top of that, the 1-inch memory foam gives your guests a comfortable night's sleep.
Special attention to safety
The Zinus mattress uses non-toxic, lead-free material to assure you about the safety of use. In fact, the Certi-PUR certification means that it's safe and enviro-friendly. Importantly, the green tea extract and antioxidant helps your guest sleep fresher.
In essence, Zinus folding guest bed will undoubtedly match your requirements of twin size, comfortable mattress, sturdy construction, and easy to manage. No doubt, you'll feel that you get your money worth investing in this high-quality rollaway guest bed.
4. Jay-Be Saver Folding Bed with Airflow Mattress
If you're looking for a folding bed at an affordable price, then this option from Jay-Be may fit the bill nicely. For those who don't know Jay-Be an award-winning, ISO 9001:2008 accredited manufacturer.
The Jay-Be Saver is a folding bed for guests and a top-quality choice when you have little space to dedicate to guests. It comes with the most reasonable prices on the market, but still provides a variety of useful features.
Let's find out more.
Airflow fiber mattress
This Airflow fiber mattress certainly gives a lot of comfort to your guest. The innovative open cell structure of the foam allows it to air circulate, ensuring that the mattress stays fresh for longer.
J-Tex sprung base system
The Jay-Be Saver offers real bed comfort with maximum convenience. The nice aspect is there are no bars running underneath. Instead, it features a durable mesh base attached to the frame. The mattress works in harmony with the J-Tex sprung base system for complete support and comfort.
Strong steel frame
The durable steel frame ensures the performance for a suitable length of time. Moreover, the Steel Frame has a powder coat paint finish that adds the durability of the product.
Compact for easy storage
Store this portable guest just about anywhere! The compact folded dimension lets you slide it away under a bed or into a closet. You can even fit it in the trunk of a car.
Complete quality assurance
Like other products of Jay-Be, this portable bed is also designed and manufactured to the highest standards. It's rigorously tested for safety, stability and durability. It meets or exceeds U.S., British and European safety standards.
For budget-conscious shoppers, Jay-Be saver folding bed is an economical option. Considering the price, it's an excellent extra bed that is much preferable for guests than a blowup air mattress.
5. LEISUIT Portable Folding Guest Bed
Here's another excellent portable folding bed for spare bedroom & office. Leisuit Cot Fold Out Bed is a simple and comfortable sleeping solution for overnight guests. It is long enough and comfortable for a tall adult and narrow enough to fit in a tight space.
Its features include:
Sturdy metal tube frame
The all-metal frame is robust and heavy-duty to provide extreme support. It handles safely up to 300 pounds of weight capacity. Moreover, the robust spring system provides excellent support for comfortable sleep.
Comfortable sleeping surface
The bed comes included with 3 inches memory foam mattress for good night sleep. Additionally, the high-strength 600D oxford cloth support provides more elastic and more comfort.
Quick assembly
You can assemble this bed in several minutes. No tool required! Assembly instructions are clear and easy to follow. The design also allows you to fold it easily when you're not using it. Usefully, the compact folded dimensions won't take up too much space for storage.
Above all, this cot-sized folding guest bed is a deal-breaker for temporary sleeping surface. It's worth checking out while searching for the best fold-out bed with mattress.
6. Milliard Diplomat Folding Bed
Are you looking for a temporary sleeping arrangement that's actually comfortable? Then, you can rely on Milliard diplomat folding bed to provide the ultimate sleep experience to your guests. Sleep comfortably on this luxurious memory foam mattress bed without tossing and turning and awake refreshed and rejuvenated.
Here's a closer look at its most notable highlights.
Exceptional support
No sagging that commonly found in other folding beds! Yes, with the high-quality full-steel wire lattice frame and stabilizing legs, this bed gives you the stability you can trust. Of courese, the reinforced and overbuilt construction ensures maximum sturdiness that will last you through years of use.
Soft, luxurious comfort
Gone are the days thin, flimsy mattresses! Milliard offers you the folding bed with a real foam mattress. The 4-in. base support foam and 1-in. memory foam provides you the soft and luxurious comfort for night sleep. This thing also features fireproof fiberglass protection. There is also a non-slip bottom to make using the mattress hassle-free.
Bonus mattress cover
The inlcuded soft polyester cover is a bonus. The cover is easy to toss into the wash for a fast clean.
Practical design
Milliard diplomat bed is not only sturdy and comfortable but also functional. It's surprisingly easy to assemble. With all tools provided and clear, illustrated manual, you'll require only 5 to 15 minutes to make it ready to use.
When folded, super slim thick profile
Using and folding has never been easier for a folding bed! It folds up to a 14-inch thick profile, making it easy to store when not in use. What's more, there are clasps to help both sides together.
360° pivoting smooth casters
The pivoting casters let you easily move and store the bed anywhere. When stationary, two wheels lock in place for stability and peace of mind.
Obviously, Milliard Diplomat a highly-recommended guest bed, especially for the purposes for which it's intended. Everything about this temporary bed as fas as construction, durability, comfort level and portability, etc. is fantastic.
7. LUCID Rollaway Folding Guest Bed
Beautifully-designed Lucid roll cot is built for the on-the-go lifestyle. It's a perfect and comfortable solution when it comes to accommodate an extra guest at night. It's easy to fold and unfold, very comfy, rolls excellent, and very compact when folded. Thanks to its folding and wheeled design.
Let's dig deeper into all of its WOW features.
Supportive and comfortable mattress
You don't need to compromise comfort for convenience. Licund temporary bed features 3-inch supportive base foam. On top of that, there is a 1-inch top layer of conforming memory foam. This 4-inch foam construction offers medium-firm comfort for night sleep. The mattress includes a Zippered mattress cover that is easy to remove and wash.
Non-slip textured surface
On the bottom, there is a non-slip textured surface that helps to keep the mattress in place on the platform. It also makes the bed easier to fold up after use.
Spring-supported deck
One of the nicest things about this thing is that it has no uncomfortable cross beam to poke you in the back. Instead, the mattress rests on a sturdy deck. It's quiet and eliminates the discomfort of bars and slats.
Heavy-duty frame
The well-built and robust bed frame not only adds to its durability but also gives nice support. The frame comes with an impressive 10 years warranty.
Dual locking casters
No worry about any unexpected movement of this bed in the middle of the night or shifting in storage! The double-locking casters ensure that it stays stationary. Of course, the rolling wheels offer effortless transport and roll into the closet for simple storage.
Tool-free installation
Setting up this guest bed is quick and painless. From unboxing to unwinding, it takes only few minutes.
In a word, for unexpected houseguests and unprepared slumber parties, the LUCID rollaway folding guest bed is the simple sleep solution.
8. Smile Back Folding Guest Bed
We all want to offer a comfortable sleeping surface for our overnight guests. We also don't want to compromise with quality for convenience. Smile Back offers this excellent-quality folding bed to meet all your needs.
This guest bed comes with the following amazing features:
Stable metal frame
The bed frame is not only high-quality and strong enough to hold up to 220lbs. It also uses eco-friendly painting to make the product safe to use. Importantly, the distinctive design of the platform makes it more durable than the spring deck and more stable than wire mesh.
Back comfort, make you smile
For a more comfortable experience, this bed includes extra more 50% memory foam to offer you the ultimate sleep experience. The 1.5″ memory foam and 3.5″ base support foam works together to support your head and neck to ensure comfort.
Super simple assembling
The well-thought design makes it perfect for people who want an easy to assemble the guest bed. You won't need any tools to put it together. You'll only need about 5 minutes to install it.
Space-saving design
It's a nice choice for a small apartment or any place where space is a concern. The foldable design is perfect to meet the needs of timely sleep. Additionally, it's convenient to store.
Overall, it's a nice choice for people who have been looking for a durable, comfortable and space-saving extra bed. It's worth your purchase.
Best Temporary Bed For Guests- Buying Guide
Choosing a proper temporary bed for visitors is not an easy task. To be exact, you need to consider your space availability, material, and design.
We want you to feel confident while buying space- saving guest beds. If you still don't know what to look for buying the best folding bed, we're here to help you.
We'll discuss here some factors to consider so that you can feel confident that your decision was fully informed.
It's a determining factor when searching for the right folding guest bed. Check the extended width and length of the bed according to your preference or requirements. Also note that if you have more than one guest, it's wise to go for a temporary double bed.
Similarly, it's essential to check the dimensions once the bed is folded. If storing space is a concern for you, go for the most compact foldable bed. Some folding beds are super compact when collapsed to put under a bed or into a wardrove for saving space in your house. If you plan to buy a temporary double bed keep in mind that due to its larger size, you may need more space to store when not in use.
A thick mattress will provide maximum comfort to your overnight guests. Temporary guest beds come with mattress with various thicknesses: 2 inches to 6 inches. Some models come equipped with memory foam mattresses. Consider what you need.
Buying a temporary guest bed is an investment, so it should be sturdy enough to last at least a few years. Moreover, your guest needs to be safe while he/she is asleep. Hence, make sure the temporary bed frame is durable and well-built. We recommend to go for the model that features a steel frame for extra durability and support.
You should not overlook this feature if you feel moving the bed to storage is a pain by yourself.  Look for a model that features rolling wheels. It'll greatly help you to move the bed to storage.
Another important thing is to make sure how easy the bed is to extend and collapse without any help. We recommend the models that take only a few minutes to open and close
Look for the mattress that is made of breathable materials and hypoallergenic. CertiPUR US certified mattresses meet the rigorous safety standards.
Price of a folding guest bed depends on its frame quality, mattress type and other features. Temporary beds with conventional innerspring mattresses come with lower price tag. On the other hand, memory foam mattresses come at a higher price range.
Conclusion
That's all.
Hope, any of this shortlisted best temporary bed for guests will fit your budget, decor and functionality.
We love these portable beds, and we hope you'll also agree that they are the best temporary solutions for overnight visitors. 
We've covered them in detail to well-inform you to determine which one is right for your needs.
Now it's time for you to make a decision.