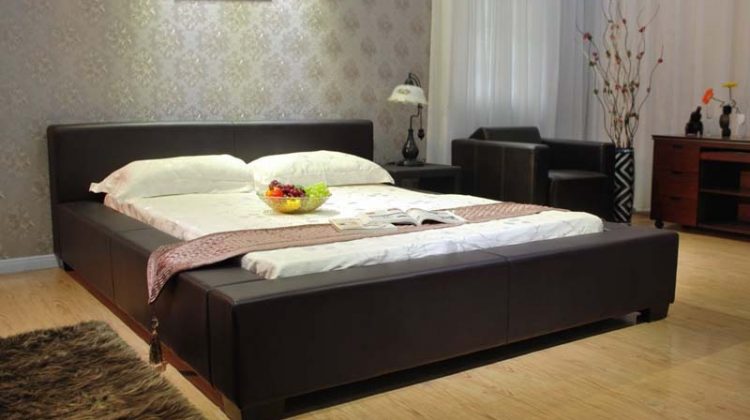 Looking for the best solution to put your mattress without having to sacrifice the comfort, functionality and style?
Don't you want to spend megabuck to enhance the vibes in your bedroom?
Then, adding a simple platform bed is just unbeatable.
Yes, you heard that right.
A platform bed is an easy and affordable option to support your mattress. Moreover, it'll make your mattress comfier. Importantly, it helps to prevent mold from forming underneath.
But which are the best platform beds to buy in 2021?
Stay along with this best platform bed reviews to find the top options if you aren't sure of the product that best suits your needs.
Zinus Shalini Upholstered undoubtedly deserves to be the best overall platform bed on our list in terms of value. It provides not only the perfect base for your mattress but also outstanding comfort to you. It has earned numerous positive feedback for its sturdiness, high-quality design, and reasonable price.
Home Life Premiere platform mattress frame is best for anyone on a budget. It's an affordable and easy-to-assemble platform mattress frame. We're surprised by its several small details that are not always found in platform mattress foundation available at this price: upholstered with premium polyester linen, metal studs and sturdy hardwood slats.  We think this platform bed is a good and practical choice for anyone apt to the expensive appearance of the classic headboard.
8 Best Platform Beds-Comparison Chart
For our impatient readers, we've compiled all the essential specs to help them to decide quickly.
** Weight Limit – Excluding mattress weight
8 Best Platform Beds – Detailed Reviews
Selecting the right modern platform bed is quite challenging. Hundreds of brands and models available in the market can be overwhelming for you.
But don't panic!
In this post, you'll find 8 best platform beds under 500 to get.
We've tried our best to test, research and evaluate them to recommend you a great looking and comfortable surface for your mattress.
Check them out!
1. Zinus Shalini FDPB-Q Upholstered Diamond Stitched Platform Bed
Zinus has always been outspoken about its mission – to bring the comfiest mattresses, bed frames, and sofas to homes across the world. Shalini platform bed is one of the best comfort innovations from Zinus.
For resting in comfort (of course in style!) every night, Zinus platform bed is a perfect match for your favorite mattress.
Shalini FDPB-Q is a top contender in the modern platform mattress foundation field. This thing is expertly designed to be simple and easy-to-enjoy every single day.
How good is it?
First of all, it supports any mattress without the use of a box spring. The closely spaced strong wood slat is reliable for your spring, latex, memory foam, or hybrid mattress.
Secondly, the foam-padded headboard helps you experience the comfort of a luxurious night's rest. Additionally, the dark grey upholstery with diamond stitching and button tufting makes it a stunning centerpiece in your bedroom.
Plus, the low profile footboard frame offers a 14-inch height with a 7-inch of under bed clearance space. Usefully, this under bed storage space is convenient for storing extra odds and ends.
Shalini upholstered bed frame comes equipped to your door with everything you may require to put it together. Thus, this thing will save you headaches, hassle and best of all, time!
The exposed feet ensure maximum support. Moreover, the knitted polyester fabric and steel frames add to its durability. Plus, the 5-year limited warranty brings peace of mind. It's also available in full and king sizes.
Overall, Zinus Shalini is a very elegant upholstered bed frame that is ideal for your bedroom transformation. You can't go wrong with this choice.
2. DHP Dakota Upholstered Platform Bed, 4027009
Finding best platform bed with drawers?
Then it's worth checking out this platform frame from Dorel Home Furnishings. It's the right space-saving sleeping solution for your bedroom.
The stylish and space-saving design gives the functionality you need. Thanks to the two- drawer system that offers you extra storage options. If you set it in your child's bedroom, certainly this will provide you with more toy storage. Of course, in your room, it'll be a place to store out-of-season clothing or extra bedding.
This gorgeous piece of furniture will give you not only style but also coziness you're looking for. This platform works well with coil mattresses and Signature Sleep memory foam mattresses.
What's more?
The upholstered headboard with button tufted faux leather adds a contemporary chic look to your bedroom decor. Of course, the padding upholstery offers extra comfort.
The bed is designed to infuse comfort with durability. The sturdy wooden slat and metal side rails ensure extra support and stability.
This product is available in brown and white faux leather colors to match your home decor. Three more sizes -KING, TWIN and FULL- are also available to fit your needs.
DHP Dakota Queen bed frame with headboard and storage drawers brings both comfort, functionality, and value to every sleeping space. Overall, it's a small space solution for your home.
3. Classic Brands Mornington Upholstered Platform Bed, 121804-5260
If you're looking for a stylish but functional upholstered platform bed, then this design by Classic Brands will comfortably meet those expectations. It's one of the best platform bed with high weight capacity.
The frame, foundation and headboard of Classic Brands Mornington are an all-in-one solution. It's a fashionable alternative to a contemporary box spring. The classic styling is perfect for modern bedrooms.
The sturdy and durable construction of Mornington adds unparalleled support to your heavier mattresses. The wooden slats form a solid base for your mattress, ensuring even weight distribution throughout.
Classic Brands Mornington is a decorative way to give your mattress some extra support. The sturdy center support system is what really differentiates this bed frame from others. Of course, the 8-inch supportive plastic legs support this low-profile bed frame.
The rectangular inlay headboard comes upholstered with exclusive button-tufted fabric. The fabric is soft to touch and instantly updates the look of your bedroom. Undoubtedly, you'll love the way this headboard enhances the appearance of your bedroom.
Classic Brands obviously has designed this particular bed frame with easy assembly in mind. You can put it together in less than an hour. Plus, all the tools, instructions and parts come packed in the back of the headboard in a zippered compartment.
All in all, the Mornington upholstered platform mattress foundation is a well-constructed and reliable option that's unlikely to disappoint you.
4. Zinus Lottie Upholstered Platform Bed, FSPB-K
Zinus Lottie square stitched upholstered platform bed allows you to order up a magical night of sleep or place to rest your feet.
This smartly designed bed frame is modern and classy that looks fabulous in any bedroom decor. Moreover, it's expertly engineered to support any Zinus mattress.
The wooden slats and steel frames work together to offer you a sturdy and stable sleeping surface. Usefully, there is foam-padded tape added to the steel frame to ensure noise-free use.
The stunning look of square stitched upholstery will transform your bedroom. The headboard provides a classic framework for your mattress and adds softness.
Furthermore, the low profile footboard style frame and exposed feet add a bit of understated modern flair to your bedroom decor.
You'll find all parts of the platform bed in the zippered pocket or compartment that come 100% packaged in the backside of the headboard.
Way cool!
Finally, this bed frame has a worry-free 5-year limited warranty. And, it's also available in Queen, twin and full size to meet your needs.
All in all, Zinus Lottie is an excellent King size bed frame with headboard. It's a great upholstered platform bed for a great price!
5. Home Life Premiere Classics Platform Bed, YY129
If you prefer a high headboard platform bed, then this design from Home Life is a top choice to consider. The 51″ tall classic headboard of this Premiere Classics bed frame adds an expensive appearance to your bedroom.
Its tufted button modern silhouette lends a kick of elegance for a variety of bedroom styles. Moreover, the silver beads along the wings are an elegant and nice touch without making it feel garish.
What's more, the wooden slat construction is sturdy and durable enough to support a maximum weight of up to 500 pounds without any trouble. Of course, it allows less sagging and better support for both memory foam and inner-spring mattresses.
The adjustable knob in each individual "foot" is not only a bonus feature but also absolutely necessary. This ensures your bed sits level.
It's worth noting that this product comes in two separate boxes. Of course, it comes with everything to make installation a breeze.
Finally, this bad boy comes in a variety of vibrant shades to fit the decor of any space. And you can choose from QUEEN, TWIN, FULL, KING size to meet your needs.
To summarize, Home Life Premiere Classics YY129 is one of the best upholstered platform bed with high headboard. It's beautiful, sturdy, stable and surprisingly affordable bed platform. It looks like an expensive piece of equipment. Taking into consideration its appearance, durability, construction and price, it's the best bang for the buck.
6. DHP Janford Upholstered Bed, 4156049
This is yet another inclusion from DHP Janford 4156049 is one of the best faux leather upholstered beds with headboard available today. This upholstered bed will be the center piece in your bedroom.  Simple and chic, the Janford platform bed frame is exactly what you're looking for.
Yes, it's true!
Janford 4156049 is one of the best king size platform beds with headboards. The low profile footboard and modern rectangular headboard add a touch of elegance and touch to your bedroom.
The headboard is constructed of robust wood. Additionally it's upholstered in faux leather. There is only a center seam in the headboard with which the DHP Janford upholstered bed proves that there is beauty on simplicity.
The headboard height is 24.5 inches for back support and added comfort. Moreover, the chic black faux leather upholstery will make your room not only stylish but also gorgeous.
Elegantly designed, this frame is constructed with wood and sturdy metal. The center legs and reinforced metal side rails ensure reliable support and long-lasting durability.
This bed is available in a variety of trendy colors to match your home decor. Of course, you can choose from multiple sizes for your convenience.
DHP Janford upholstered bed in black is both trendy and simple. It features classic beauty that will fit any type of bed room décor! If you're searching for an elegant piece of furniture that won't overwhelm your bedroom setting, this is the perfect choice for you.
7. Zinus Dori Upholstered Wingback Platform Bed, FSSW-K
Dori Upholstered Wingback Platform Bed is a winged favorite from Zinus that will take you away to dreamland. It's another best-rated platform bed in our list.
Furnished in dark grey upholstery and adorned with square stitched detail, the Zinus Dori platform mattress foundation is your perfect match!
The Wingback includes a padded foam headboard, which is perfect for kicking back and relaxing against. Of course, it'll add a nice touch of functionality and style.
This frame comes equipped with robust wooden slats. So, your mattress will rest securely and comfortably even without a box spring. Usefully, there is foam padded tape to the steel frame for noise-free use. Moreover, the exposed feet adds to its sturdiness.
It's worth noting that the slats are at the frame level. So, your mattress will sit on top instead of inside of the bed frame.
Dori FSSW-K comes smartly packaged in single carton with the slates, frame, footboard, and legs. These parts are smartly packed in the back of the headboard in a zippered compartment.
Finally, Zinus offers a five-year worry-free warranty for this product. So you can rely on its strong stature and good looks for years to come.
Furthermore, this bed is available in TWIN, QUEEN, and FULL size to meet your needs.
In essence, Zinus Dori is an excellent option for your apartment platform bed. The subtle aesthetic of this product fits the monochromatic theme to any bedroom decor.
8. KD Frames Nomad Plus Platform Bed, 2872-NP-F
Bring this KD Frames Nomad Plus minimalist and modern mattress foundation to your bedroom for your restful retreat. It's one of the best customizable options that allows you for custom staining or finishing.
This platform bed comes unfinished with blond wood, which is also nice on its own. The nice aspect is you can paint or stain this hardwood frame for personalizing the frame.
Crafted from Tulip Poplar, this frame emphasis functionality and simple, clean lines. It's one of the most durable wood bed frames available. Usefully, this hardwood platform bed can support up to 600 pounds.
KD Frames Nomad is designed to eliminate the necessity of a box spring. It features 2-by 1-inch hardwood planks. Moreover, it included two more slats than other models available. Importantly, the 2.8-inch slat spacing contributes to the bed's strength.
If you need storage space under the bed, this model is a perk for you. It has 11.5 inches clearance, meaning you'll have plenty of room for storage under the bed. Of course, with 15 inches high, this bed frame is taller than any other options available.
But this isn't the end.
Need room for one more or a temporary bed for guests?
Then, take advantage of space under the bed!
You can add a trundle bed as a temporary bed for guests which you can roll back underneath. This frame also allows you to add rolling drawers for more storage. 
Sound great, isn't it?
Finally, Knockdown Frameworks offers five years warranty for this best wood platform bed. And this unfinished bed frame is available in QUEEN, KING, TWIN, and TWIN XL sizes.
Nomad Plus is the best-rated but less expensive platform bed. If you're a DIY enthusiast and looking for a sturdy unfinished wood bed frame, then Nomad Plus platform bed is the right option for you. It allows you to personalize the raw wood to match your style. Overall, this unfinished bed frame is an excellent choice for DIY enthusiasts who want to give a customized look in their sleeping surface.
Best Platform Beds – Buying Guide
So, how to pick the right bed frame?
The following tips on how to choose the right platform bed frame will help you a lot.
Platform bed frames comes in several different sizes: FULL, TWIN, TWIN XL, QUEEN, KING. First, consider the size of your bedroom. It shouldn't overwhelm your bedroom by taking up too much space.
It' also necessary to match the mattress size to the bed frame size. Your chosen frame should be the right size to hold your mattress and, of course your body comfortably. A bigger size platform is an ideal choice when future requirements are identified.
You have to look at the frame materials used in construction. The frames come in several different materials, including metal and wood. If durability is your top priority, then go for the metal frame mattress foundation. Metal frames won't damage as easily as wood frames. Moreover, they look nearly new for years with proper care.
Of course, the wooden frame is also a good value for the money. They're easier to care for than metal bed frames that are vulnerable to rust.
The style or design of Platform mattress foundations plays a vital role in your choice. So, figure out what design best suits your bedroom size and décor. It should blend into the room naturally.
The bed frame comes in high profiles and low profiles. High profile bed frames are good options for under storage space. On the other hand, low profile design increases the frame stability and makes it convenient for short people.
A bed frame that is not only supportive but also comfortable is the most ideal. You shouldn't buy a bed frame solely on the fact that it claims sturdy. It's essential to consider several factors, such as the weight capacity and amount of activity that the bed frame will be put through.
The best way to ensure you get the right bed frame is to take your time to explore the different options. It'll help you to locate the most supportive and comfortable mattress on it.
Another significant factor is the weight limit. There are beds available, having the load capacity 200 to 500 pounds and even more. Choose the one that can safely hold up your weight or couple weight with a child.
The height of the frame is one factor that you shouldn't overlook. It's imperative to find a frame that is at the right height. Having the right height frame will make it possible for you to get in and out of bed with ease.
Footboards and headboards
Some models come equipped with footboards and headboards for convenience and added style. These two parts can be made of wood or metal and they're sometimes covered in fabric, genuine leather, or faux leather. Upholstered bed frames add more style to your bedroom. A platform bed with headboard and footboard prevents your mattress from slipping.
Platform bed price and your budget
Platform mattress frames come in different price ranges. In general, price is dependent upon size and materials of the frame, quality of the fabric, or leather. Metal frames are less expensive, whereas wooden frames are somewhat pricey. Of course, a higher price tag translates to luxury, durability, and other features such as versatility.
Conclusion
There you have it!
Hope, this shortlist of 8 best platform beds is what you're looking for your mattress to make it perfect.
They're nothing but high-quality. They all feature what most people favor in their mattress and bedroom decor of preferences.
Pick the right one that best suits your needs, style, and budget.
Thanks for reading our platform bed reviews!