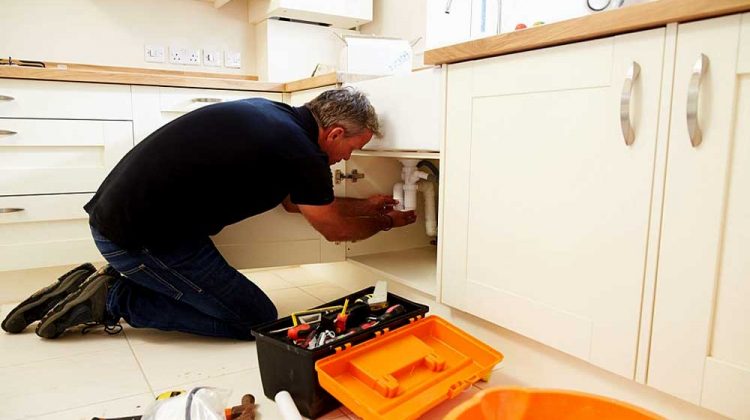 Fireclay sinks have been steadily gaining popularity in recent years. These special ceramic sinks are molded at very high temperatures, which endows them with superior, nearly unmatched durability.
Farmhouse sinks made from fireclay are characterized by their drop-in/apron front design, with only the front side exposed. This means they have to be installed into a specially cut out space in the kitchen counter.
If you've recently bought such a sink, then you may naturally be wondering how to install fireclay farmhouse sink. We know it can seem like a daunting process, but if you're not interested in paying a professional to do it, why not make it into a DIY project?
Keep reading for our step-by-step guide!
Finding the Right Sink
If you're looking to buy a fireclay farmhouse sink, you'll be in need of some guidance. Selecting the right sink should be a carefully thought out process, so keep the following factors in mind when making your choice. If you've already bought one, then you can skip this section.
Sink Size
Similar to undermount kitchen sinks, farmhouse sinks come in many different sizes, from 24 inches to 39 inches. The smaller your kitchen, the smaller your sink should be; you don't want the sink to take up too much space.
Whichever size you choose, though, remember that the kitchen cabinet below the sink must be at least 3 inches wider. This leaves 1.5 inches on either side of the sink, which is important for proper installation.
Base Cabinet
Farmhouse sinks are typically installed above a base cabinet, with which the sink can blend seamlessly. If you're going to be installing a new base cabinet, you have a wider range of options when choosing your sink. If you are altering an existing base cabinet, make sure it's the right proportions for your new farmhouse sink.
As mentioned above, the minimum size of the cabinet must be 3 inches more than the length of the sink. The maximum length of your sink must be about 0.25 (1/4) inches lower than your cabinet's inner width. When considering the sink height, it will be the distance between the cabinet doors' tops and the top of the cabinet base.
How to Install Fireclay Farmhouse Sink?
With all that out of the way, now we can finally begin installing farmhouse sink. First, you'll need to gather the following supplies.
What You'll Need
Plumber's putty/construction adhesive
Plumber's tape
Putty knife
Saw
2"x4" lumber
Plywood
Wood screws
Caulk gun
Wood glue
Bucket
Templates
Got everything you need? Let's start.
Step 1: Prep the Area
Start by disconnecting your plumbing system and shutting off the water supply.
Step 2: Disassemble Your Countertop
Since your farmhouse sink will be installed directly into your countertop, you have to clear the way. Now look closely at your old sink. It is held together with fasteners. Using your putty knife, cut into the bead of silicone surrounding the sink.
Using your putty knife to pierce through the silicone, break loose your cabinet doors and drawers.
Step 3: Cut Your Countertop
Before you completely cut through your countertop, consider the following: do you want the edges of your sink to be visible or concealed?
If you want exposed edges, the counter should extend very slightly–about 0.25 inches-over the walls of the sink. This is so that you can properly seal the sink and prevent gaps. If your sink has thinner walls, we would recommend that the edges of the sink be visible.
If your manufacturer did not provide an installation template, then you can use your sink to make one for yourself using cardboard. Now get your saw and start cutting!
Step 4: Cut Your Existing Cabinet
Now it's time to cut the cabinet face to make space for the sink. Once again, you will need a template as a guide to cut. Remember that the top of the sink will be flush with the top of the cabinet. Don't worry about rough edges just yet, as you can always paint and sand over them.
Step 5: Prepare Your Plywood for the Support Frame
Farmhouse sinks are extremely heavy, and fireclay sinks even more so. Accordingly, they need extra custom support. The space you have cleared in your existing cabinetry will allow you to construct the support frame.
A note on the plywood: if your sink weighs less than 100 pounds, you can use half-inch thick plywood to build the shelf. For sinks weighing 100-150 pounds, 5/8″ thick plywood is recommended. And if it's heavier than 150 pounds, you'll need 3/4″ thick plywood.
Step 6: Make the Markings
Get ready to take some measurements and mark the cabinet interiors. Figure out where the base of your sink will be positioned. The top of the sink, as we've said, must sit flush with the cabinet top. Keep checking the markings you've made until they're level.
Step 7: Install the Supports
After you have taken the required measurements, now it's time to cut your 2″x4″s. Then, install them on the back, right, and left walls a half-inch lower than where you marked the cabinet interior. This is to allow the plywood shelf to be installed above.
This is where your construction adhesive and screws will be coming in handy. Make sure that the wood screws are evenly spaced. You shouldn't need more than 4 screws.
Step 8: Install the Plywood Shelf
Measure your cabinet interior, then cut your plywood shelf. Its size should be less than 0.25 inches for a snug fit. Also, remember to cut holes for required plumbing and drain connections to your sink.
Step 9: Test Your Sink Placement
Before you can install your sink, first, you'll have to check that it is sitting flush with the counter, so place it inside carefully. Furthermore, you will be checking the strength of your plywood shelf. Once you place the sink on it, does it sag down? If so, then you'll need to re-do the shelf with thicker plywood.
Step 10: Install Your Sink!
Now for the moment, you've been waiting for: installing your sink. There's not much to this stage: just slide the sink in. No fasteners or adhesives will be required as the sink will simply take up the space you've assigned for it. However, you do have to ensure that the position of the sink is such that there is at least a 1/4″ gap on either side.
Step 11: Finish
With the sink installation out of the way, the final step is to make short work of your cabinetry and counters. Install the doors and cabinet face on the front, then finish your counter and plumbing/drainage installation.
Once everything is in place, get your caulking gun and caulk the spaces between the edges of the sink and the counter. This will prevent water/moisture damage to your cabinets.
And that's it! You're done. Now all you have to do is enjoy your new fireclay farmhouse sink.
Conclusion
We hope that our guide has elucidated the process of how to install fireclay farmhouse sink. You can also use this method for stainless steel sinks in the farmhouse style.
It's quite evident that you will need significant DIY experience to do it successfully. So if you think you lack the required skills, you can always enlist professional help.
We hope you enjoy your new fireclay farmhouse sink. Good luck!