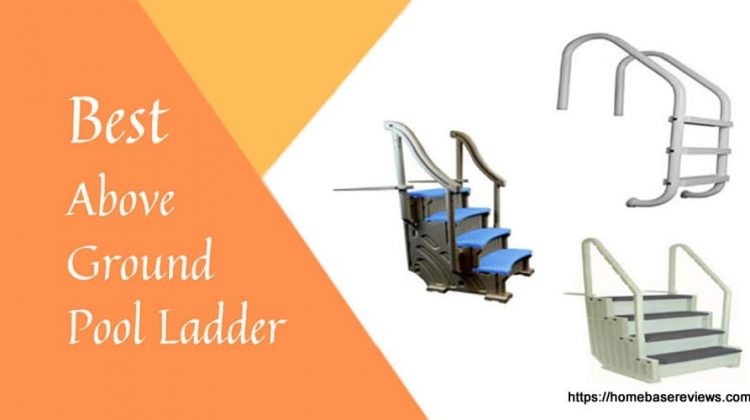 Above-ground swimming pools are gaining in popularity for many reasons: not only are they more affordable, but they are safer; moreover, they require less maintenance.
But if you own such a pool, chances are you've noticed its in-built ladder doesn't seem very promising due to flimsy construction or an unstable design. Or perhaps, your above-ground pool doesn't have its own ladder, to begin with.
Worry not, because today we've brought you the solution to exactly those problems: reviews of 9 of the best above ground pool ladders!
As these professionally-made ladders are designed specifically for use with your above-ground pool, they are a much more reliable solution for securely and easily getting in and out of it. Plus, they last longer and come with functional features that in-built ladders usually don't.
While selecting these ladders, we've considered durability, quality of construction, and, of course, safety. To get a better idea of our selection criteria, you can also refer to our buying guide.
So let's get started.
Built entirely from resin, the Confer 6000X saves you from the frustration of having to deal with corrosion and rust. Not just that, but long-term exposure to chlorinated water and the sun's UV rays are also easily accommodated by this ladder. Furthermore, its height is adjustable between 48″ and 54″, and it comes with an impressive weight capacity of 300 pounds.
Built from reinforced steel and standing at the height of 52 inches, this simple yet highly functional above-ground pool ladder from Intex is has a protective coating that allows it to stand up to rust. And not only is it super affordable, but it's also portable due to weighing only 26 pounds. You're also bound to appreciate how easy it is to install.
1. SAFTRON P-324-L3-W 3 Step High Impact Polymer Finish Inground Pool Ladder
With a tough polymer exterior over an even tougher galvanized-steel interior, this Saftron above-ground pool ladder is built to last you and your family many years.
Robust Steel Construction
The mark of an above-ground pool ladder worth buying is in its durability. On that front, this ladder from Saftron performs beautifully: built from reinforced steel, its robust body is capable of withstanding years of use.
Multi-Functioning Polymer Finish
The polymer finish of this ladder is one of the main reasons why it's so special. Discard your worries of scratching, denting, and chlorine damage, and use this pool in saltwater unworried. Say bye-bye to corrosion and, of course, rust!
Cool to Touch, Pleasing to Eyes
No one likes the feeling of a burning steel ladder rail under their fingers on a hot summer day. Thankfully, the polymer finish of this ladder stays cool even after hours of exposure to UV rays. Furthermore, the polymer coating also retains its smooth, shiny, and like-new look for years and years.
This sturdy, durable, and dependable steel-and-polymer ladder have justly earned its high rating; however, if the pool-users of your household are on the heavier side, this might not be the right fit.
2. Intex 28067E Steel Frame Above Ground Swimming Pool
Easy to install and meant to be used for many a year, this above-ground pool ladder from Intex is simply designed yet sturdily built. Its lightweight body also makes it super portable.
Stable and Steady
The taller your pool ladder is, the more unsteady it's likely to be. That's not the case with this Intex above ground pool ladder, which stands at 52 inches, yet retains its stability when you're using it. Its slip-resistant steps further add to your security.
Simplistic Yet Dependable Design
The shape of this ladder makes it such that one half is inside the pool while the other half is outside. This not only allows for structural integrity but makes it easier to climb in and out of the pool.
Built to Last
The sturdy steel frame of this ladder may understandably raise concerns about its ability to stand up to rust and corrosion. It's protective coating thankfully takes care of that problem, and does so commendably!
Despite claims that this ladder can accommodate up to 300 pounds of weight, many users report wobbliness. However, we appreciate its lightweight yet sturdy build and simplistic design, along with the ease of installation.
3. Blue Wave NE1175 Heavy Duty In-Pool Ladder
Built entirely from resin, this ladder from Blue Wave might not be the absolute best above ground pool ladder for deck, but it does have some great features.
Solid Resin Construction
One of the main concerns regarding pool ladders made of steel is rust and corrosion. With its resin construction, this ladder precludes those problems entirely!
Thoughtful Safety Features
Even though this ladder lacks somewhat in durability, its safety features make up for it. Its non-skid treads are 5 inches deep, making for a more secure foothold. Furthermore, the 22 inch-high handrails are easy to hold on to.
Myriad Functionality Features
Something we really love about this pool ladder is its adjustable height. You can change its size to fit the majority of pools measuring between 42 and 56 inches (although the results for the latter aren't always as expected). If you have kids, you'll also appreciate the child-proof barrier which is compliant with ANSI safety codes.
We like this ladder for its solid resin construction, adjustable height, and non-skid treads; however, durability seems to be a concern, and for the same price, you can probably find better ladders.
4. CONFER 6000X HEAVY DUTY INPOOL LADDER FOR DECKS
The 6000X from Confer is one of their most popular deck pool ladders, and it's also quite highly rated, thanks to its performance and affordability.
Stable and Durable Construction
Built entirely from resin, this Confer pool ladder naturally precludes the drawbacks of using a steel ladder, namely corrosion, and rust. It's also built to withstand continued exposure to sun and chlorinated water.
Built for Functionality
One reason why this ladder is so popular is because of its adjustable height, which allows it to be compatible with pools between 48″ and 54″ in depth. Although the ladder's compatibility with 54″ pools is lower, that can be solved by bolting the ladder down.
Ensures Your Safety
The design of this ladder includes a top platform, which makes it easier to step in and out of the pool. Furthermore, it has a 300-pound weight capacity. It meets ANSI and APSP safety guidelines, so you can rest assured.
Although this might not be the best ladder solution for 54″ above-ground pools, its features, stability, and durable construction make it one of the best Confer pool ladders you can find.
5. Swim Time Above Ground Swimming Pool Step to Deck
Out of all of the ladders we're reviewing today, this one from Swim Time is the closest to wedding cake above ground pool steps in terms of design. But that's not all that's great about it.
Large Steps and Imposing Presence
The design of this step-ladder is our favorite thing about it. Outfitted with large steps measuring 32.5″ each, it's bound to make an impression on anyone who comes to hang out with you by the pool. It stands 81″ in height, with a 32″ depth.
Durable and Long-wearing Construction
This ladder is built for dependable performance, for which reason it has been constructed from sturdy polyethylene. It has a weight capacity of 350 pounds, so heavier users need not worry.
Safely Built for Everyone
Other than its large steps, this ladder also comes with convenient handrails, which will allow children and the elderly to climb up and down with ease. Furthermore, its steps are slip-resistant for even greater security.
We appreciate the design, construction, and safety features of this pool step ladder. Some users, however, do report that the steps don't stay securely in place, even after filling the posts with the recommended amount of sand.
6. Confer Curve Above Ground Swimming Pool Steps with Blue Treads
With stylish curved steps, this full resin above-ground pool ladder from Confer offers much in the way of functionality as well.
Unique and Functional Design
Confer has really come a long way in producing innovative designs for their pool ladders, and it shows in the curved steps of this one. The sweeping handrails are super accessible, and assembly is a walk in the park. We also love the included base pads, which are adjustable to accommodate uneven floors.
Offers Dependable Safety
The steps of this molded resin pool ladder, although curved, offer great stability thanks to their non-skid treads. Moreover, together they can accommodate up to 400 pounds of weight. To hold the steps down, you will have to fill the ladder's side panels with sand or pea gravel.
Looks Good Near Any Pool
Understandably, due to its unique design, this pool ladder is undoubtedly one of the most attractive ones on our list. Its steps can be curved outwards or inwards, and their blue color certainly stands out.
As far as resin molded pool ladders go, this is one of the best you can find for the money. We appreciate its structural integrity and its looks, as well. However, watch out for algae growth! Also, this product is currently unavailable, but it'll be back in stock soon.
7. XtremepowerUS 32 Inch Safety Step Above Ground Swimming Pool Ladder
This heavy-duty above ground pool ladder from XtremepowerUS easily stands out due to its accessible design and distinct wide steps. Here's what we like about it.
Convenient and Accessible Design
Although this ladder doesn't offer much in the way of looks, it certainly performs wonderfully in terms of accessibility and ease of use. The wide steps each measure 31.5″x10.5″ and offer a secure foothold to any and all pool users, while the handrails make it easy to ascend and descend.
Secure Usage and Functionality
Other than its wide steps, we also appreciate this ladder's bright white color, which undoubtedly enhances visibility. We're also quite impressed by the ladder's weight capacity of 400 pounds, the highest we've reviewed.
Easy Installation and Compatibility
What we love most about this ladder is that it's suitable for use with the vast majority of flat-bottomed above-ground pools. Moreover, it's super easy to set up and does not require tools.
Given the price of this product, we would expect it to be more durable, but that's where it falls short. However, it's very sturdily built with a great design and is able to suit the pool needs of a large household.
8. Vinyl Works A Frame Ladder with Barrier for Swimming Pools
Its simple A-frame design and no-hassle set-up make this above-ground pool ladder from Vinyl Works one of the best that we've found in plastic resin ladders.
Sturdy Yet Lightweight Construction
If you're concerned about the hardiness of plastic resin ladders, let this one change your mind. Parts of its hardware are also made from stainless steel, which further enhances the ladder's overall stability. Despite that, it's lightweight and easily portable.
Smugly Fits Your Pool
The design of this ladder is truly one of the best we've come across, for the simple reason that it's quite straightforward. The A-frame base adds stability, while the topmost step is a platform adjustable from 48 to 56 inches according to your pool's dimensions.
Safe and Functional
The hallmark of any good ladder is well-made steps: those on this ladder are equipped with non-slip treads, which together can accommodate up to 300 pounds at a time. What's more, the ladder is integrated with side-lock technology, which prevents unwanted and potentially unsafe entry into the pool.
We definitely really appreciate the design and overall functionality of this ladder. On the whole, however, given its price, we think more durable ladders can probably be found.
9. Confer Plastics Above Ground Swimming Pool Ladder
If a truly heavy-duty above-ground pool is what you seek, this ladder, with its reliably sturdy build and attention to safety details, will suit you.
Combines Functionality and Safety
The steps of this ladder each measure 10″x27″, which leaves ample space for you to find your footing while entering and exiting the pool. You'll have to pour in 40 pounds of sand/gravel into the ladder to ensure that it doesn't float up. That's how it manages its 400-pound weight capacity!
Suits Your Pool's Needs
One of the most pressing concerns when it comes to above-ground pools is the accumulation of algae behind the ladder. As a solution to that, Confer has designed this ladder such that it allows free-flowing water circulation in its backside.
Offers Convenience and Ease
As long as your above-ground pool has a flat bottom and isn't taller than 60 inches, this ladder will be compatible with it! It takes very little time to set up, too, as the components of the ladder are made to snap together for easy assembly.
When it comes down to it, you can't really go wrong with Confer's pool ladders, and this is a great heavy-duty option for pretty much any above-ground pool out there!
Buying Guide
Remember to consider the following factors before choosing an above-ground pool ladder.
Size
The size of your pool ladder should correspond to your pool's height. Typically, pool ladders measure between 48 and 54 inches; you'll know best what size to get. As long as the ladder fits smugly on the pool's edge, you're good to go.
If you're unsure, you can always opt for a ladder with adjustable height, although these are usually made from plastic. If buying a ladder for a pool with a deck, though, you'll probably only have fixed-height options.
Design
Above-ground pool ladders come in two main types: single pool ladders and A-shaped ladders. The former is designed for use with decked pools. If your pool doesn't have a deck, though, you'll need an A-shaped ladder.
Construction Material
The durability, stability, and safety of your chosen ladder will all depend upon what material it's been constructed from. The three most popular materials used in the making of pool ladders are plastic, steel, and aluminum; let's have a look at each in turn.
# Plastic
Plastic is a popular choice for building pool ladders due mainly to their affordability in comparison with steel and aluminum.
However, that doesn't mean that plastic isn't safe; it will come in a variation of polyethylene, vinyl, PVC, or plastic resin, and these are all great options for sturdy ladders. Another benefit is that it's significantly more lightweight, and therefore more portable. However, it's worth noting that they aren't as durable.
# Steel
Understandably, steel ladders are the most durable option as they are the strongest. Among the types of steel used in constructing ladders, galvanized and premium steel are the most common. The former tends to come with a zinc coating for protection, which endows it with water-resistance properties.
All that being said, you have to remember that steel is much heavier than both plastic and aluminum. So if you think you'll be installing/reassembling your ladder frequently, it's best to stick to other materials.
# Aluminum
Aluminum hits the sweet spot between plastic and steel, as it's adequately robust and stable, yet lighter than steel. The rust-resistance helps too, of course; however, aluminum does tend to be at a higher risk of oxidation, so look for protective coatings that will stand up against chlorine and sun exposure.
Weight Capacity
The highest amount of weight your ladder can accommodate must correspond to the pool users' body weight. Typically, pool ladders will have a maximum weight capacity of 400 pounds.
Safety Features
Last but not least is the safety of your pool ladder. Look out for the following features:
Non-slip steps which give you a more secure foothold
Sturdy handrails that you can use to stabilize yourself
Rounded corners with slip-resistant properties to keep the ladder stable when in use
Clean and minimalistic design without potentially dangerous protrusions or sharp edges.
Conclusion
So what's the best above ground pool ladder? Only you can really answer that question, but you're welcome to review our best and budget picks once more, as they have been carefully selected.
Whichever one you choose, though, remember to keep an eye out for durability and dependable design, above all.
Good luck, and happy swimming to you and your family!