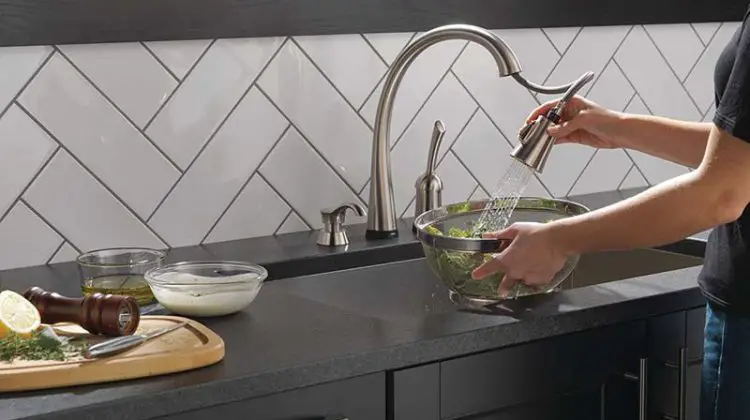 When you're in the kitchen prepping and cooking, even the smallest actions can take up valuable time, energy, and space. Something as small as, say, having to turn the faucet on/off.
That might sound insignificant to someone who doesn't spend time in the kitchen. But those of you who have ever had to set down a heavy pot to turn the faucet on/off are already recalling the frustration.
As a solution for this oft-experienced inconvenience, today, we present to you the best touchless kitchen faucets on the market. It's in the name: a faucet that does not have to be touched to be activated!
A touchless faucet not only frees up your hands while working, but it improves hygiene by saving you from having to touch your faucets with dirty hands, preventing the spread of harmful germs in your kitchen. It goes without saying that they look great too.
Today, there are several great touchless kitchen faucets on the market. To help you with your selection, we've narrowed it down to 7 of the best ones. Let's get started!
The Moen 7594ESRS is our top pick in touchless kitchen faucets. Thanks to its dependable dual MotionSense sensors, only a single wave of the hand is required to get the water flowing.
It's undoubtedly expensive, but its Power Clean spray technology and super-flexible and efficient spray head make up for that. It's easy to install and easy to clean and will serve you well for many years to come.
The clear winner of our budget pick is the badiJum touchless kitchen faucet. Its sprayer is capable of swiveling 360 degrees and fits well with its high-arc design.
The dual motion sensors perform almost as well as those found in high-end models, while the Swiss aerator inside does a beautiful job of keeping up with switches between spray modes. And should you desire it, you can use the manual handle instead of the touchless function.
Best Touchless Kitchen Faucets Reviews
We've carefully picked the top touchless kitchen faucets from the market. Here, we'll inform you of their features, issues, and advantages.
1. Moen 7594ESRS Arbor Motionsense Touchless Kitchen Faucet
Dual MotionSense Sensors
In the world of touchless faucets, motion sensors are the bee's knees. Moen seems to know that, as is evidenced by their highly advanced MotionSense sensors, two of which they've put in this faucet. All you have to do to trigger the water flow is wave your hand near the faucet, enjoying both efficiency and speed.
Built for Functionality
A good touchless faucet, in our opinion, should do more than just release water. That's why we love this one's retractable pulldown head, which makes use of the "Reflex" system for easy and smooth maneuverability of the 68-inch-long hose. The spray power is also 50% higher, thanks to Power Clean spray technology.
Stylish and Modern
If you're going to spend nearly $400 on a touchless faucet, it should look good, as this one does! With its high-arc spout and flared handle, this Moen faucet easily blends into your kitchen's aesthetic. On that note, you'll also appreciate the single hole mount design, as this makes for a seamless look against your countertop.
With its criminally good looks, durability, and smooth functionality, this touchless faucet from Moen makes the high price worth it. If you do run into issues, though, we wish you good luck–Moen isn't exactly known for their customer service.
2. FORIOUS Touchless Kitchen Faucet with Pull Down Sprayer
Affordable Yet High-Functioning
While good touchless faucets can definitely be expensive, price doesn't necessarily always reflect quality. This faucet from Forious proves that without a doubt: not only does it have a great motion sensor, but its features are also designed for ultimate convenience and ease of usage.
A Multi-Functioning Sprayer
This faucet comes with a pull-out head, meaning its sprayer can be extended out to clean other parts of your kitchen with ease. The sprayer is activated automatically every time you pull it out. Its 360-degree swivel function is undoubtedly convenient, and you can switch between two spray modes using the buttons.
Built to Last
The robust copper construction of this faucet is one of our favorite things about it, even more so because of its brushed nickel finish. Not only does this ensure durability, but issues such as corrosion, breakage, and rust will also be kept at bay.
We tend to think that this battery-powered touchless faucet is the best bang for your buck, especially considering its features.
3. Delta Faucet Leland Single-Handle Touch Kitchen Sink Faucet
Seamless Automatic and Manual Operation
The best thing about this faucet from Delta Faucet is the ease with which the water flow can be activated. If the hands are messy or full, just one touch from your forearm or wrist will trigger the water to start. Otherwise, you can also enable the manual lever if you want the best of both worlds.
Powerful ShieldSpray Technology
The spray power and trajectory of a kitchen faucet is one of its most important functions. This Delta faucet is equipped with exclusive ShieldSpray technology, which makes short work of stubborn marks and stains in your kitchen sink.
Reliable Docking
This faucet is equipped with a Magnatite docking site, which utilizes a strong magnet to keep the sprayer securely in place when you're not using it. When you do need to draw it out, you'll enjoy its 20-inch hose extension for effortless spray/stream cleaning.
With all of its great features, the Delta Touch2O Faucet definitely stands out. Ultimately, however, you can probably find more lasting models in the same price range.
4. Moen 7185EORB Brantford Motionsense Touchless Kitchen Faucet
Advanced MotionSense Technology
As we discussed in an earlier review of a Moen touchless faucet, their patented MotionSense technology really takes the cake. The dual sensors in this thing not only respond quickly, but efficiently, turning itself off with all the intuition of a sentient faucet (creepy, but true).
Smooth and Efficient Pull-Down Design
The pull-down design of the retractable hose fitted with this faucet is one of our favorite features. The flexibility and maneuverability of the 68-inch long hose are undoubtedly super convenient in any large, heavy-duty kitchen.
Keeps Up with You
The Power Clean spray technology from Moen has always stood out, and it's a similar case here. With 50% higher spray power, cleaning surfaces or washing dishes is going to be a walk in the park. And with a spout reach of 7.88", keeping your sink clean will take little effort on your part.
As with most Moen products, this touchless faucet offers almost unparalleled performance. We do wish that the height was more suitable for traditional kitchens; beyond that, though, we think this would be a worthy investment (and it definitely is expensive!)
5. badiJum Touchless Kitchen Faucet
Built for Convenience
What good is a touchless kitchen faucet unless it cuts back the time you spend in your kitchen? With its high-arc design and 360-degree swiveling sprayer, this faucet allows you to rinse bigger pots and pans with ultimate ease.
Easy Clean and Easy Install
The brushed nickel construction of this touchless faucet is one of its best features because it allows for nearly effortless cleaning. And because this thing can be mounted in both 1- and 3-hole sinks, the installation will be a breeze!
Affordable High Tech
badiJum has long been regarded as one of the top sellers of affordable, yet high-functioning touchless kitchen faucets. Equipped with dual sensors, a manual handle, and a world of other attractive features, this faucet costs surprisingly little!
Whether it's a touchless bathroom faucet or kitchen faucet you're looking for on a budget, you really can't go wrong with badiJum. The high rating pretty much speaks for itself!
6. Moen 5923EWSRS Align Motionsense Wave Sensor Touchless Faucet
Powerful Single MotionSense Sensor
Unlike the other Moen products we have reviewed today, this one makes use of a single sensor. To activate or turn off the water flow, all you have to do is wave your hand near the sensor.
Stays Clean without Help
The stainless finish of this faucet makes sure that you won't have to clean it frequently, as it actively resists smudging and staining.
A Handy Hose
The retractable hose of this faucet extends from its 22.5-inch neck spout and can be extended 10 inches. You will not only enjoy a smooth and flexible water stream but be able to manipulate the spray type with ease. And of course, there's Power Clean!
Like other Moen products, this one also comes highly rated. It's slightly more affordable, but it offers a lot of the same great and dependable functions, and it makes good use of its one sensor. We do wish the purchase included an escutcheon (base plate), but the overall installation process is relatively easy. Ultimately, this is a pretty decent pick.
7. ANZA Touchless Sensor Kitchen Sink
Easy Sensor Activation
Like any self-respecting touchless faucet, this one also comes with the option to be operated manually with a lever handle. Should you choose to switch to touchless operation, you can easily do that by pressing the button, which activates the single sensor.
A Reliable Lengthy Hose
Measuring 12 inches, the hose included with this touchless faucet is easy to handle and easy to maneuver. And once you're done, it'll slide automatically back into place with no help from you.
Choose Between Two Spray Modes
As we've established already, the spray of a touchless faucet is an important indicator of its performance. With just the touch of a button, you can go from an aerated, splash-free stream to a heavy spray for longer and harder rinsing.
This touchless faucet is equipped with pretty much all of the features we've come to expect from model faucets. That being said, its low price seems to reflect lower durability; so, if you can afford to spend more, we'd suggest looking elsewhere.
Buying Guide
When it comes to choosing a touchless kitchen faucet, you undoubtedly have a lot of options. As long as you have the following factors in mind, though, you should be able to find one that suits you best.
Power Source
A touchless faucet can be powered in one of two ways: batteries or A/C power (the kind you get directly from your home's electrical outlets). Electrical faucets, which are A/C powered, are thought to be more efficient, but they will cost you more in the long run in terms of electricity bills. If you're going for a battery-powered faucet, be prepared to replace the battery every 2-5 years.
Sensor
While it's important for your sensor to be strong, a too-sensitive sensor can actually cause the issue of accidental powering-on. This is especially true if your sink is placed in a traffic-heavy area of your kitchen.
The number of sensors is another consideration; the cardinal rule is that one high-performing sensor is much better than multiple decent ones.
Construction Material / Finish
The best kitchen faucets are made of long-enduring, high-quality materials. The following are your three main choices.
The luxurious aesthetic appeal of chrome is reflected in its price: it's usually more expensive than other faucets. It's hygienic and durable; however, it does require more maintenance than other materials.
The most popular choice, mainly for its unmatched durability and rust- and corrosion-resistant properties. It's probably the most hygienic choice, as it prevents mineral and germ build-up for longer. Stainless steel is easy to clean, as well.
Brushed nickel is quite durable, easy to clean, and smudge-proof. It's also a great option for those of you who prioritize a rustic or antique aesthetic appeal.
GPM / Blast Power
The flow rate of a faucet is typically measured in GPM, which stands for gallons per minute. A higher GPM translates to a more powerful flow, while a lower GPM indicates greater water conservation. Ideally, your faucet will have a low GPM but a high blast power. Ultimately, though, it depends on the build quality of the faucet.
Spout Style
You can choose your faucet to have a fixed spout, which stays put and cannot be moved around–pretty self-explanatory.
Do you want your faucet to have a detachable, extending head instead? Then you're interested in a pull-down spout, which allows a longer range of cleaning. This can obviously be very helpful in large kitchens.
Spray Style
How powerful do you want your faucet's spray to be? Well, that depends on the style–are you going for a pull-down faucet or a pull-out one?
A pull-down faucet integrates a tall sprayer and a short hose with a spray nozzle attached to it. Meanwhile, a pull-out faucet, as the name suggests, can be pulled towards you with a long hose, and typically creates fewer splashes.
Whichever you choose, though, your faucet's spray wand should have a mechanism that allows the hose to retract into the faucet easily.
Customizability
Lots of great touchless faucets allow you to manipulate such factors as flow, spray power, jet capabilities, and even temperature; however, these are bound to cost you more. Ask yourself what you need your faucet for: if you're only using it for cleaning ingredients/doing dishes, you don't really need that many options.
What is a Touchless Kitchen Faucet?
A touchless kitchen faucet is pretty much exactly what it sounds like: a faucet that does not require you to touch it if you want it to turn on. So how does one activate a touchless faucet?
With advanced motion-sensor technology, of course! Yep. All you have to do to get your touchless faucet going is wave your hand in front of it! Imagine how convenient that is in a situation where you're holding a bunch of dishes in your hand, while simultaneously needing to turn on the faucet.
Curious as to exactly how a touchless faucet functions? Read on.
How do Touchless Faucets Work?
As we have already established, a touchless kitchen faucet utilizes technology that permits you to activate the water flow without touching the faucet. All you have to do is place your hand near/under the sensor in the spout to start the water flow, and withdraw the hand when you're done.
But there's more to a touchless faucet than just its sensor. The spout, solenoid valve, and power source also work together to allow you to enjoy the touchless technology.
A touchless faucet will typically have its sensor near the base of the spout. This sensor is a bit different from typical motion sensors, as it detects the presence of your hand rather than the movement of your body. This process involves the use of infrared light.
Some touchless sensors use ultrasonic field sensors instead of presence sensors. Such a sensor activates the faucet valve when hand movement is detected, disrupting the field.
The solenoid is, in simple terms, an electromagnet. It creates a push/pull sort of effect once the sensor is activated, using a disc in the diaphragm valves to control water flow. Once your hand has been detected, the solenoid opens the valve, initiating water flow.
The spout has a pretty straightforward job: delivering the water. However, it's also the part of the faucet that houses all its important components.
Last but not least is the source of electrical power, which will allow your touchless faucet to run. While some faucets are battery-powered, some require an A/C power supply through a socket.
Conclusion
Remember to pay close attention to the spray type, speed, and power of your chosen touchless kitchen faucet; moreover, its motion sensor should, obviously, be a competent one. At the same time, a manual handle lever is also good to have the option of using. Most important of all, remember to check that the faucet is compatible with your kitchen first.
When you finally bring home the best touchless kitchen faucets for yourself, you'll marvel at how it improves your life. Say hello to a cleaner kitchen, a hassle-free cooking/prepping experience, and the highly gratifying knowledge that you have a high-tech faucet!