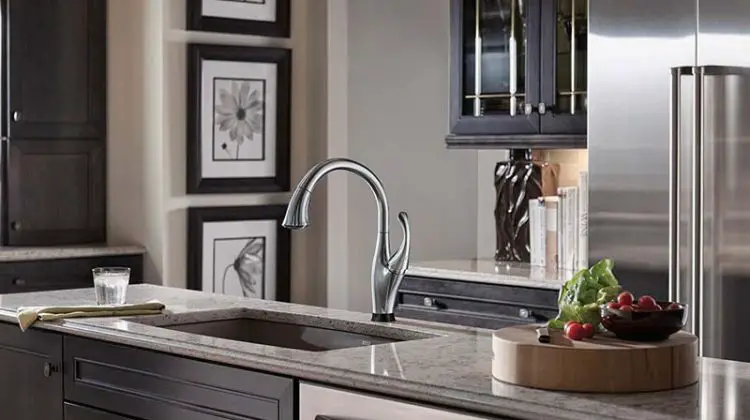 Anyone who spends a bit of time in the kitchen knows how utterly important a kitchen faucet is. Simply put, they are used for almost 70% of the work done in the kitchen, from filling up vessels to rinsing, scrubbing, cleaning food, etc. Which is why it is very important to have a faucet that can get all these perfectly.
But a perfect faucet seems like a far-fetched dream. One that cleans the dishes easily seems to spatter all over you, whereas another has a price point well above your budget. So how do you choose the perfect faucet?
Our best kitchen faucets reviews will help, of course! Here We have reviewed 7 kitchen faucets in detail, as well as provide you with a buying guide to make sure that you get the value for your money. So keep reading to know more!
According to us, the KOHLER K-560-VS Bellera Kitchen Faucet is the best pick among the 7 models. With its three different spray settings, you can effectively do every job in the kitchen without any more worrying!
Besides, the stainless steel finishing and the ceramic valves definitely contribute a lot to the lifespan of the product, so you will not have to be replacing it anytime soon. It indeed gives you the best value for your money.
The WEWE Single Handle Pull out Kitchen Faucet is our budget pick. Despite not costing too much, this model definitely has a lot to offer in terms of quality. The three different spray modes help you get your job done as easily as some other models would.
A rust-resistant finish on the model also makes this a great pick, as you do not have to worry about it looking too shabby among your other appliances. So this is definitely our favorite in terms of budget.
Best Kitchen Faucet Reviews
Choosing among hundreds of different models of faucets available in the market is a pretty burdensome task. So, to make it easier for you, we have reviewed 7 faucets in clear details, complete with their features, pros, and cons. You might get help by referring to this while making your decision.
1. Kraus KPF-1610SS Bolden Commercial Kitchen Faucet
Dual Function Spray
One of the most noteworthy features of this faucet is its dual spray mode. You can easily choose between an aerated spray that is splash-free or a pre-rinse spray depending on the job at hand. The pre-rinse spray is great for cleaning things, while the aerated stream can be used for rinsing and filling in jars.
Smart Handle
Equipped with a smart handle, this faucet allows you to control the temperature and the flow of the water with just one switch. This particular function makes this device very easy to use, and also gives it a simple and clean look as opposed to being jumbled with buttons. Using this feature, you can get different things done.
Easy Installation and Maintenance
While installing most faucets is a bit time consuming, this one here is a piece of cake. The product comes with 22-inch waterlines which are preassembled, and also includes mounting holes for a quick set up. This saves a lot of time for users and is also a great feature for DIYers.
This Kraus model is definitely the stuff a super-efficient cleaner dreams of. With its various features designed to save time and minimize clutter, you can get any job done twice as effectively. Overall, this is one of the best industrial kitchen faucets.
2. WEWE Single Handle Pull Out Kitchen Faucet
Multifunctional Outlet
One of the best things about this model is that it has three different spray settings – one for streaming, one for spraying, and one for pausing. This makes it a great model as you can just select the mode you need according to your convenience or the nature of your job, and switch between two modes as well.
Easy Operation
Despite having a lot of different modes and functions, this model is not at all complicated to use. A single handle takes care of the water temperature and the volume at which the water is flowing for you. Also, the spout can swivel to 360 degrees to help cleaning or filling up jars easier.
Rust Resistant Finish
It is very easy to get a faucet rusted after years of use, but not with this model. With a finish that is resistant to rust and corrosion, you can basically have the faucet looking as good as new even after prolonged usage. This makes it a very attractive addition to your kitchen.
With features and benefits that far outweigh the cons, this model is definitely one of the best pull out kitchen faucets. Besides, at such an affordable price point, you cannot really go wrong with this, so definitely give this a thought!
3. Delta Essa Pull Down Kitchen Faucet
Leak-Free Operation
There is probably nothing worse than a leaking faucet in a kitchen. However, with this model's unique Diamond Seal technology, your sink will live a long, leak-free life for many, many years! What more do you need?
Magnetic Docking
Ever had a kitchen faucet that stood firm and tall at first, and then slowly drooped over as the years passed by? Yeah, same. However, this Delta model utilizes a Magnetite technology, which basically means there is a strong magnet inside the faucet to keep it fixed in one position for its entire lifespan.
Touchless Technology
Using various different buttons for turning the water on and off can be such a major inconvenience at times, especially for those who like a bit of efficiency in their gadgets. Well, this product has a touchless technology, so you can touch anywhere on the base, and the water will automatically turn on or off.
Although the model is a bit high priced, it definitely has some amazing features we have seen so far. You can be assured of the durability of the model, and guaranteed it won't let you down ever. This is indeed one of the best modern kitchen faucets.
4. KOHLER K-560-VS Bellera Kitchen Faucet
Made to Last
This model is quite well known for its durability. Made from stainless steel, it can last for many years without so much as the need for a repair. Besides, the finishing is corrosion and rust-resistant, so it will always give your kitchen a clean, elegant look and feel. This is indeed a good choice for any home.
Easy Maintenance
Often, faucets garner some minerals on the spray head, which can lead up to quite a nasty build up. But this model is equipped with a master clean spray that is designed to prevent such formations and results in clean spray heads even after prolonged usage.
Multiple Options
The best thing about this model is that it gives you the ability to choose among 3 settings – stream, boost, and sweep spray. If you need a faster flow, you can choose the boost setting, while the sweep spray one will help in cleaning dishes. A 360-degree swivel gives you a choice to rotate the head according to your needs.
All in all, we believe that this Kohler model can fulfill all the basic duties of a kitchen faucet, along with much more. If you want a model that will last for the years to come and give you a satisfying service, then this might be the perfect one for you.
5. Kraus KPF-2620SFS Oletto Kitchen Faucet
Great Fit
It is sometimes hard to get a faucet that matches exactly with all other kitchen appliances or at least looks good among those. But this Kraus model has a streamlined design that can be meshed in any setting, and make that look good. Therefore it will undoubtedly be a great addition to your kitchen.
Dual Function Sprayer
Having a spray that functions only one way is not enough considering the variety of activities we need to do in the kitchen. This model takes care of that by giving you the autonomy to choose between a spray mode and an aerated stream mode. Our advice would be to use the stream mode for rinsing, and the spray for powerful cleaning.
High Durability
There is no point in spending a lot of money on a faucet only to have to get it repaired frequently, or replaced. With this product, you will not face the need to. Made from high-quality materials and supported with a ceramic valve, this model will give you excellent performance for many years.
If you are looking for a model that will fit right in your kitchen, while also making your day to day activities easier, then definitely give this a thought. It is one of the most favorites among consumers for a reason!
6. Delta Addison Single-Handle Touch Kitchen Sink Faucet
No Splatter
Getting all wet while trying to clean a stain that is hard to come off is something we have all faced at one point or the other. The more powerful the stream is, the more splatters you get all over you. But this Delta model utilizes a shieldspray technology that will help you get all scrubbing without getting the water on yourself.
Easy On-off System
Turning the faucet on or off while you are stuck with a hand full of dishes is sometimes a pretty difficult thing to do. So, you can just touch this faucet anywhere now with your wrist, forearm, or elbow even to get the water on or off. This is also a great feature for elders with joint disabilities.
Long Lifespan
Equipped with a diamond seal technology, this model is sure to last much longer than any other models you find in the market. Besides, the magnet docking system also helps it to stay in its prime condition even after long periods of usage. So you do not have to worry about replacing it.
Whether you are looking for an easy to use model or one that is efficient in terms of cleaning, this model definitely stands out. So this is definitely one to consider while you are going over your options.
7. KOHLER K-597-CP Simplice Kitchen Faucet
Efficient Cleaning
It is pretty tough to get all your work done in the kitchen with a single spray mode. So, get this model that has 3 different spray modes, all for your different needs. For example, you can use the stream mode for rinsing, and the boost mode (which increases the flow up by 30%) for some powerful scrubbing.
Easy to Use
Having multiple handles or buttons can often make you a little confused as to which button is for what purpose. So instead, this model utilizes a single handle that can control both the temperature and the flow volume of the water. This definitely makes the usage process a lot easier.
Aesthetic Design
If you are going to spend some money on a faucet, you might as well get one that looks good in your kitchen setting. This model definitely does that. With its clean, no-nonsense, aesthetic look, it will fit right in any kitchen.
This model can definitely do all the basic jobs of a faucet while also adding a touch of elegance to your kitchen. However, if you are looking for models with a bit more complex features, then you would be better off with other alternatives. But overall, this is quite a good model.
Buying Guide
You do not really need to spend hours researching what kind of faucet would work best for you, but you do need some basic knowledge about the important factors. And what factors would they be? Well, the ones listed down below!
Types
First of all, you need to decide what type of faucet you are going to get. Keep in mind each type has a different kind of benefit and therefore meets different needs. The main types are discussed below-
i)  Pull down or pull out: If you need to clean dishes or any other thing a bit away from the kitchen sink, then this type of faucet would be perfect for you. This basically allows you to pull down the head or spout from the faucet for your use, like cleaning something that won't fit in a sink.
ii)  Single handle vs double handle: If you are looking for a model that is simple and easy to use, then single handle models are the ones to go for. These models use a single handle for controlling the flow and the temperature of the water, so they are very convenient.
On the other hand, if you want to have two separate handles for each temperature setting in order to not get confused, double handle ones are best. But make sure that your kitchen sink is large enough, as they can take up a lot of space.
iii)  Hands-free faucet: This is the latest type of faucet available, which is becoming increasingly popular through its use of infrared technology. You do not need to touch these faucets at all to get them started; the sensor does all the work for you. These are best when there is a risk of contamination.
iv)  High arc vs low arc: If you want a lot of space between the faucet and sink for maneuverability, then go for ones with high arc spouts. But if the top of your sink is already blocked by something, then low arcs will have to do.
Configuration
You definitely need to make sure before buying a faucet that it is compatible with the configuration of your sink. To do that, check the number of holes in your sink, there might be any number from one to four. If you have one hole, it means you get to install only a one handled faucet in the sink.
Similarly, two or three holes are for two-handled faucets, while four holes are for traditionally designed faucets with accompanying soap dispensers or other accessories.
Finishing
Choose a finishing for your faucet that goes with the overall style in your kitchen, while also being corrosion and rust-resistant. The most popular finishing is polished brass, which gives faucets an elegant vintage look.
You can also opt for coppers for a rich look. Other options include nickel, chrome, and oil rubbed Venetian bronze.
Water Flow Rate
It is very important that whatever the flow rate of your pipe is, your faucet has a similar rate. Otherwise, a lot of problems might arise. The flow rate of the faucet is usually listed in gallons per minute. A normal faucet should have a rate of about 2 GPM.
Aerators
Aerators are just devices that mix up a bit of air with the water in order for a better flow. They also play a huge role in saving water while doing the same task as efficiently as a faucet without an aerator would do.
You should definitely try to buy a faucet which has aerators. Just make sure that it can be removed and upgraded. We have also written a section below on how to remove an aerator by yourself in case you face any trouble with the water pressure of your faucet.
Water Filtration System
Whatever purpose you are using your faucet for, it is always good to have a water filtration system in place. You will not need to boil the water before using it by having this in place, and all your food will be completely safe from contaminants after washing.
So, try to get a model with a built-in filtration system, or at least have a pre-installed filter system in your sink so that it can work with any faucets.
Price
Unfortunately, most good kitchen faucets are quite expensive. But if you have a set budget, you can always find one in that range with good qualities. Just make sure to decide beforehand which features you really need, and then decide your way backward from there. But do not compromise on quality for saving a bit of money.
How to Remove a Faucet Aerator?
Sometimes, you will notice that the water pressure in your faucet has dropped significantly. Before calling in a plumber immediately and wasting some money, have a look at the aerator in your faucet. Most of the time, it gets clogged with the buildup from the water over the years and is the main culprit.
Follow the steps mentioned below to remove the faucet on your own –
Unless you want the components of your aerator to go down the drain, plug the sink. These will help catch the tiny parts that comprise the aerator
Getting hold of the aerator with wet hands or while the faucet is wet might be quite a difficult task. Therefore, start with dry hands, and also use a clean cloth to dry up the faucet.
Use Counter-clockwise Motions
Mostly, the aerator can be removed by just hands as it is hinged on using hands. Use counterclockwise motions to loosen it up.
If your hands can't seem to be doing the trick for you, then go in with a pair of tongue pliers. Unless the aerator is clogged to an extreme extent, the pliers should do the trick.
Sometimes, so much dirt has built up inside the aerator that it is impossible to get ti out without cleaning it first. In that case, fill a plastic bag with vinegar, and submerge the tap and the aerator inside it completely in vinegar. This will help unclogging the dirt and loosening up the aerator in no time.
If the aerator is still stuck, you can apply a bit of heat with the hot option on a hairdryer. Be very careful, though, as you do not want to melt down any of the plastic parts inside.
When nothing else works, use some penetrating oil like WD-40. This will help loosen the aerator, and then you can go in with the pliers or rubber wrenches.
Conclusion
Getting the perfect kitchen faucet is a matter of utter bliss in adulthood. So, we hope that by reading our article about the best kitchen faucets reviews, you have a better idea about what kind of model you want to look for. So get going, buy your perfect faucet, and don't worry about doing the dishes ever again!
FAQ For The Best Kitchen Faucets