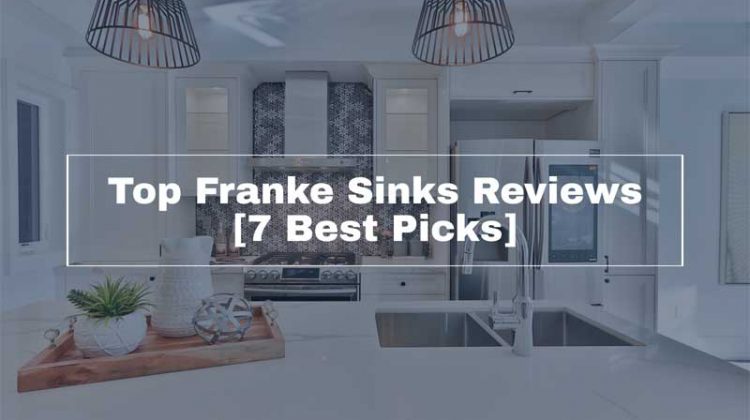 The kitchen plays one of the most important roles in the house, and whether you are a culinary genius or not, everyone wants to have a beautiful one.
No doubt, one of the basic necessities of the kitchen is a kitchen sink, and it contributes quite a lot to the kitchen's overall functionality.
Hence, finding the right sink at the right price without compromising on quality and features is very important.
And in this article, I'm going to provide you with franke sinks reviews to help you find your ideal option.
But why Franke sinks only?
That's because since the 1930s, Franke has been one of the most reliable brands when it comes to kitchen sinks in the United States.
So, let's get started.
Top 7 Best Franke Sinks : Comparison Chart
Best Franke Sinks Reviews in 2020
Franke has many products that fall under their kitchen sinks category, each pertaining to a different style and suiting a different need. From all their uniquely designed sinks, how to determine which sink is right for you?
Below, we have listed what we consider the 7 best sinks from Franke.
1. Franke USA ORX110 Under-Mount Single Bowl Stainless Steel Kitchen Sink - Best Of The Best
Franke is well known for its exceptional quality and design of their kitchen products. This one is no exception to Franke's unbeatable quality and craftsmanship.
Not only this Franke undermount kitchen sink is stylish, but it also gives you plenty of space to work with and has amazing quality. It definitely lives up to the hype and deserves all the praise it can get.
Designed and manufactured in Switzerland, this model is guaranteed to last for years to come without degrading in performance. The sink is comprised of 18 gauge stainless steel making it extremely durable and sturdy. In addition to giving it a timeless look, the stainless steel allows for the sink to be very hygienic.
The stainless steel sink has a patented integral ledge system, which gives it a unique design enabling it to support a shelf grid. This way, you truly have a workstation that is ergonomic and makes your work effortless.
Furthermore, there is minimal noise from running water and water disposal due to the sound dampening pads that are featured. However, this thing won't come cheap. But we must not forget that good things seldom come at a cheap price. So, despite being a bit expensive, it provides great value for the money.
Taking into consideration all of the important factors, this model is one of our top choices. Apart from design and its unique features, the sink ranks high on functionality, durability, and performance. It is the perfect addition to your kitchen.
Pros
Large and deep bowl
Easy to clean and maintain
Low noise level
Under-mount installation type
Constructed with stainless steel of 18 gauge
One basin
Polished finish
Patented integral ledge system
Sound dampening padding
Cons
A little on the expensive side, but you really do get what you pay for
2. Franke HFS3322-1KIT Vector Dual Mount Single Bowl Kitchen Sink - Runners Up
This model has been designed perfectly and is highly durable. You'll also love the fact that the price of the sink is budget-friendly.
The unique sleek rim design consists of rounded corners that give the sink a modern professional look. Its satin finish further enhances the beauty and elegance, making it a beautiful addition to your kitchen.
This Vector series was made to stand the test of time with its 18 gauge stainless steel. Not only does the stainless steel allow for the sink to be extremely hygienic but also makes it scratch and corrosion-free.
The metal allows for longevity and with a bit of routine care, the sink will look good as new for years to come. Also, the pore-free surface prevents growth of bacteria. The sink comes with sound deadening padding that eliminates vibrations and noise made from running water, pots and pans, or utensils.
Ultra-quiet sink means a peaceful kitchen to work in. Fortunately, this sink has a hassle-free installation process that you can do by yourself without professional help. Depending on what you prefer, you can either install it top mount or under mount due to its dual mount installation method.
With its timeless design and exceptional build quality and performance, you cannot go wrong with this one. On top of its spacious sink to work in, it is low maintenance.
Pros
Great build quality and long-lasting durability
Resistant to corrosion
Sound dampening features
Easy to clean and maintain
Dual mount installation method
Easy and hassle-free installation process
Satin Finish
Cons
3. Franke Ellipse Dual Mount Granite Offset Double Bowl Kitchen Sink - Nice For The Price
If natural elegance is what you are after, then you cannot go wrong with this sink. The design of this sink is very versatile and will perfectly complement both modern and traditional styles.
Made of high-quality granite, the Franke Ellipse is extremely easy to maintain and clean. The fact that it is constructed of 80% quartz only further proves how long-lasting this sink is going to be.
These granite sinks are made from the hardest granite component bonded with acrylic resins. This process increases the durability of its products. The high-density granite also allows for the sink to be scratch and heat resistant.
This model consists of two deep bowls that are spacious enough for you to work comfortably and peacefully due to the fact that they have low noise levels.
Hence, the Ellipse is a great option for a granite sink if that's what you are after. The finest quality of granite has been used in the construction of this sink and has low maintenance.
Regarding the price, I must say that it's reasonable and should be within your budget. So, price-wise, I have nothing to complain about.
Pros
Hassle-free maintenance
Looks good as new for many years with some routine cleaning
Very durable and long-lasting build quality
Resistant to scratches, stains, and heat
Dual installment methods
Deep, large bowls that allows for versatility and flexibility in work
Water splashing is prevented due to depth of bowl
Sound deadening pads
Constructed of 80% quartz bonded with high-quality acrylic resin
Cons
A time-consuming installation process that may prove to be a bit tricky
4. Franke DIG61091-MOC Granite Single Bowl - Best For The Money
If you have no need for dual bowls but want a sink very similar to the one mentioned above, then give this guy a shot. This sleek designed sink allows you plenty of room to work comfortably with large pots and pans, all the while preventing any water splashes.
Much like the Franke Ellipse series, the DIG61091-MOC is also made of high-quality granite. It is constructed of 80% quartz making it extremely durable and long-lasting. This increases the lifespan of its products as the high-density granite makes sure that your sinks are protected against scratch and heat.
The sink comes in two beautiful colors, onyx and champagne, which oozes elegance and gives your kitchen a timelessly modern aesthetic. Due to its dual mount installation system, you can choose to install the sink in any method you prefer, whether top mount or under mount.
When it comes to price, I think the manufacturers have done a good job to keep it in a reasonable range. So, yes, you will have to depart with a considerable sum, but you won't regret it.
Now, this model has a lot of the features that most homeowners are looking for. So, this beautiful granite sink is surely to make a great addition to your kitchen no matter what color you choose, onyx or champagne.
Pros
Easy Maintenance
Highly durable
Resistant to stains and scratches
Prevents water splashing
A deep bowl
Low noise level due to sound deadening pads
Dual installation methods to make things easier for you
Cons
Installation process isn't easy
5. Franke Evolution Stainless Steel Offset Double Bowl Kitchen Sink - Top Rated
Beautifully designed, this sink does not compromise when it comes to features. Spacious and sound deadening padding featured, you can peacefully work with all sizes of pots and pans, or utensils.
The large bowls will prevent any water splashes and provide a lot of conveniences. Not to mention, the double bowls allow for flexible and versatile work experience.
The 18 gauge stainless steel enables your sink to be scratch and corrosion resistant and is durable enough to last a long time. In addition to adding to the sink's beauty, the satin finish allows for any scratches made to be unnoticeable, as they will seamlessly blend in overtime.
Installation is made very easy thanks to the industry famous system by Franke that allows you to install with just a click! Franke's Fast-IN install system consists of clips that make the job easier for you.
This is another great budget-friendly option with great features. For the price that you are paying, you are getting a lot of features and benefits that enhance the kitchen work experience. Franke's famous install system is a big selling point here by which you can easily install the sink on your own without any hassle.
Pros
Quick and easy installation with Franke's Fast-In install system
Large, deep bowls that allow you to clean large pots and pans easily
Low noise and vibrations due to sound deadening pads
Budget-friendly
Satin Finish
Drop-in, top mount installation method
Cons
Thinner material used compared to a 16 gauge sink
6. Franke C2233R/9 Stainless Steel Dual Mount Double Bowl Kitchen Sink - Best In Quality
This kitchen sink is versatile and is one of the cheapest that the company offers. If you are on a tight budget, then this is the one you are looking for. However, coming at an inexpensive price doesn't mean that quality has been compromised. In fact, this one provides great bang for the bucks.
The C2233R/9 has two bowls, one large and one small, and has a price tag below $200. But rest assured that you will not be giving anything up.
The sink meets quality standards and has functions like any other high-end sinks. Also, the dual bowl offers convenience and flexibility and is very durable due to the 18 gauge stainless steel that it is constructed with. You can choose to install the sink in any method you prefer, whether top mount or under mount.
Moreover, the sound dampening pads that are featured makes the sink soundproof, making for a more peaceful work environment. The sink also features T-rims for strength and to ensure safety from sharp edges.
If you are after a budget-friendly option, then this is a very good choice for you. Despite the lower price, quality and functionality are not compromised at all. With its beautiful satin finish, it will also greatly complement your kitchen's décor and style.
Pros
Very budget-friendly
Convenient double bowl
Great functionality and durability
T-rims
Pads for soundproofing
Dual mount installation type
Double bowl
Satin finish
Cons
18 gauge is a relatively thinner stainless steel compared to a lower gauge metal
7. Franke SL103BX Single Bowl Stainless Steel Kitchen Or Utility Sink - Best Budget Friendly
The Franke SL103BX is the perfect sink for any tight spaces and can be used for kitchen prep, in a bar, or in a utility area. Its modern, simplistic design will be a great addition for your space.
With a dimension of 20 1/8 inches by 20 9/16 inches, the sink itself is comparatively quite small making it very convenient for smaller spaces. Having said that, you won't feel the need for more space as the 10-inch deep bowl is big enough for any sized pots and pans, all while effortlessly preventing splashes.
Its 20 gauge stainless steel allows for the sink to be one of high quality and long-lasting durability that can withstand regular or heavy use over time. The sink is built to eliminate all vibrations and insulate noises, making it very quiet.
Due to its dual mount installation facilities, it's up to you to choose whichever way you install the sink. It also has safe T-rims which gives the sink added strength and ensures safety from sharp edges for the user during the installation process.
With its timeless design and convenient size, the Franke SL103BX is the best in its class. A great option to optimize available space. Also, the price is quite good and won't cost you a king's ransom. So, if you want a great sink without making your pocket go broke, then this one can be a good choice.
Pros
A deep bowl that will prevent water splashes
Great quality and sturdiness
A 10-inch bowl which is very roomy and lets you work with ease with any sized object
Sound deadening feature
T-rims
Dual mount installation methods
Cons
The installation process takes a lot of time
Only 20 gauge of stainless steel is used, which is thinner than a lower gauge metal
Franke vs. Blanco Sinks
The two of the biggest manufacturers of kitchen sinks in the United States are Franke and Blanco. Both companies have unique selling points that make them the perfect choice for any customer.
Before you choose which one to get, analyze every component of the sink and figure out which attributes best suit your needs. There are some key points that you can compare to get a better understanding on which sink to get; Franke or Blanco.
Stainless-Steel
When it comes to sinks of stainless steels, both the companies are great options. In addition to their specialization in making beautiful stainless steel sinks, they have them in a variety of sizes and different configurations.
This may include D-bowl, double bowl, and/or have one custom-fitted into your kitchen. You want to make sure you get a sink that is made of the thickest steel available. You can check this by noting the gauge level. Sinks with thicker metal will have a lower gauge rating.
Granite
If you are  looking for granite composite sinks, you will get them at both Franke and Blanco. The only difference between the two would be the fact that Franke's granite sinks contain 90% of granite, while Blanco's have 80% of granite mixed in with resins and pigments.
Having a higher resin count is beneficial and often recommended as it prevents etching and scratches, in addition to increasing the durability of the sink overall.
Granite sinks from Blanco are a great option for you if you are very busy and need something quick and easy to clean. They also come in a variety of options, in different sizes, colors, and styles. Franke's, on the other hand, have a more limited selection but has an additional sanitary coating to prevent the growth of bacteria.
Style
If you are big on having a cohesive look in your kitchen, you definitely want a sink that goes with the vibe. Blanco's wide collection offers you the ability to match your kitchen sink with the rest of your kitchen; starting from the material the sink is made of to the design of it.
If you are aiming for a more modern and contemporary style, Blanco's sinks are the best option for you while Franke's sinks are the ones you want to look at if your style is more traditional.
Things to Consider before You Buy
You'd think buying a kitchen sink would be simple. After all, it's just a sink, right? Unfortunately, the task of finding the perfect sink to best suit your needs proves to be quite daunting. The sink you buy will not only depend on your budget but also many more features the manufactures may offer.
Buying a sink from Franke may especially prove to be confusing as the options to choose from are endless.
However, this list consists of some of the main factors you should take into consideration while buying a sink from Franke;
Material
This is an obvious factor to take note of first and foremost. The built quality and durability of the sink you purchase has to be superb, and it will solely depend on the materials used in manufacturing it. Buying the best material kitchen sink will ensure that you will get long years of service.
Franke offers its sinks in three materials; granite, stainless steel, and fireclay. Each has its strong points.
Bowl Configurations and Dimensions
Really think of your needs and use for a kitchen sink. Figure out how many bowls you will need your sink to have and the dimensions of it. Ideally, the dimensions depend on the space you have available, but also think of ease of use.
For example, the deeper the sinks are, the harder it will be for short users.
Type of Installation
Franke sinks are hassle-free and easy to install. But determine the type of installation you require before making a purchase. Franke offers their sinks with a dual mount, top mount, or under-mount.
Finish
How well your sink wears in time will depend on the finish you choose. Not only will the perfect finish ensure that cleaning and maintaining the sink is easy, but it will also prevent stains and corrosion.
Faucet Holes
You will notice that many of Franke's sinks come with pre-drilled holes. If you plan to reuse your existing faucets, make sure that the sink you purchase has the right number of holes and spacing required to fit your hardware.
How to Clean a Franke Composite Kitchen Sink
Composite sinks from Franke are constructed of fired granite and acrylic. This is done not only to give a durable and textured finish but also so that the material can prevent stains and growth of bacteria.
Having said that, it is only natural that some build-up – such as from food, detergent, and hard water minerals – will occur with use over time.
Maintaining the Franke composite sink's look and performance is possible with proper care. You won't need much and can easily make use of household items such as bleach and vinegar to clean your sink. Here's how;
1.  To start off, you will need a clean sink to work with. At first, thoroughly rinse the sink using warm water. Then, take a nylon scrub brush and add a few drops of dish detergent. Using circular motions, gently scrub away any residue that is remaining.
2. Rinse away the soap residue from the sink with warm water.
3. To remove any hard water mineral deposits, use a soft cloth or sponge and soak it with white vinegar before wiping at the affected area. To remove tougher stains, dampen your cloth or sponge with either oxalic acid powder cleanser or bleach cleaner before wiping at the affected area.
4. Proceed by thoroughly rinsing off any residue left by the chemical substances used with warm water. You may want to take your time with this and rinse for as long as needed.
5. After, simply just wipe the sink dry with a clean towel.
Pro Tip: To keep the luster over time, dampen a soft cloth with a little mineral oil and apply an even coat on the entire surface of the sink. Polish the oil on the surface for a shiny finish.
FAQ Regarding Top Franke Sinks Reviews
What Gauge of stainless steel is used for franke sinks?
Franke Sinks have a stainless steel gauge ranging from 16, which is the commercial range, to 20. All of their sinks are composed of only the finest stainless steel available. They even have a separate line of products for professionals or commercial kitchens with the highest quality of stainless steel (16 gauge).
Can I punch extra holes in my franke sink?
Before purchasing your stainless steel sink from Franke, request for an extra hole. It is better to have it professionally done rather than doing it on your own. Punching the hole by yourself may lead to discoloration.
Granite sinks, on the other hand, have holes pre-drilled that you can knock out. Read the instruction manual that is given carefully before doing this.
How can I ensure that my stainless steel sink looks good as new always?
Maintain routine clean up, using any cleaning substances that you are likely to find at home. You may follow the method explained above.
What does a stainless steel gauge refer to?
The thickness of the stainless steel used is called the gauge. The lower the gauge, the thicker the metal. Therefore, a 16 gauge is better than the stainless steel of 18 gauge.
Does franke stainless steel sink scratch?
Naturally, your sink will scratch over time with regular use. However, do note that the scratches will blend into the surface over time.
Conclusion
The kitchen sinks mentioned above in the Franke sinks reviews are some of the top choices in terms of functionality, quality, durability, performance, and most importantly price.
Take help from the buying guide where we list out important factors to help find you the perfect sink.