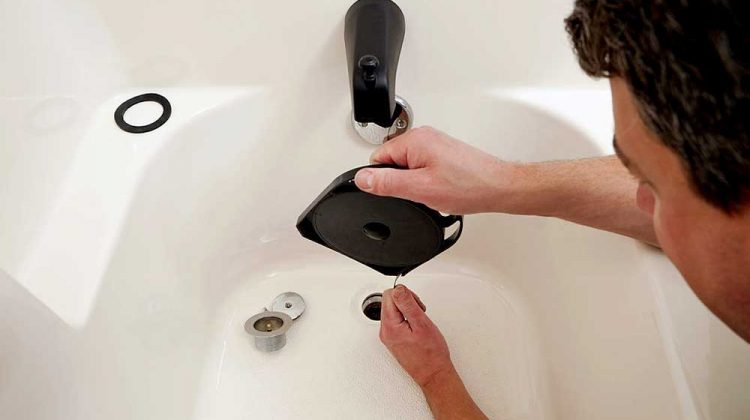 If there's any feeling on earth that comes closest to heaven, it would have to be bathing in a bathtub. What could be more satisfying than relaxing in some bubbly water to unwind after a long day?
Unfortunately, like all good things, even bathtubs require proper maintenance and cleaning. If you're reading this, you've presumably ended up with a clogged bathtub drain… so it's safe to say you're guilty of neglecting your bathtub's cleanliness.
Don't worry! We're still going to show you how to unclog a bathtub drain in a few different ways. But just so that you never have to wonder about the process of unclogging a bathtub drain with standing water; we'll also teach you about proper bathtub maintenance.
Let's get started!
How to Prevent a Clogged Bathtub Drain?
If you've ever had to deal with a stopped-up bathtub drain, we're sure you'll agree that unclogging it is not a very pleasant activity. So why not take steps to prevent it from happening in the first place? Here are some ways to ensure your bathtub drain doesn't get clogged.
Practice regular cleaning
Yes, cleaning a bathtub is a tedious task. However, keeping your bathtub drain clean is an almost unbelievably simple process. All you need is some vinegar, which you will have to pour into the drain. Let sit for about 10-15 minutes, then wash down with hot water. This not only keeps the drains clear but also eliminates unpleasant odors.
Not a fan of the pungent vinegar odor? Then you can substitute it with baking powder. Although just the loose powder will do, you can also choose to mix it with hot water to make a paste. Follow the same steps, as mentioned above. Whichever cleaning agent you choose, though, try to do this at least once every 3 months.
Get a drain cover
Although this should be obvious, a surprising number of shower and bathtub drains are left uncovered. But this clogging prevention method is not only very simple but inexpensive. A drain cover is immediately available to catch hair and other small passing objects while allowing the water to pass through. However, you do have to keep them clean.
Keep the faucet running
One unexpected way of preventing bathtub drain clogs is to keep the water running after you're done showering. Yes, that's right. Once the dirt, sweat, hair, and myriad other influences from your body have passed into the drain, turn the faucet to the hottest setting and leave it there. Let it run for about 3-5 minutes, then turn it off.
Hopefully, you'll remember these tips and keep your bathtub drain clear and running smoothly. But now it's time to move onto the cleaning process. Let's go!
How to Unclog Bathtub Drain Naturally?
Before you introduce chemicals into the unclogging process, it makes sense to try and deal with the problem naturally. Thankfully, there is more than one way to do this. But first, you need to clean your drain cover or stopper if you have one.
Cleaning the bathtub drain cover
Before you can start the cleaning process in earnest, first, you have to deal with the cover or strainer.
Step 1: Remove the strainer. If it's screwed down, you will need a screwdriver to make it come loose. Otherwise, simply lift it out.
Step 2: Clean the thing! This process does not take very long and is quite easy to achieve quickly. Use an old toothbrush or even a very fast water stream and clear out the build-up inside your drain cover/strainer.
Step 3: Replace the cover.
Step 4: Do a test run. Fill up your bathtub with a small amount of water and remove the stopper. If the water drains out quickly, congrats! You've solved the problem. If not, then keep reading.
Unclogging with a drain claw
Utilizing a drain claw is one of the simplest ways of unclogging a stopped-up bathtub drain. A drain claw is typically made out of flexible wire material and features an auger at the end. The flexibility allows it to bend with ease.
Don't have a drain claw/don't want to spend money on one? You can easily make your own if you have some wire at home. You can even fashion one out of a stiff bent wire coat hanger.
Step 1: Remove the cover/strainer to your bathtub drain if there is one.
Step 2: Lower the drain claw into the drain. With a steady hand, push the claw as far down as you can. At this stage, you should feel a little tug. That means that the augur/hook at the end of the claw has captured hair clumps.
Step 3: Lift the drain claw out. You should see, at this stage, hair and other types of gunk sticking to the end of the claw.
Step 4: Repeat process. Hopefully, you won't have to do this too many times.
Using a Plunger to Unclog the Drain
The final method of unclogging your drain without chemicals involves a plunger. Yes, the very same kind that you use to unclog your toilet. Although, of course, if you're going to be using this method, you should definitely use a different plunger than the one you use for your toilet. This method is for severe or solid build-ups.
Step 1: Fill your bathtub with a small amount of water-just a few inches deep will do. We recommend using hot water instead of cold, but that's not absolutely necessary.
Step 2: Place the plunger over the drainage hole. Now, using force, push it down. Then pull it up again. Keep doing this as vigorously as you can.
Step 3: Survey the wreckage. At this stage, you should be seeing bits of gunk, grime, and hair at the end of the stopper or surrounding the drain. Clean that out of the way to avoid re-clogging.
Step 4: Repeat the process as many times as you need.
If it seems like this method isn't proving useful, then it's time to move on to using chemicals!
Using Chemicals to Unclog Bathtub Drain
If the above steps have proved your efforts to have been in vain, then it's time to move on to using chemicals to unclog your bathtub drain. Below, you'll find our guides on unclogging your bathtub drain using vinegar, bleach, and baking soda.
How to Unclog a Bathtub Drain with Vinegar and Baking Soda?
As you may already know, vinegar is one of the most popular DIY cleaning agents. It's easy to find, inexpensive, and you probably already have it. We would recommend going with pure white vinegar as it is more effective.
For this process, you will be combining vinegar with baking soda. You should already have this at home as well, but if not, it's just as easy to find.
Step 1: Make a mixture of baking soda and vinegar. For this, you will need 1 cup of vinegar and 1/4 cup of baking soda. Mix it until it becomes a paste.
Step 2: Pour the mixture into the drain. This is pretty straightforward, so we hope you won't need a further explanation!
Step 3: Let it sit for about 15 to 20 minutes. The solution will make short work of all the gunk and scum inside your drain.
Step 4: Put some water on to boil while you wait. This will be required for the next step.
Step 5: Pour the boiling water into the drain. When the water comes into contact with the baking soda and vinegar, it will clear out any last vestiges of gunk. Look out for splatters; you don't wanna get burned!
Step 6: Run the faucet, using medium- to cold water to this time. This will clear out residues from your DIY vinegar cleaning solution. And you're done!
How to Unclog a Bathtub Drain with Bleach?
Bleach is one of the strongest cleaning agents there is, and it works wonders for a severely clogged bathtub drain. If you think you will be using bleach, though, it's very important to take the necessary safety precautions.
Equip yourself with a mask and gloves. The former will protect your nose and mouth from potentially dangerous fumes while the gloves will protect the skin of your hands. Next, open the bathroom window wide and turn on the exhaust fan.
Now let's get to work.
Step 1: Drain any residual water in your bathtub. If it's standing water (meaning it won't drain at all), then use a small bucket to scoop it out.
Step 2: Measure out 250ml of bleach into a container, e.g., a cup.
Step 3: Let the bleach work its magic while you take a break of 10-15 minutes, but not more. Otherwise, you risk having the bathtub's plumbing components being corroded by the bleach.
Step 4: Boil a full kettle of water while you wait. You will be using it to wash the bleach away.
Step 5: Pour the boiling water into the drain. Once again, be careful of splatters. Repeat this process.
Step 6: Check for residual bleach in the bathtub, particularly on metal parts and components (e.g., if you have a fixed drain strainer).
And you're done! Do note, however, that bleach only dissolves organic material. If the cause of your drain blockage is something else-such as small plastic parts-then the bleach won't do anything to remove it.
Conclusion
Now you know how to unclog a bathtub drain with baking soda and vinegar or bleach, and we bet you're surprised by how easy the process is. But remember, before you move on to chemicals, it's best to try the natural methods we have outlined.
We hope that you will be able to skip having to pay a plumber's expensive fees. However, if none of the methods outlined above has worked for you, then it's best to make that call.
When your bathtub drain does end up unclogged, remember to keep it clean! Remember, prevention is always better than cure.
Good luck!