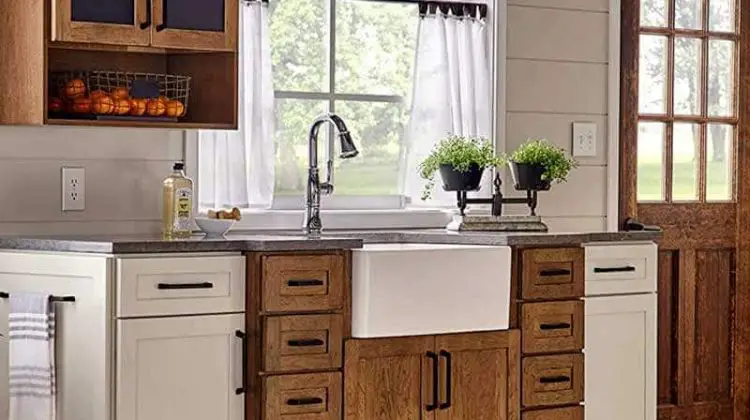 Are you planning to renovate your kitchen?
Want to give your ordinary kitchen an elegant, classic look?
Then, there is nothing better than the best fireclay farmhouse sink.
Farmhouse fireclay sinks are SUPER SINKS!
Yes, you've heard that right.
They are super durable, super versatile, super stylish and absolutely gorgeous. For their practical convenience, deep capacity and charming style, they stand out from the others.
No wonder home design experts and professionals agree every kitchen should have a fireclay farmhouse sink!
However, if you're wondering where to start your search, getting our fireclay farmhouse sink reviews would be a good starting point.
Take a closer look at our reviews of the top 8 options you can buy.
Quick Comparison Chart
In A Rush?
This quick chart will provide you with a glimpse of the top-rated fireclay farmhouse sinks on the market.
Our experts have recommended Kraus KFR1-33GWH Turino white fireclay kitchen sink as our top pick. It's the best fireclay single bowl farmhouse sink comprising oversized bowl, high-gloss finish, smart reversible design, superior drainage and much more. In short, it offers the perfect combination of quality, performance and beauty.
Houzer PTG-4300 WH apron-front fireclay single bowl kitchen sink is definitely an affordable option for you. We can assure that it'll make your kitchen life easier with its extra-deep basin and better functionality. The glossy white finish looks elegant and adds the European flair to modern kitchen design. But you don't' need to break your bank to buy it.
8 Best Fireclay Farmhouse Sinks- 

Attractive And Sophisticated Options
In our reviews, you'll get some best farmhouse sinks made of fireclay. We've shortlisted them considering their quality, feature details and customer reviews.
No matter what your budget is, hopefully, you'll find the right one for you. They all worth the money you pay.
Sit back and read through the reviews!
1. Kraus KFR1-33GWH Turino Fireclay Kitchen
It's no secret that Kraus kitchen sinks are a popular choice among most homeowners today. This classic looking product is not only versatile, but also extremely practical. This Kraus KFR1-33GWH farmhouse sink is no different.
Kraus white farmhouse sink is transitional and contemporary in every way you want. Its subtle appearance compliment a wide range of kitchen decors.
This 33 inch farmhouse sink has a single bowl design. Of course, it's spacious enough to handle your largest cookware easily. High-grade fireclay and advanced glazing technology make this product perfect for heavy use.
The extra-thick, high-gloss enameled finish offers unmatched protection against stains and scratches. The ultra-fine fireclay construction also does a great job of preventing yellowing and crazing.
Customize the look of your kitchen with this reversible design sink. It allows you to choose between flat or rounded apron front to match your kitchen style.
A useful feature of this sink is its gently sloped bottom with optimizes angle. It promotes drainage. Additionally, it keeps delicate glassware from tipping over in the sink.
If you're willing to spend a bit of money for a functional, flawlessly designed and highly durable sink, Turino KFR1-33GWH is an excellent choice for you. Indeed, it'll support your lifestyle and bring quality and value into your home.
2. Lordear Black Single Bowl Sink
Next, we've another 33-inch single bowl farm kitchen sink. This time it's from the brand Lordear, specialized in devote to providing the best kitchen and bath products.
Lordear bath and kitchen products are fashionable, elegant and most unique. Lordear black apron-front fireclay single bowl sink is no different.
This versatile kitchen sink features a cool design to fit any kitchen design. You can install it on both front and side based on your preference.
The 9-inch (inside depth 8-inch) deep bowl offers you plenty of spaces for dishes, pans and pots. Of course, the included stainless bottom rinse grid protects the sink from scratches.
What about its durability?
Simple answer- Outstanding!
As it's made from true black fireclay that is fired at 2900 °F for extreme strength and durability. Of course, you can't realize it unless you read through a number of best fireclay farmhouse sink reviews.
Like other fireclay farm kitchen sinks, the sink surface is abrasion, chips and scratches resistant. Therefore, it'll hold its performance and beauty for year after year.
Finally, this farmhouse-apron-front sink comes with microwave oven gloves, thermal insulation pad and the apron cloth making it perfect for daily use.
Till the date of reviewing this product, we've not found any significant negative complaint against it. Overall, it's a masterpiece of any modern and contemporary kitchen design. We highly recommended if the 8-inch bowl inside depth is right for you.
3. Houzer PTG-4300 WH, Platus Series
Our list of the best fireclay farm sink cannot be complete without this Houzer fireclay kitchen sink of Platus Series.
With the traditional apron front and modern styling, PTG-4300 WH will give your kitchen a fabulous upgrade. It'll add the European flair to modern kitchen design with a conventional accent.
Houzer PTG-4300 feels very solid. It's a handcrafted sink made from solid fireclay that makes it superior to other ceramics.
Though handcrafted, this fireclay single bowl farmhouse sink has a smooth and glossy white finish that looks elegant. It also goes great with any kitchen decor.
Of course, this visually appealing sink is chip, crack, and scratch preventive.
This apron-front single bowl kitchen sink is quite deep (10-inch) and super spacious. It can accommodate most of the biggest cookware, including baking sheets.
Finally,  cleaning those kitchen appliances will be comfortable and easier inside the bowl.
Undoubtedly, PTG-4300 WH white sink will make your life in the kitchen comfortable and more enjoyable.  If you want a gorgeous sink without spending a lot, we strongly recommend this sink from Platus series. Add a soulful ceramic touch with this classic farmhouse sink!
4. Whitehaus WHQDB332-BK Quatro Alcove
Whitehaus Collection is one of the market leaders in home-kitchen-bathroom appliances and sinks production. The WHQDB332-BK is one of the best black fireclay farmhouse sink available.
Handcrafted from natural clay, this white fireclay farmhouse sink is proven to be durable. It's capable of withstanding extreme temperatures.
The look of this product is exceptional and eye-catching at first glance! The smooth, elegant and glossy finish makes it visually appealing. Moreover, the gorgeous black finish looks amazing in any kitchen décor.
In fact, having a reversible design kitchen sink is like having two sinks for the price of one.
This Quatro Alcove is a reversible sink with fluted front apron. It features a 2-inch lip on one side and a 2.5-inch lip on the opposite side. The finished all the four sides allow you to install it whatever you prefer.
The double-bowl design is multi-tasking and convenient to use. Both the bowls are equal in depth and size. By the way, there is a center wall (slightly scooped) to offer you more versatility.
Whitehaus WHQDB332-BK is an extraordinary, excellent & gorgeous kitchen sink. It's not only aesthetically pleasing but also crafted to withstand the test of time. Considering the overall performance, this black beauty will be an excellent buy for you in 2020.
5. Logmey White Farmhouse Sink
Your dream kitchen will be complete with this gorgeously stunning white farmhouse sink from LOGMEY.
Yes! It's true.
In terms of simplicity, hygiene, beauty and overall performance, the Logmey 33″ Apron-Front Fireclay sink is a pioneer.
It's a 33-inch contemporary style, white color kitchen sink which is suitable to almost all kitchen setups. The single-bowl design can accommodate nearly all cookware and appliances unless exceptionally big.
Made of true fireclay that is fired at 2900 °F, this sink is more than a durable unit. This high-quality sink is preventive to high temperature, acid and alkali. As per user experiences and our test results, it used to remain as it is for year after year.
Moreover, the cool design of this unit allows you to install it on both sides based on your style preference.
When it comes to cleaning and maintenance, this unit is easy to clean with a damp cloth and soapy water. Of course, the finish is non-porous, hygienic and silky.
Finally, it comes a 304 stainless steel dish grid and basket strainer.
To increase the overall appeal of any kitchen, Logmey 33″ white farmhouse sink is an excellent choice. Overall, it's a high-quality, cool design single bowl kitchen sink that will make your kitchen time easier.
6. Fine Fixtures FC3018SU Sutton Fireclay Sink
To bring a taste of country-style in your kitchen, Fine Fixtures 30″ apron front farmhouse kitchen sink is an excellent option for you.
Sutton FC3018SU is handcrafted for precision using the original slip casting technique. Fired at 1600 degrees Celsius, its sturdy construction offers long-lasting qualities.
Sutton kitchen sink is not only durable but also visually beautiful. The gorgeous white smooth finish looks wonderful. By the way, there is a small logo on the front. The logo can't be taken off, but it gives the sink a classy look.
Although, the sink isn't too large to take over your entire counter, it's spacious enough to handle event the biggest pans and pots.  The single-bowl design also makes it perfect for use in a laundry room. It offers you ample room to hand wash any delicate items.
Fine Fixtures FC3018SU is the nicest piece of art. It's absolutely beautiful and huge! To turn your ordinary kitchen style into something special, don't miss this one. This sink is worth every penny. Overall, buying this sink will be a good investment for your kitchen.
7. HIGHPOINT COLLECTION HP-FC36
Now, it's time to come in touch with this high-end but somewhat expensive sink from HIGHPOINT COLLECTION. This Italian Fireclay Farmhouse Sink HP-FC36 is top-notch both in quality and performance.
Made from fine fireclay by artisans in Italy, HP-FC36 is a superior product. The rigorous firing process that takes over 20 hours makes this unit insanely durable.  Of course, the glazed finish is smooth and extremely scratch preventive. It's also resistant to alkali and acid.
HP-FC36 is a centerpiece to your dream kitchen. It looks gorgeous in any classic or rustic-styled homes. The versatile apron-front kitchen sink features a reversible design that fits any kitchen decor. Choose between plain or fluted apron to match your style.
It's a highly functional kitchen sink. The extra-wide bowl of this 36-in farmhouse sink provides ultimate functionality and generous workspace. Deep basin (8.5 inch inside depth) offers maximum space and comfort.
No doubt, this unit is pricey for budget-conscious buyers. However, we highly recommend it if you can afford it. It serves more than efficiently. You won't go wrong buying this model.
8. Latoscana LFS3318W Reversible Farmhouse Fireclay Sink
The Latoscana LFS3318w single bowl farmhouse kitchen sink is in the last of our list, but not least. Latoscana is a favored brand of fireclay sinks. Hand-crafted in Italy, their sinks are also known for being high-quality, extraordinarily durable and resistant to scratches and chips.
No matter your goal is modern elegance or rustic vintage, the elegant, authentic design of this product adds style to any home. And it'll remain in style for many years to come.
The timeless white color and clean lines give it an exceptional look. It'll appeal to almost any taste. Of course, it features glossy, easy-to-wipe-clean surface which is exceptionally scratch-, stain-, alkali-, acid-, and impact resistant.
At 33-inch, LFS3318W is the perfect size sink that fits beautifully in almost any standard-sized kitchen. Moreover, the 9 1/8-inch inside bowl depth offers a ton of space for washing dishes easily.
When it comes to installation, this model offers you multi-options- under mount, flush mount, or raised sink. Furthermore, the reversible design gives you the choice of displaying the elegantly fluted or classic smooth apron side.
Of course, it's beautifully finished on all sides that offers you a variety of installation options for your desired look.
Latoscana 33″ LFS3318W is absolutely a beautiful sink!! It's truly a farm sink. The excellent craftsmanship and quality will make it a centerpiece of art for your kitchen.
What Is A Fireclay Farmhouse Sink?
Fireclay is an ultra-durable ceramic-porcelain component. It's a particular type of clay fused with glaze and fired at a very high temperature. In this way, the component gets heavy-duty and long-wearing structure.
The noticing feature of a farmhouse sink is its finished forepart that remains exposed after set up. Some models of this type of sink come with reversible design. That means they have one side plain and the other side fluted so that you can install them according to your choice.
Thus, a fireclay farmhouse sink is a farm house-style sink crafted with naturally durable fireclay. In general, this type of sink features one or two wide deep bowl. And they have no lips protruding out at the corners. Additionally, fireclay farm sinks don't come with any pre-drilled holes for faucet and other accessories.
Note that the clay that is used for manufacturing fireclay sink is only available in certain regions in the world.
Fireclay Farmhouse Sink Pros And Cons
Let's take a look at the pros and cons of a fireclay farm sink.
Pros
Suit any kitchen style

Exceptionally durable and can withstand virtually anything you throw at it

Resistant to significantly higher levels of heat, compared to other sinks.

A variety of stains and chips preventive

Do not fade, discolor, or rust

Very easy to clean and maintain

With proper upkeep and care, they can last for many years.
Cons
There are a few minor downsides of farmhouse fireclay sink that you should take into consideration.
Heavier than other sink options due to the density of the materials

Require additional support and a special cabinet

Breakable items such as glassware need to be handled carefully in them

Compared to other sink options, they are a little more costly
Best Fireclay Farmhouse Sink Buying Guide
So, how to choose the best fireclay farm sink?
Consider the following factors to make a wise buying decision.
Size Of The Sink
It's the most crucial factor in making sure that your chosen model has a good fit in your kitchen. Fireclay farm sinks dimension may vary. A small fireclay farmhouse sink has a width of 24-inch whereas larger ones come with 36-inch. The most important thing is to take into consideration the size of your cabinet and kitchen before choosing a model. If you plan to install it on your existing cabinet, select the size that is compatible with your existing cabinet.
Number Of Bowls
You have the options of single or double bowl fireclay farmhouse sink to choose from. Both configurations have their pros and cons. However, before making a decision, consider your regular sink usages.
Depth Of The Bowl
Fireclay farm style kitchen sink bowls come with eight to ten inches depth. The inside bowl depth will be 1 to 2 inches less than the outer bowl depth. The deep bowl will let you do your task without splashing water. But reaching into a deep bowl may sometimes be uncomfortable for some users.
Reversible Design
Many models come with reversible design. That means the front and backside of the unit is interchangeable. Some models have a plain finish on one side and a fluted finish on the other side. So, you can install it depending on your preference. Moreover, if the unit features off set or corner drain, this reversible design allows you to set the drain either the right or on the left, depending on the plumbing needs.
Drain Position
It's another factor to take into consideration regardless of the type of fireclay farm sink you select. This type of sink may have drain either in a corner, to the rear, offset to one side or centered. Choose according to your plumbing needs.
Garbage Disposal Compatibility
Most of these types of sinks are compatible with the garbage disposal. But, some models may not be compatible with it. If this is the case for your selected model, you may have to add an external flange.
Fireclay Farmhouse Sink Brands
Numerous brands are offering their fireclay apron- front sinks with different quality and features. However, not all brands are reliable. So, it's essential to buy from a reputable brand.
Sink Price And Your Budget
Farm style fireclay sinks vary in price. They cost from several hundred to thousands of dollars depending on the size, feature and quality. So, your budget is another essential factor to consider.
Farmhouse Sink Cast Iron 

Vs.

 Fireclay
When it comes to choosing the best materials for farmhouse style sink, most shoppers get confused to select between cast iron and fireclay.
The following discussion will help you to get the point clear.
Construction
Fireclay and cast iron farmhouse sinks look almost similar. But, manufacturing process is different that creates their biggest pros and cons.
Fireclay sinks are handcrafted from fireclay. During their manufacturing process they are also heated to extremely high temperatures. As a result, the glaze and clay fuse together.
On the other hand, Cast iron farmhouse sinks are made from cast iron, and then they're powder coated with enamel.
Durability
Undoubtedly, both types of sink materials are durable. But how do they perform up against heavy uses and other elements?
Fireclay sinks are more likely to chip and crack than cast iron sink. As the clay and glaze are fused together during the manufacturing process, if this sink chips, the color remains unaffected without any aesthetic damage.
On the other hand, the enamel of enamel cast iron sinks are hard, durable and hold up better to various kitchen sink tasks. This enamel may chip by a sharp object that reveals the black iron underneath. But it's repairable.
Cleaning
Fireclay sinks can handle abrasive cleaner better than enamel cast iron. You can simply wipe away typical foods that are prone to stain.
When it comes to cleaning cast iron sinks, only gentle cleaners and soft sponge are recommended. Wire brush and steel wool may damage the enamel of cast iron.
In conclusion, both the fireclay and cast iron kitchen sinks have some specific advantages and downsides. But cast iron sinks are easier to set up and weigh less than a fireclay sink. Of course, a cast iron sink may dull faster than fireclay if you use the wrong cleaner.
FAQs (Frequently Asked Questions) About Fireclay Farmhouse Sink
How much does a farm style fireclay sink cost?
Undoubtedly, there is no specific price range for this kind of sink.
The price varies based on the brand, model, design, and size. However, for a quality fireclay sink, you may need to invest an amount from $400 to over $1000.
What type of faucet is compatible with the fireclay farm sink?
Fireclay sinks usually do not include holes for faucet mounting. For this reason, a counter- or wall-mount faucet is necessary. Unfortunately, selecting the right kitchen faucet for the farmhouse sink made of fireclay is tricky and sometimes overwhelming. In fact, it depends on the styles, finishes, colors, and features of your sink and, of course on your budget.
The faucet should match the finish of the kitchen hardware and sink accessories for pleasant aesthetics.
​Is it recommended to use a garbage disposal with a fireclay kitchen sink?
Yes. Just make sure to use one that's compatible with fireclay. Due to fireclay's thicker nature, your sink may require special drain inserts and accessories.
What color options are available for a fireclay farm sink?
Unfortunately, fireclay sinks are limited to white and off-white (also known as biscuit or cream color) when it comes to color options. However, some manufacturers also offer in blue and black finishes, though less common.
Are fireclay farm sinks ultra- durable?
In fact, fireclay farm sinks are known for their high-level of durability. If you follow the manufacturer's care instructions, your sinks will not only look great but also last for decades to come.
Does fireclay farm sinks stain?
White surface of fireclay farm sink may stain if not properly taken care of. However, you can easily remove stains to keep your sink sparkling clean.
Can I install a fireclay farm sink top mounted?
Most farmhouse sinks offer three installation methods. These are:
Under-mount installation- sink sits below the countertop
Built-up/ Top mount installation– sink sits above the level of the countertop
Flush mount installation– sink sits in level to the countertop
A fireclay farm sink should be installed by following an under mount installation. Read this article for knowing the full installation process.
Is it possible to install a fireclay farm sink in existing cabinets?
Yes, you can.
But it may need some reworks. For example, you may need to build a support structure for fireclay sinks, as they're heavy. Farmhouse style sinks have a deep bowl. So, you may need to cut down the cabinet. You may also need to re-plumb your drain lines.
Do fireclay farmhouse style sink requires a special cabinet to install it?
Yes. For new kitchen installation, you may order for a custom farmhouse sink cabinet. However, if you plan to install it into an existing cabinet, you'll need some rework on the cabinet doors, the face of the cabinet, etc.
My cabinet size is 36-inch. What size fireclay farm sink will be perfect for me?
The 33-inch sink will be perfect for a 36-inch base cabinet. Keep in mind that the base cabinet should be 3-in. larger than the size of the farmhouse style sink you're planning to set up.
Conclusion
So, which is the best fireclay farmhouse sink in 2020?
Hope, you've found it.
Although not all fireclay sinks are created equal, all these 8 options that we've reviewed here are best in terms of their superior quality, design, functionality and price.
Additionally, they are charming, and match well in a variety of kitchen styles, from conventional to modern.
Whether you plan to set up or remodel your kitchen, this list of 8 fireclay farm sinks is exactly to your liking.
Pick according to your requirements and choices from our top list. 
Undoubtedly, it'll be an excellent investment for many years of satisfying and beautiful use.
Thanks for reading!