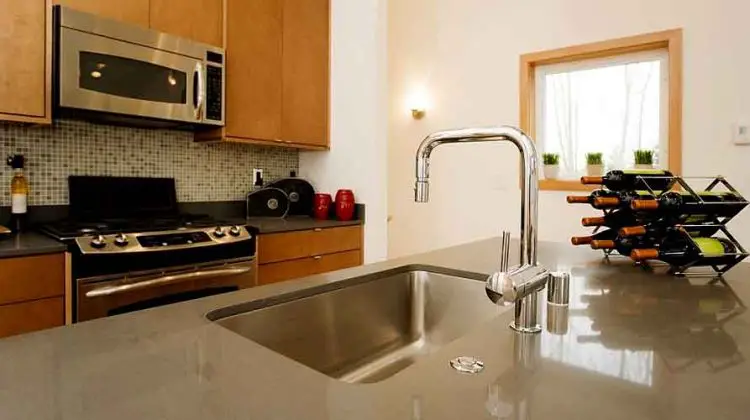 There's a lot done in the kitchen every day, but all of that work begins or ends at the sink. All the washing and cleaning happens right there. So, it is important for you to find a good sink for your kitchen.
There are many types of sinks available, but in terms of the balance and neatness, undermount sinks are the best.
So, we have listed some of the best undermount kitchen sinks for you in this article.
But when you are buying, make sure that it's not only good in functionality, but in appearance as well. A good-looking sink that will set a good mood for you too.
It should also take away your dread of washing the dishes by reducing unnecessary splashes and leaks.
Most of the sinks in our list have a lot of additional features as well.
We think you are going to like them a lot. So, now let's take a look at them and see what they have to offer.
Then you can choose one for yourself, and we believe that you are certainly not going to regret it.
From the wide array of modern undermount kitchen sinks, the 30-inch stainless steel Kraus KHU100-30 Kitchen Sink is the one we like best. It has a durable body, good functioning features, and it drains the water out quickly and noiselessly. It looks cool, and goes a long way. We would definitely recommend you to try this product out and see for yourself.
Our budget pick is the 32-Inch Stainless Steel Undermount Kitchen Sink from ZUHNE Modena. It has all features you could want in a modern kitchen, it's easy on the wallet, and it has a brushed polish on the surface which is not as prone to getting scratches as the sinks with glossy finishes.
Best Undermount Kitchen Sinks Reviews
We have collected a variety of best-selling sinks in the market. They have interesting features that will help you to liven up in the kitchen.
Take a look, and see which one you like!
1. Kraus KHU100-30 Kitchen Sink, 30 Inch, Stainless Steel
Top Quality Material
The premium T304 stainless steel that has been used in construction is quite resistant to corrosion and rust.
It is exceptionally engineered with channeled grooves to help drain away the collecting dirt and fluids completely.
The steel is the thickest one you'll find in market appliances, and it is designed to never allow any chipping or cracking in it.
To top that off, the satin grade polish on it certainly makes it go a long way by making it even more durable and long-lasting.
Smart Foolproof Construction
The bowl has been made10 inches deep so that you can stack up a lot of dishes and wash them quickly without making a splashing mess all around the kitchen. Also, the sink has soundproofing pads built into it. The pads are placed to cover 80% of the bottom of the sink so that there is no vibration or noise when you're washing the dishes.
Good Drainage System
The sink has channeled grooves where the collecting water collects quickly and trickles out of the system. Also, the drain has been rear-set to allow space for splash-free washing and cleaning.
If you want a big sink with a set of helpful accessories and a soundproof washing time in the kitchen, then this would be a good one to consider.
2. Ruvati 32-inch Workstation Ledge Undermount 16 Gauge Stainless Steel Kitchen Sink Single Bowl
Clever Design
It has a clever design that is very unlike the regular kitchen sink. There is a sliding panel over the sink, which can be used as a chopping board. Then you can tip your chopped items into the colander dish tray and rinse them through.
To dry your cups and plates after washing, keep them on the dish-drainer that is a part of the whole sink.
This is truly the most innovative design in a sink and is more than a complete workstation than just a mere kitchen sink itself.
Durable Materials
The stainless steel body is rust-free and durable. The premium quality durable 16-gauge stainless steel is not something that is used in just any sink in the market. It is only reserved for items of quality such as this one.
Easy Maintenance
It is very easy to clean, and is quite premium in appearance as well. This sink will never have dents on it, and you can rest assured that you are going to get compliments for it.
This is a very stylish workstation-sink built with good quality materials and designed to last.
3. MENSARJOR 32'' x 19'' Single Bowl Kitchen Sink 16 Gauge Undermount Stainless Steel Kitchen Sink
Clean Appearance
The sink is made with 16 gauge T304 stainless steel of good quality. It doesn't have much fanciness about it, but the plates are flattened into shape nicely – there are no dents, no uneven surfaces to disrupt the flow of water to the drainage system. Thus, it is a very efficient sink that doesn't rust and will last you quite long.
Multi-functional
The sink has a lot of features that make it an especially attractive installment for your kitchen. It is not merely functionable as a sink, but it comes with a grid and a strainer so that you can be more efficient in the kitchen. It will also come with 3 soft scrubbing pads that you can use to keep the sink clean and shiny all day.
Drainage System
There are slanted grooves running all around the sink. These grooves help to direct water to the corners and stop water from clogging up the drain. The drain itself has been rear-set so that there are very little splashes when you're washing.
This is a good-sized sink for medium-sized households. It makes work easy by properly draining the collecting water out of the system and lending extra help through the means of those draining racks that come with it.
4. KRAUS KWU110-32 Kore Workstation 32-inch Undermount
Spacious Bowl
The sink goes 10 inches deep and runs 32 inches long with a width of 19 inches. This creates a big space for you to keep all your dishes in one place before cleaning. The big space is also very comfortable to work with since it can keep splashing to a minimum.
Complete Workstation
The sink includes a drying rack that you can roll up when you're not using it. It also includes a cutting board made of strong bamboo, a strainer, a dish grid, and a drain cover. You can do a lot of work just on your sink – this helps you to finish your work quickly and efficiently.
Good Drainage System
The bottom of the bowl has grooves that prevent water from collecting in the sink. And the drain is offset – this means that you can place your dishes in the center of the sink without blocking out the drain. Therefore, you can do the dishes with more ease.
This big, sturdy sink has 5 essential kitchen items, but the best part is that the chopping board it includes is made with natural bamboo. If you want a good workstation, this one has all the right cards for you to pick.
5. ZUHNE Modena 32-Inch Stainless Steel Undermount Kitchen Sink with Accessories
Useful Accessories
The sink comes with two pieces of the colander, one grate, a drainer strainer, and a caddy for holding your washing sponges. All these items are good in quality, and they are quite a bit handy in the kitchen.
Sturdy Construction
The sink is made with good stainless steel, and its corners have been rounded off so that dirt doesn't get caught in it. The sink keeps splashing to the minimum due to its rounded corners and the fast drainage system.
The stainless steel has a brushed finish, which doesn't get scratched that easily.
Comfortable Size
Big sink bowl that can hold a lot of dishes without clogging up the drain.
If you need a big sink that will double up as a rack and dish dryer, then this one will be good for you.
6. TORVA 30-Inch Undermount Kitchen Sink
Durable
The sink is made of thick stainless steel, which doesn't get eaten away by rust. It has been polished with satin to make it glisten more and repel water spots from its surface. This is a strong material that is easy to clean and can be relied upon.
Convenient Design
The bottom of the sink has been painted, and sound-proof pads have been installed in it to keep the sink as quiet as possible. You can quickly stack plates on top of each other without causing a ruckus in the house.
Oh, and the paint reduces condensation on the sink and keeps the kitchen floors dry.
Ease of Use
The sink comes with a drainer, a bottom sink grid, and a colander that slides. All of this helps you to maintain a cool head while you're doing the dishes. The system is built to decrease your workload in the kitchen, and you are going to enjoy it very much.
If you want a big sink bowl that can manage both its water and the rust problem, then consider this sink Torva to be the right fit for you.
7. Elkay Quartz Classic ELGU2522WH0 Single Bowl Undermount Sink
Durable and Unique
This sink is quite special because it is made of quartz sand and resin – not with the same old stainless steel as all the other ones. As a result, this is a bit on the pricier side, but it's a good investment because these materials are not capable of rusting or corroding. With this sink, you can be sure that you are buying a quality appliance.
Efficient
The grooves around the sink take water away, and the offset drain gets rid of it without any clogging. The quartz doesn't cling on to stains, and so you can very easily clean the sink with water after the day's work.
Color Options 
You can choose what color you want the sink bowl to be to match with your countertop.
If you want a timeless sink to install in the kitchen and forever live with it in peace, then this quartz sink is the one for you to get. It's a bit pricey, but that is completely justified by its quality and build.
Undermount Sink Buying Guide
A good undermount sink should have some vital design features to help you work in the kitchen without losing your mind in messy wet chaos. So, let's look at what those features are!
Material for the Sink Body
You have a few options here, depending on your price range. 
Stainless Steel – This is the cheapest material used for sinks and they are found in many cheap undermount kitchen sinks. But it is quite commonly used, and the quality isn't that bad either.
But there different grades of stainless steel available.
As a rule, remember that thicker the steel, better the deal. 
And you can tell about the thickness by looking at the gauge value. The lower the gauge, the thicker the steel. Look for a thickness of 18-gauge or more.
Also, stainless steel with a brushed finish is better than steel with a shiny glossy finish because they get fewer stains and water spots.
Composite Materials – Some sinks are made of materials like quartz stones. In this case, sinks with a higher quartz content will be better than those with a lower quartz content.
With these quartz sinks, you get color options.
These make less of a ruckus in the house when you are washing, so that's another good thing about it.
But beware, these sinks appear very glossy at first, but that glossiness rubs away with use, and the sink doesn't look all so appealing after that.
Cast Iron – These are the most resistant to dents, scratches, rust, and all such other kinds of surface trauma. They are very easy to clean and quite durable as well. 
However, they are very heavy and require specially made countertops to hold their weight. They are found in many cheap undermount kitchen sinks.
Faucets don't come pre-installed, but they are the heart of the sink. Without them, the sink will be a dead zone for piling up dishes. So, faucets need holes for installation.
Your sink must come with an adequate number of holes that you need to install the faucet of your choice. Check the faucet you want, and then buy the sink of your choice. If it doesn't have the proper holes, then customize it to suit your needs before you pay for it.
Nowadays, everything has gotten through a bit of advancement. In the case of sinks, this advancement comes in the form of additional accessories. Sinks now come with built-in strainers, dish-dryers, cutting boards, colanders, and so on.
There is a range of different kitchen benefits that come with modern sinks, and those benefits can make the kitchen more organized and neat.
So, when you buy, look out for those options too. Otherwise, you'll miss out.
FAQ About Best Undermount Kitchen Sinks
What kind of adhesive should I use for mounting the sink?
Since the appliance is going to be very much around water, you need to use an adhesive that will be unaffected by moisture.
For such objects, silicone sink calking is the most reliable adhesive, and it is also the one that's used most widely.
What is the advantage of installing undermount sinks?
These look cleaner and stay cleaner than regular mounts.
The sink sits flush with the counter of the kitchen, so that there are no crevices around the sink where dirt can collect. This means, your kitchen stays fresh and free from the buildup of bacteria in the moisture-soaked corners.
What do I need to be aware of with these undermount sinks?
Beware of mold forming below the sink. It often happens that water trickles down through the pipes and collects below the sink to form a mouldy surface that's very gross to deal with. To avoid that, wipe the lower surface of the sink everyday and keep it dry.
Which chemical to use for killing sink mold?
Vinegar is the easy solution. It will kill the spores of the mold and prevent it from growing.
How does it take to kill the mold?
You have to spray the vinegar onto the mold. Then keep it for 1 hour, before wiping it away.
Conclusion
Remember, the best undermount kitchen sinks should impress you by their design features, quality, and functionality.
Your sink is a reflection of your authority in the house.
As it goes, in every household, the sink says the most about its residents.
So make sure to consider efficiency, design, and convenience when you are getting a sink one for the house. It will surely make the kitchen less troublesome and more lovely a place to be in.
We hope you found the sink of your choice from our list. We tried our best to make it easy for you to choose. 
Good luck!