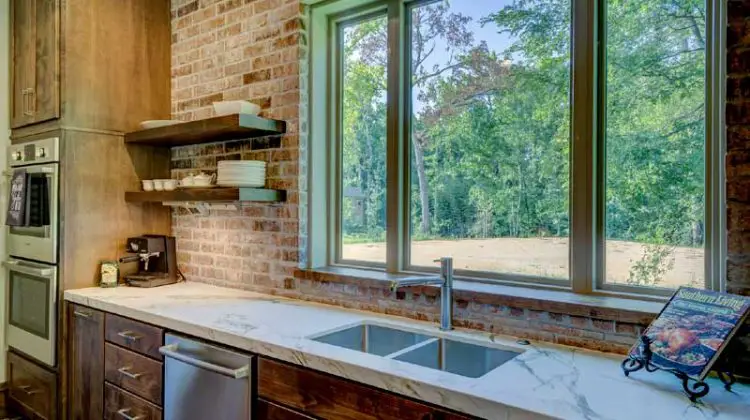 Planning for your kitchen remodel? Is there a granite sink on your kitchen update project list?
Then, check out our best granite sink reviews round-up and buyer's guide to pick the right one for the best price.
Finding the best kitchen sinks from today's overwhelming market isn't easy. Many homeowners feel overwhelmed by choices. However, our updated reviews of the top 10 products will help you to skip all the hassle of doing the research yourself.
Here are our top picks for the granite kitchen sink.
Read through to find yours!
Best Granite Sinks : Quick Chart
10 Best Granite Sink Reviews – To Add Value, Practicality And Beauty
Here we've shortlisted 10 best composite granite sinks for kitchen that will offer more than what you may ever need. To make it less troublesome for you to find the best granite kitchen sinks that best suit your home, we've tried our best to simplify and clarify certain aspects. We also included each granite sink's pros and cons, including top features.
1. Blanco Diamond Silgranit, 441285
We start our reviews with an excellent model form BLANCO granite sinks brand. It's DIAMOND SILGRANIT, 441285 equal double bowl kitchen sink.
For those who don't know, Blanco is a leader in innovation, quality and unsurpassed service.  This brand is well-known for making bathroom and shower products by balancing function with style. And this model is no exception.
Let's see what the distinct features this model has to offer.
Designed to be durable
Made of rock hard high granite material, this sink meets the everyday challenge of a hard-working kitchen. No matter heavy pots or sharp knives, Silgranit withstand each situation.
Smooth, heat resistant, 100% food-safe…..
Sounds great? Blanco granite composite sink DIAMOND SILGRANIT makes it possible. First of all, the non-porous surface brushes off the food residue and dirt. Thus, it maintains a smooth touch. Secondly, the surface is highly heat resistant. Notably, it withstands up to 536-degree F.
Finally, the surface is 100% food safe and hygienic. The patented hygienic plus surface prevents bacteria growth. So, enjoy all your favorite recipes without damaging the finish.
Two equally sized sink basins:
The 50/50 basin configuration offers flexibility and large capacity. Handling a large number of pots and pans is now breeze with this bad boy.
No worry, this truffle color sink is easy to care & clean!
SILGRANIT is easy to care and clean than any other sinks. It offers 40% more cleanability than other sinks of its class. The advanced surface technology provides a permanent solution against stains. Maintenance is as easy as using a sponge to wipe it clean.
Overall, it's a stunning granite composite sink that's not only elegant looking but also high-quality. You should give thanks to Blanco for such a wonderful kitchen sink. Best sink ever!
2. Houzer E-100 Midnite Quartztone Granite Sink
Next, we have this crisp, classic granite prep sink E-100 MIDNITE quartz from Houzer. Quartz tone series is also a right choice for the hospitality bar.  
The following Houzer granite sink review will help you to decide on.
3X harder construction than natural granite
E-100 is made of fine quartz (80%) sand and high-grade acrylic (20%). This construction makes it extremely durable. On that note, it is extremely scratch resistant. Importantly, it's UV stable and high resistance to thermal shock. Hence, you can rest assured that E-100 MIDNITE will withstand the test of time.
Antibacterial non-porous surface is silky smooth to touch.
The beauty of this sink lies in the innovatively made surface. This unique finish not only offers a silky smooth feeling to touch but also ensures easy cleaning and maintenance. You can use a simple soap and water or mineral oil to clean it. As if that's not enough, it's hygienic that deters stains and other contaminants for antibacterial protection.
It offers versatile dual mount options for convenience. 
Speaking of the installation type, it offers dual mount options. That means you can install it as drop-ins or under-mount whatever you prefer. It's worth to mention that the package includes instruction, template and mounting clips for easy installation. 
Plenty of color choices 
It's available in five colors to give you plenty of choices in this regard. Choose from biscuit, black, brown, mocha and white color whatever you prefer to match your home décor.
Overall, this elegant sink is certainly one of the best budget-friendly options of granite composite sinks. For the laundry room, hospitality bar, or kitchen prep, it can be a good choice. It won't add not only charm but also character to your kitchen. Witness it for yourself by purchasing one!
3. Franke Single Bowl Granite Kitchen Sink, SGR3322-1
​This Single Bowl Granite Kitchen Sink from Franke is a top-rated and perhaps one of the best-reviewed options on the market. It holds an average rating of 4.6 out of 5.0 based on over 45 customer reviews at the time of writing.
So, what makes this product so popular? Let's find out from this review.
You'll love the simplicity of the single basin design.
The 9-inch depth single-bowl design of this model is super handy. It'll provide you plenty of space for larger pans and pots cleaning. So, you'll be able to wash big utensils without the hassle of fitting and getting water everywhere. Additionally, the curved design is appealing and unusual.
SGR3322-1 is Insanely Durable.
80% quartz and 20% acrylic resin construction provide this sink exceptional quality and durability. The best finish ensures that this product is superior resistance to chips, scratches, and heat. Therefore, you can rest assure that this bad boy will serve you for years to come.
The huge bonus is Sanitized germ-fighting barrier.
It features a built-in protective barrier. This sanitized layer supports normal cleaning practices. What's more, it fights against bacteria to reduce the growth and effect of bacterial odors and stains on the surface.
It offers dual installation options.
No more worries about the mounting option of your kitchen sink. You can install it undermount or top mount. Additionally, the unique shape of the bowl lets you to the position close to the rear wall. So, you won't lose the large single bowl space benefits. Great, isn't it?
In summary, this Franke Granite Kitchen Sink is an excellent buy for anyone who is looking for bringing a natural but elegant look into the kitchen. The chance is that everyone who will see this sink must love it!
4. Blanco 440194 Diamond Silgranit Kitchen Sink
​Do you believe a sink can help to contribute to your happiness? YES, it's true if you have this Blanco 440194 DIAMOND SILGRANIT Kitchen Sink. It's the perfect option in which color, size, functionality, and sturdiness- all are awesome.
Blanco 440194 is highly resilient sink available.
Made of 80% solid granite, this model is resistant to extreme temperatures- both cold and hot. It can withstand as high as 536-degree F. Additionally, its surface can resist stains, scratches and household alkali/ acids solutions. Importantly, the non-porous, Hygienic PLUS surface protects against bacteria.
It offers large bowl capacity.
For washing, rinsing, spraying, soaking, and straining operations, this bad boy provides plenty of room for handling dishes. The best aspect is water won't easily splash out while cleaning. Moreover, it'll hold a large number of pots and pans.
Cleanup is easy.
Cleaning of Blanco composite sink is much more convenient. Firstly, its smooth edges and corners make for swift motions while wiping up messes. Secondly, the soft, gradual grooves allows water and debris rune quickly towards the drain. So, standing water in the basin is no more an issue. Notably, smudges and fingerprints are practically non-existent on this sink.
Anything else?
The dual mount option allows you to install it as a drop-in or undermount. The flat deck works well for both top mount and undermount installations.
Finally, it comes with a Limited Lifetime Warranty for added protection and complete peace of mind.
On the whole, Blanco 440194 is an excellent single bowl kitchen sink and you will find only a few models at this price range. This sink is incredible- durable, spacious, deep, easy to clean and of course looks great. Although the price is a little higher, it'll be an excellent investment in the long run. For this reason, it's tough to beat!
5. Kraus Quarza Granite Kitchen Sink KGD-442WHITE
​Kraus granite kitchen sink KGD-442WHITE is one of the best functional and flexible granite sink of the Quarza Series by Kraus. It offers exceptional durability with a feel of real stone and luxurious look.
Kraus kgd -442white is built to last a lifetime
KGD-442 is made from high-quality composite granite and high-performance acrylic resin. This provides unparalleled resistance to stain, heat, scratches and impact from dropped objects.
The surface is naturally hygienic
The non-porous surface of Kraus Quarza Kitchen sink is highly resistance to grim and dirt. It's smooth to touch and easy to clean.
Well-thought double bowl design
The 10 ¾ inch depth of the bowls is spacious enough to wash large pots and pans easily. Not to mention, it's one of the deepest granite sinks with a 10.75-inch depth.
One more excellent feature….
The recessed center saddle is obviously a great feature of this model. It doesn't allow water splash over the top of the sink while moving the running faucet from side to side. Also, the rear drain location enhances the available space under the sink.
Kraus kitchen sink feature fade-proof color
Rich and consistent UV-stable color of this sink won't discolor or fade over time. Of course, it's available in 4 different color options.
KGD-442 sink is heat-safe
The surface can withstand extreme temperature fluctuation- both hot and cold. Additionally, it offers extreme resistance to chipping, scratching and discoloration.
It's not noisy at all.
The thick stone-like material of this sink absorbs vibration that helps to minimize noise when it's in use.
Super drainage….Wash your dishes, walk away and it'll dry perfectly.
This sink features gently slopped bottom. Thus it prevents standing water inside the bowl and makes the drainage easy. In addition, its optimized and well-designed angle keeps glassware safe from falling when placed in the bowl.
That's not all! This bad boy comes with a cut-out template and mounting hardware.
Kraus granite sink KGD-442WHITE is an absolutely top-notch sink. It's an excellent option that may be very well-suited to anyone looking for an extremely durable, functional, and the high-quality kitchen sink at a reasonable price. Can't beat the quality and price!
6. Franke Granite Double Bowl Kitchen Sink, EDDB33229-1
Franke composite granite sink EDDB33229-1, is the excellent top of the line product. Surprised that this kitchen sink made it onto our top 10 list? Read this EDDB33229-1, Franke granite sink review to learn why.
It'll make your kitchen very rich looking, but it's affordable.
Franke granite double bowl sink is designed to bring a naturally beautiful look into your kitchen. The well-thought design will complement the modern and transitional kitchen set up.
Seriously, it's a good deal at an affordable price.
All the Franke granite sinks claim to be made from 80/20 mixture. It includes 80% ground quartz, and 20% acrylic resin. And this sink is no exception! It's certainly built to last, and it uses high-grade craftsmanship throughout.
Double bowl configuration offers functionality.
It's one of the most incredibly functional Franke sinks on the market today. The shape itself is aesthetically appealing. Additionally, the double bowl configuration is a joy to use. Each bowl is 16-7/8″ front-to-back and 14-3/8″ side-to-side. The 9-inch deep bowl allows for easier washing of larger pans and pots.
Franke granite kitchen sink offers hygienic properties.
Enjoy a cleaner and healthier kitchen sink always! Importantly, this model features a sanitized, germ-fighting barrier. This built-in protective barrier fights against bacteria even between the cleaning cycles. Ultimately it prevents the spread of this harmful germ.
It offers versatile installation.
You can mount this bad boy as either undermount or top mount. It comes with one standard hole for a faucet. This model also has the capability for three additional holes predrilled. It also has a rear drain waste hole. 
Franke Granite Double Bowl Kitchen Sink is available in few tasteful colors.
EDDB33229-1comes in mocha finish. Of course, there are three more colors available. When it comes to choosing a color to match your home décor, it's certainly an excellent option to choose from.
All in all, Franke EDDB33229-1 is one of the best double kitchen sinks available, It's a top option for anyone who needs to prioritize beauty, durability, functionality, and hygiene when buying a sink for their kitchen.
7. Blanco 440067 Performa Cascade Silgranit
​Blanco is absolutely one of the best granite composite sink brands. Seriously, our list will remain incomplete if we don't add this BLANCO SILGRANIT sink to our top 10 list.
Let's dive into this Blanco granite sink review to find its specialty and how this fulfills your kitchen needs.
Lovely shape- The best combination of form and function
The sink is neither overly rounded nor rectangular. The unique curved design adds elegance and an element of style to your kitchen. Not to mention, it's one of the largest size kitchen sink available.
Delivers both single and double bowl sink functionality
With this sink, now you can enjoy the convenience of single and dual bowl functionality. "1 and ¾" bowl size design combines striking good look and flexibility. It's also very wide – you won't find anything that won't fit!
Blanco PERFORMA Cascade features Integrated raised ledge
This feature makes it perfect for hands-free placement of a colander to rinse utensils, vegetables, and fruits. Additionally, there is a drain groove that conveniently removes excess water into the large section of the sink.
So, what's about its durability?
It offers ultimate durability. First of all, its non-porous surface is highly resistant to scratches, chips and heat up to 536-degree F. Secondly, the smooth surface defies stain and makes this Silgranit sink cleaning easy. Finally, the surface is 100% food safe and hygienic.
Anything else?
Yes, added protection. It comes with limited lifetime warranty so that you can buy it with confidence.
Ohh, let's be honest to mention the downside here!
The large bowl depth is 10-inch. That means, you may need to lean over more to wash dishes, which may be somewhat uncomfortable for tall users with lower back problems.
Durability, quality, functionality, design and size of BLANCO PERFORMA sink are just AWESOME! If you can afford it, we highly recommend you invest this Blanco kitchen sink. It's worth every penny.
8. Swanstone Double-Bowl Kitchen Sink KS03322DB.035
Swanstone has been a quiet leader in the kitchen and bath industry for more than four decades. This company is best known for making high-quality products that always have balanced style, value, and durability. And this double-bowl Kitchen Sink is no exception.
You'll find hundreds of kitchen sinks available in the market. But not all of them are good in terms of price-quality ratio. However, this one is the most fabulous Swanstone sink you will buy. Let's see WHY?
KS03322DB.035 is proudly manufactured in the USA.
Like all other Swan products, this beautiful sink is also produced in the USA. The authentic solid surface can handle whatever you got without breaking and it won't wear away.
It offers Classic style in a standard size.
To bring elegance and a contemporary style to your kitchen, this sink is a great option to buy. With a nice bowl shape plus a sufficiently deep bowl, this sink adds charm and character to your kitchen.
Swanstone Double-Bowl sink is extremely functional.
This model comes with a 60/40 two bowl design. That means it has one larger and one smaller bowl. The two bowls work in harmony to allow different tasks as and when needed.
It features stylish and strong renewable finish.
Swanstone sinks can withstand prolonged heat up to 450-degree. Boiling water and the hot pot won't damage the sink. Additionally, colored beverages can't permanently stain and can easily be buffed away. So, enjoy the long-lasting beauty of Swanstone kitchen sink!
Maintenance of Swanstone is a breeze.
Cleaning and maintaining the kitchen sink is a great concern for most users. Fortunately, this sink is very easy to clean and maintain. The non-porous surface makes maintenance a breeze.
It offers Dual Mount installation.
Undermount and drop-in style installation makes the sink ideal for both remodeling projects and new construction. It comes pre-drilled with one faucet hole for quick and easy installation.
There's a number of colors for a complete and harmonious design.
This particular kitchen sink is available in a number of tasteful colors to give you plenty of choice in this regard.
Above all, this sink is excellent for its superior heat resistance, impact strength, and ability to resist scratches and stains. It's not only elegant, functional and durable but also affordable. Transform your kitchen with the durability and beauty of Swanstone!
9. Blanco Diamond Granite Kitchen Sink 440215
Blanco 440215 anthracite is a fabulous looking sink. To add a warm elegance to your kitchen, this model is second to none.
Perfect for a very busy kitchen
Blanco 440215 is super durable. The finish is smooth and very sharp looking. It endures extreme temperature fluctuation. And it won't scratch, chip or show any dirt or water spots. Additionally, it drains perfectly and cleans up very quickly. Just wipe out after each use.
Pleasing shape and perfect design
The shape and size of each bowl are what you're looking for. The different sizes and depths of the bowls are very convenient.
Better to handle almost anything!
Each bowl provides good functionality for cleaning both large and small items. The larger deeper bowl can handle almost anything. You can wash the large pots without having to tilt them. On the other hand, the shallow basin is great for straining, defrosting and much more.
If you're in the market to buy a granite sink that will exceed your expectations, then don't hesitate to buy this Blanco diamond sink. The sizing and overall design of the sink mean it's suitable for any busy kitchen. In short, it's an awesome sink for the price.
10. Swanstone Granite Double-Bowl Kitchen Sink QZ03322LS.076
Looking for the unique combination of functionality and sophistication from your kitchen sink?
Then, you won't go wrong with this Swanstone Granite Single-Bowl Kitchen Sink.
Why?
The following review will clarify this to you.
Perfect choice for new kitchen or remodeling
Swanstone Single-Bowl Kitchen Sink is one of the most popular models that offers a significant class to your kitchen needs. It features standard size that is perfect for an easy kitchen update.
Virtually indestructible
It's crafted with 80% actual quartz stone that makes it a large extent sturdier. It won't damage from everyday kitchen use. Additionally, it requires low maintenance and able to retain its solid good looks for years.
You must appreciate its modern design.
This double bowl sink features non-uniform divisions at the two sides. 10- inch depth larger side lets you wash large pots and pans. On the other hand, the 7-inch depth smaller side is perfect if you need to wash some vegetables or a few dishes.
The best aspect….
The lower divider is an excellent feature of this double bowl sink. It lets you handle large dishes easily. No worry! There are offset rear drain hole with each bowl that maximizes the workspace.
To sum up, it's one of the best-designed kitchen sinks. It's a perfect choice for them looking for a cool and functional double bowl kitchen sink with HUGE usable.
Best Granite Composite Sinks : Buying Guide
To repeat, granite composite sinks are of high-quality, durable, resistant to most of the damaging agent and hygienic.
So, what to look for when buying this type of sink?
Well, decide on the following factors.
Both installation options have some positives and negatives. So, before choosing a model, decide on which installation process do you prefer.
**Topmount installation is less expensive and need less effort than undermounts to set up.
Single Bowl Vs. Double Bowl Sinks
Based on your daily kitchen routine, decide on the single bowl or double bowl. For multi-tasking double bowl option is convenient. But for washing large pots or pans, many users prefer single bowl kitchen sink.
Also, check out the variations of double bowls. They come in 50/50, 60/40 or 70/30 divisions.
Full-Divide Vs. Low-Divide
If you decide to go for a double bowl, there's something more to consider. It's aqua divide that separated the two bowls. It may be low or full. However, a low
Finally, Consider the granite composite sink price and your budget.
These types of sinks come with different price ranges. Some affordable granite kitchen sinks are still of great quality and offer great value for money.
So, it's important to consider the sink price and your budget.
Granite Composite Sink Pros And Cons- A Quick Look
Granite Composite Sink Problems- Cleaning Issues
Granite Composite Sink Vs. Stainless Steel
Composite sinks are more stylish than the stainless steel sink. They can resist scratches, stains and heat. But they are not indestructible to these elements. Granite sinks are defenseless against chipping around corners. Over time, this type of sink may crack. That means they are more fragile than the stainless steel kitchen sink.
On the other hand, stainless steel sinks are less prone to stains and withstand high temperatures.
When it comes to price, solid granite sinks are more expensive than stainless steel counterparts.
How To Get Stains Out Of Granite Countertops And Kitchen Sink
Granite is one of the best kitchen sink materials which is known "as hard as a rock."
However, when used for kitchen countertop, it's far superior to any other materials. It's heat resistant, high-quality, and better looking. But it may get stains.
Follow the steps below to get stains out of composite granite countertops.
Light stains of water: You'll only need water and gentle detergent. By using a soft-bristled brush, scrub the spots with detergent. Rinse the sink thoroughly with clean water. Wipe with dry cloth.
Slightly more stubborn stains: Make a thick paste of baking soda and water. You may also use talc with a DILUTED SOLUTION of hydrogen peroxide. With a soft brush, gently scrub the surface of the countertop. Rinse it thoroughly. You may need to apply several layers to remove the stains completely.
Stubborn stains: To remove really stubborn stains, first you need to make a thick paste with flour and hydrogen peroxide. Apply this paste generously over the surface. Cover with a plastic sheet. Let it stand for about 24 hours or more. Scrape up the layer of the paste. Then, rinse the countertop with clean water.
Besides, you may also use extractor or poultice which you can purchase at the hardware store.
FAQ About Granite Composite Sink
Is there any difference between a granite sink and a composite sink?
Sinks made from natural granite stone feature a natural variation throughout the material. On the other hand, composite granite sink contains a mixture of at least two different materials. As a result, they feature consistent color throughout the material. Again, composite granite sinks are more budget-friendly than solid granite sink.
What is the best way to the daily care of a granite composite sink?
Clean your sink daily with mild soapy water. Use a soft nylon brush or a sponge to scrub it. Rinse and dry it thoroughly.
Will ammonia or vinegar harm a granite acrylic sink?
Vinegar, citrus juice or ammonia may harm the finish of granite composite sink. Hence, it's recommended to use a cleaner especially made for granite and stone. You may also pH-neutral cleaner. Avoid abrasive liquid cleaner.
What is self-rimming mean? Does it mean top- mount installation?
Yes, self-rimming and top-mount installation refer the same. This installation follows that your sink needs to sit on top of the counter cut-out. As a result, the rim surrounds the sink that is above the countertop. Prior to setting the top mount granite sinks, you need to run caulk/silicone sealant/ granite sink sealer around the edge. It'll ensure that water won't get under the rim.
Conclusion
So, you're convinced that granite composite sink is the best choice for your kitchen remodeling project. Right?
Then, what are you waiting for?
Pick any of the best granite sinks from our top 10 list according to your needs and budget.
And enjoy long-lasting durability and functionality of your kitchen sink.
Thanks for reading!