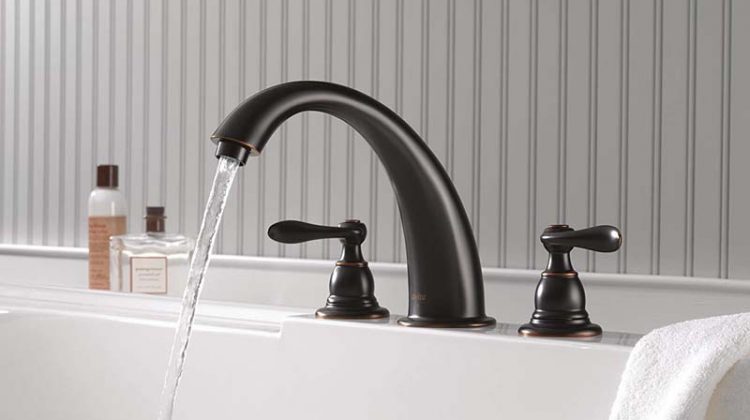 Whether you're renovating or replacing a broken piece, faucets should be bought with a lot of attention. A good faucet can change the whole ambiance of your bathtub and even make you want to visit it more often.
When we visit fancy hotels, we are always mesmerized by the décor of the bathrooms, and you may not know it, bathtub faucets play a big role in captivating us. So, you want to choose the best bathtub faucets so that they don't only run smoothly but also look great. 
However, going on looks alone may not be wise because, after all, a tap's main purpose is to stream water steadily. Also, there are so many types to choose from, including the fact that it needs to go with the overall theme of your washroom.
Hence, after considering factors like the type of spouts, how conservatively it streams, and the overall quality and looks, we have listed the top bathtub faucets. These are likely to go with both modern and traditional tastes and will heighten the exquisiteness of your washroom by manifolds.
Best Bathtub Faucets Reviews
If you're looking for the finest faucets that are trending throughout the world right now, you've come to the right place as we have reviewed the most popular ones.
1. Delta Faucet RP17453SS Tub Spout
If you need a simple and traditional looking faucet for a minimalist look to your bathroom, then this Delta Faucet will be the right fit for you.
This has a good construction that prevents any sort of leaking. The pull-down diverter doesn't take any time to act and will start and stop instantly to make sure, not even a droplet is waste.
The diverter is easy to use and very convenient. It was designed to work directly against the water, unlike other diverters. As a result, it can stop the water entirely.
Although it uses a plastic material, the stainless finish makes sure it doesn't feel like cheap plastic. The finish settles perfectly between not too matte and not too shiny, presenting your washroom with a simple but elegant touch.
This is a budget replacement that gets the job done and looks proper. On top of that, since it won't waste water and function smoothly, it's definitely worth the bucks.
2. Moen Eva Two-Handle High-Arc Roman Tub Faucet
For those who are looking for a classy faucet with multi-functions, this will be the perfect product. With a reputable brand at its name, this elegant high necked spout is anyone's dream faucet.
The smooth and easy to maneuver handles aren't just there to look pretty, but they are equally functional. You can control the water volume to set it at your desired pressure with subtle precision. On top of that, the water temperature can be just as easily maintained.
Compatibility and Easy Installation
Since it's compatible with Moen Valve systems, you can easily get the installation done without prying into the plumbing.
Resilient Finish and Material
The nickel construction and polished finish are engineered to make the spout look desirable and durable. The construction is firm and will fit in your bathroom like it was meant for it.
A long-lasting faucet that everyone will fancy. If you want to make a good investment, this ought to be it.
3. Delta Faucet Windemere 2-Handle Widespread Roman Tub Faucet
Although this will look amazing with your roman tub, it can turn heads on its own. If you're looking for that unique piece to fill the puzzle of your bathroom, this is it.
The deep finish on this gives this a unique presence that will be the show-stealer of your bathroom any day. The bronze material is also of superior class and the most resilient.
Consistent Water Pressure
Many faucets may falter when cold and warm water is being simultaneously streamed, but this one won't. You will get a strong stream of water enough to fill the tub in minutes and be at just the right temperature.
Metal and Bronze Construction
There is no better arrangement than metal and bronze for faucets till date. This will come at a price, but it is worth it.
With a firm construction and efficient working mechanism, you can use this for years without calling in for repairs. Alongside that, the unique sophistication that it has going on around itself will suit both modern and old themes.
4. Kingston Brass KS266C Vintage Wall MountClawfoot Tub Faucet
If you want a vintage-like wall-mounted faucet to bring a whole new ambiance to your bathroom, we will definitely recommend this. Accompanied by its superior technical prowess, it's a spout that will intrigue anyone's interest.
The vintage cross handles aren't that common anymore because people have the assumption that they will leak water. While that may be the case for age-old cheap products, the Kingston Brass definitely doesn't fall within those categories.
Brass is one of the most widely used Engineer's choice material for taps. They are resilient and durable. While faucets collect rust and corrode in due time, brass components keep them fresh for it to look new and bright even after years of heavy use.
Straightforward Installation
This might look like it requires a lot of work. But with the easy to follow instructions and proper mounting tools, you can get the job done with ease.
If you have previously used wall-mounted faucets, then installation will be a piece of cake, but if this is a first, then seeking professional help is recommended.
5. Senlesen Stainless Steel Barthroom Tub Filler Faucet
We looked at vintage designs earlier, and so including a modish spout was only about time. But the decision to pick this was more than easy because of its multifunctional uses.
Stands Freely on the Ground
Perks of having this is it takes only a little ground to be mounted on and doesn't impair the tub to make it conveniently close.
When you want to relax, you can use the faucet to fill up the bath, but if you're not in the mood to dilly-dally, the hand shower will have your back. Both have substantial water pressure and are equally efficient.
Hose Length Customization
On top of adapting hot and cold lines, you can also get the hoses to your desired length. If you're using the floor mounts for the first time, you might need to make some waterline adjustments, and to make your life easier, you can ask for custom size lengths according to your need.
Bring about a modern and technical look to your bathroom with the multifunctional faucet. Your only concern when buying this should be the height of the body balancing with your tub.
6. Sumerain Roman Tub Faucets
If you want your bathroom to stand out while donning minimalistic design, this will be perfect for you. We fell for the waterfall effect right away and were completely sold by the time we saw the consistent water flow.
The wide spout is a new and unique design that only a brand as Sumerain could've perfectly pulled off. If you're averse to new things, then take our word for it because you won't be disappointed.
While the stainless steel will make sure the body doesn't collect rust, the inside bronze valves are sure to prevent dripping and oxidation. The high-quality materials used on this is one of the many reasons to make it onto this list. And for the final touch, the nickel finish is known to prevent corroding or discoloring.
Unique Waterfall Experience
The only concern one might have with this is whether the wide spout can stream smoothly. And we assure you, the waterfall effect while mesmerizing is equally effective as you get smooth flowing water that quickly fills up the tub.
Should you buy this smooth functioning and stylish faucet that sits neatly on the deck and is charged around $200? Sure you should.
7. JiaYouJia High-Arc Spout Freestanding Bathtub Faucet with Handheld Shower
When the budget meets desire, you get the JiaYouJia bathtub faucet. It has all the features of a high-end faucet but comes at a much steeper rate.
Stainless Steel Hoses and Brass Body
This is a high-end must-have product that will definitely satisfy your faucet needs. Also, as it comes with all the necessary hardware so if you hate additional purchases, this is the one to go for.
What many brands fail to notice is the importance of a long arcing spout that smoothly streams the water. But this brand has nailed the arc. To top it off, the swiveling spout is an added bonus because it gives you the liberty to choose a place it according to your comfort.
Aerated Faucet and Handheld Shower
Both have been aerated to discharge straight streaming water that won't splash sideways. The anti-splash mechanism means you can have a clean and peaceful shower experience.
Just because it comes with a faucet and a hand shower, doesn't mean they'll bomber you with handles. Just 2 is enough to efficiently run the showers. One handle perfectly balances the flow and temperature, while the other is for operating the shower and the spout.
If you're willing to go a bit over your usual spending to be welcomed by a product that is meant to last, you can surely look at this as a viable option.
8. Delta Faucet Trinsic Floor-Mount Freestanding Tub Filler with Hand Held Shower
For the elitists who simply want the best, we present them this Tub filler. While one can't have enough of delta bathtub faucets, this one is definitely a top pick. Its professional performance complements the exquisite appearance that it brings with itself.
Spray holes get clogged, and there's very little you can do about it. But this uses a premium quality rubber spray hole that you can clean simply with a touch. That doesn't make it delicate; it's still the plenty sturdy.
This isn't a showy hand shower to clean up the mess. The hand shower has full-body covering capability, so once you're done soothing in the tub, you can have a proper shower before you take off.
While the spout swivels 360⁰, it can maintain constant powerful water pressure. Further, the high arc makes the water stream smoothly without splashing.
If you target high end faucet brands, you're likely to end up with this price range. So, if you don't like experimenting, and want a high-functioning tub filler from a well-known brand, look no further because this is it.
Buying Guide
Buying a decent faucet is harder than it looks. You pick something fancy, but then it can break or corrode quickly. So, read the following, and you will know how to go about this purchase.
Knowing the types is extra important if you're retrofitting or repairing your faucet. You need to be aware of the waterlines and mounting hardware so that you don't need to create more holes than the existing ones.
Faucets can be found in many types. For instance, single-hole faucets require only one hole to mount the levers and the spout, which are often only one unit.
Then there are three-hole, wall-mounted, and floor-mounted faucets too. If you previously owned a deck faucet that sits on your tub and now you want a wall-mounted faucet for the same tub, be aware that you will need more plumbing.
When buying something, we pay attention to its body material, but for faucets, the finish is just as important as the body. Because even if the material is cheap plastic, if the finish has a nice sparkly touch, then it will be worth it. A good finish means the spout won't corrode anytime soon.
The material of the handles, spout, and valves are all equally relevant. For instance, if the valves and disc cartridges are made of a durable material like brass or ceramic, they will prevent dripping and keep the insides protected. On the other hand, if they are made from something cheap, chances are your faucet will breakdown sooner.
Also, the stainless steel body is also great for keeping it away from corrosion, tarnishing, and rusts.
Knowing what connection option the faucet needs will save you a lot of hassle if you're doing it yourself. Your options are usually slip-on, nose base, and a threaded connection. If your tub already features one of these, then your easiest option is to buy a faucet that will match it so you can install it in minutes.
Conclusion
We have reviewed the best bathtub faucets where you're likely to find something for every budget. Whether you're looking for a cheap alternative or an exclusive long-lasting product, you will find it all here.
One advice is that we would like to inform our readers, whichever you buy, if you can't install it correctly, you might find that it's leaking or dripping or it isn't sturdy and is shaking.
Then you will have to go through the tedious process of returning the product or calling the plumber. So, if you're not confident of your skills, don't attempt to install it without knowing what you're doing.