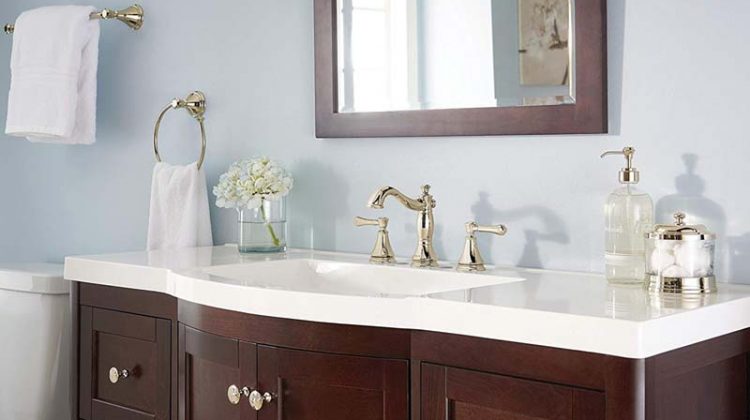 When it comes to bathroom faucets, buying whatever you come across is a no-go. Because the faucet is one of the first things people notice in a bathroom, so it's imperative to get one that ties the look of your bathroom together.
But looking pretty is definitely not the only job of a faucet. It has to be durable, easy to clean, and efficient enough to control water usage while saving power. When you look for options, you will find so many that you will likely get very confused.
Fear not, here, I have compiled the best bathroom faucets reviews, accompanied by a buying guide to help ease your confusion. The reviews have taken performance, usage tests, cost, and additional features & functions into account.
Follow my lead, and you will definitely find a faucet that goes well with your bathroom interior while also being well functioning. Let's begin!
Our best pick is the BWE single handle one hole faucet in the finish rubbed bronze. This faucet combines a sleek modern style with top-notch craftsmanship. As a cherry on top, it is also very affordable and easy to set up. The water stream looks like a lovely waterfall.
Seriously, this is one of the best single hole bathroom faucets out there!
If you are looking for the best faucet in a budge, look no further than the Moen Eva Two-Handle Faucet. It gives you aerated water flow with a higher arch, which adds convenience.
Eva is also water efficient as it saves up to 32% water usage while not compromising the performance.  For the performance, style, and durability, you get exceptional value from this faucet, which is hard to beat.
1. BWE Lead-free Single-Handle One Hole Bathroom Sink Faucet
As you have seen on the 'best overall' pick already, this BWE faucet is a stunner that is solidly built and very affordable.
Unique & Attractive Design
The finish of this BWE faucet is uniquely beautiful, an antique-looking rubbed bronze color. If bronze is not what you are going for, then there are 5 other options available to match your interior perfectly.
Waterfall Sprout
Waterfall sprout is a good addition as it provides a nice steady laminar stream, which is nice to look at and adds to the premium feel.
However, it is prone to getting water spots, which can easily be solved by wiping the faucet down after use.
Great Build
BWE built this faucet quite well; it is robust, durable, and long-lasting. The single-handed design works well and is very convenient to switch between cold/ normal/ hot water settings. Its curved design is made in such a way that it will not get hard water build-ups inside the faucet, which is excellent for people who face this issue.
Easy Installation
Installation is breezy, too, as it is quite easy to follow. The company provides the parts needed to install, but you can swipe them out for your preferred items if you wish. It also comes with a metal drain, which is nice because you don't usually find metal drains with even the high dollar faucets out there.
This faucet checks all the boxes – quality, affordability, stylish design, easy installation, convenience, good build, et cetera. You really can't do any better for the price. It's worth checking out.
2. Delta Modern Single Hole Single Handle Chrome Bathroom Sink Faucet
Next up is a classic chrome finish faucet that comes in a modern design, high-quality build, easy installation, and an added feature called WaterSense that saves at least 20 percent water.
High-Quality Build
One thing all users of this faucet agreed upon is how well this faucet is built – it feels very much like premium quality. Users have reported that the faucet handles higher quality than its actual price.
Setting Up The Faucet Is Easy
Installation is effortless and will not require a plumber; you can do it yourself. They also run very quietly, which is another sign of quality.
The handle of the faucet feels heavy and nice. One issue quite a few users faced with this faucet is that the supply hoses that come with it were too short for even a standard installation. So keep in mind that you may need to buy some extra tubes.
Efficiency and Versatility
Added support of a single hole and three-hole installation is handy. But the three-hole installation requires the user to buy an additional deck plate, which can be a bit inconvenient and add extra cost. WaterSense technology ensures less water usage, at least 20 percent less than the industry average – which also saves bills.
This faucet is a lovely geometrical design that looks and feels way more expensive than it is. It also provides some added benefits such as cost-saving, versatility, functionality, et cetera. Overall, there is no reason you should not like this faucet; it's worth checking out.
3. Moen 6410 Eva Two-Handle Centerset Bathroom Sink Faucet
The next one is the first two handle faucet on this list. This Moen faucet comes in a chrome finish and modeled in a timeless design that will look good anywhere. As far as a faucet goes, it checks all the boxes. It is also effortless to keep clean, something the previous two struggled with.
Water Spots Won't Be A Problem
A major complaint the previous two faucets had was they were very quickly prone to getting water spots. Now, the problem is not very serious as you can easily just wipe the faucet up after each use to prevent it from getting water spots. But it is still an issue as you have to cautious after each use and remember to wipe the faucet down.
If you are one of those people who would rather not worry about it at all, then this Moen Eva is for you. Its unique curved design ensures that it does not collect too much water on it in the first place, and whatever little amount it does get, do not create water spots.
Long-Lasting
This faucet is made to be very durable and last you for decades, which it did as some users reported.
This faucet is made to last long and has as easy maintenance as possible. If these two are your significant concerns, check it out.
4. Pfister LF042JDYY Jaida Single Control 4" Centerset Bathroom Faucet
Up next is a waterfall faucet by Pfister that meets various standards set by the US and Californian government, so you know you will be getting a good one.
Made To Be As Safe & Efficient As Possible
Pfister made sure that this faucet meets every kind of requirement it possibly can.
The result is the Jaida, which complies with various codes, including CEC (California Energy Commission) Water, ANSI (American National Standards Institute) codes, ADA codes, EPS (US Environmental Protection Agency) WaterSense standards, CALGreen, NSF (US National Science Foundation) codes et cetera.
What exactly does all of this mean? It essentially means that this faucet is very safe for all kinds of users, including disabled people. Moreover, it is very water and energy-efficient because of the codes. It even exceeds some of the minimum set standards. Isn't that great?
Grace and Elegance
The Jaida is made to express elegance and grace with its sleek and muted design with traditional style cues. Its waterfall is gentle, quiet, and elegant that gives a premium feel. This faucet will be a great addition to the interior design of an antique or dark accent bathroom.
Efficient, safe, durable, timeless design, easy to maintain – Jaida has it all. If you care about your faucet following various water and energy-related codes, then definitely check this one out.
5. Delta Faucet Lahara Widespread 3 Hole Bathroom Faucet With Diamond Seal Technology
Our 5th faucet is a widespread 3 hole variety made by Delta. It comes with everything you will need to install the faucet. The diamond seal tech and valve ensure it lasts for a long time before you experience any leaks, longer than the industry standards.
No More Leaks
As mentioned already, Delta faucets used a patented diamond seal technology that is designed in such a way that it will reduce leaks and last at least twice as long as the industry standard. The valve is also made with this diamond seal technology; it does not require any lubrication and eliminates any wear on seals.
So, you can be assured that this faucet will last a lifetime with minimal maintenance.
Everything In One
Delta has included everything you will need to install the faucet with the package, which is very convenient. Aside from the regular parts, you will also be getting integrated supply lines and drain assembly of a pop-up metal drain. The drain will be in a matching finish as the faucet itself so they will look good as a set together.
6. Moen 6400BN Eva One-Handle Single Hole Bathroom Sink Faucet
The 6th contender is yet another Moen creation, also named Eva, which is a single handle high arched faucet that is great for kids, well built, and long-lasting.
Solid Build, Fit, & Finish
Moen is known to build high-end bathroom hardware that lasts for decades without breaking down or leaking. Eva is no exception to this; it is very solidly constructed and will last you a long time for sure.
The brushed finish gives you a softer look as opposed to the high shine finishes; it also is less prone to pick up fingerprints or stains.
High Arch
Eva has a high arch, which is a bonus as you have more room for a quick wash, be it your face or a glass. You can also get tap water from this faucet with ease.
Eva is a solid faucet from Moen that gives you fantastic value for the price. If you want a single handle high arch faucet for the convenience, then this one is for you.
7. KOHLER Alteo 2-Handle Widespread Bathroom Faucet
Last but certainly not the least is yet another widespread faucet that is durable, easy to install, has a long-lasting finish, and includes the supply lines & drain.
Modern Design and Finish
The first thing that attracts people to this faucet is its elegant modern design and high-shine chrome finish. It is bound to look great in your bathroom with its sleek and minimalistic design. Personally, I am a massive fan of this one for looks. The water flow pressure feels very nice with this one.
Its polished chrome finish is very durable; it has premium anti-corrosion and anti-tarnish technology to prevent any rust or flake off.
Versatility and Convenience
Kohler Alteo supports three different types of installation – single handle, centerset, and widespread. The supply lines come pre-installed, and other parts needed to install are also included, which makes it easy to install. You also get a drain (with a matching finish) and an escutcheon with this faucet.
The Kohler Alteo is one of the best modern bathroom faucets you can get your hands on. If you are looking for a widespread faucet with a beautiful high shine chrome finish, definitely check the Alteo out.
Best Bathroom Faucets Reviews – Buying Guide
Finding a great faucet based on reviews is not enough. It would be best if you considered several factors before deciding on a faucet. They are briefly explained below –
Faucet Installation Type
Knowing the faucet type is particularly important if you are replacing an old faucet with a new one; because using the same kind of faucet for replacement is convenient. You also need to make sure the type of basin you have will support your faucet.
Moreover, each type comes with their own conveniences and limitations, so it's best to know which one you want.
These taps come with only one handle that you rotate sideways to get hot or cold water. Single handle faucets are more compact & need less room, so they are perfect for smaller sinks. Generally, they need one-hole installation, which is straightforward enough for you to do it by yourself.
This type differs from the previous ones in the sense that they have two handles, one for hot and one for cold water. They are also quite often wide-spread so they usually need more room and a three-hole installation. Double handle faucets are easy to use, especially by the elderly and children.
These faucets attach to the sink themselves, so for installation, you will have to tinker around your sink. Remember, the number of holes your basin has is essential. You can't install a three-hole faucet on a sink that has only one hole.
As opposed to deck mounted, wall-mounted faucets do not need any direct connection to the sink itself; so the holes it has does not matter. Wall-mounted faucets look more modern and polished. You will need professional help to install this type.
Finish and Other Hardware
The finish of your faucet is essential, because it not only dictates the amount of maintenance & cleaning the faucet needs, but also needs to match the other hardware of your bathroom for a coherent look.
Typically, a higher quality finish will not flake off or get rusty; while also being easy to maintain. Keep in mind that some finishes, particularly the high shine ones, are more prone to picking up fingerprints. Similarly, faucets that have straight edges instead of curves are more prone to getting water spots.
Some typical finishes include chrome, brushed chrome, bronze, nickel, golden, black, oil-rubbed etc. Your faucet finish should match the finish of other hardware inside your bathroom (showerheads, towel bars, toilet roll holder, soap holder etc.) for a consistent interior.
Usage and Placement
How you intend to use a faucet and where you will place it is also important. Suppose, there is a cabinet right above your basin. Chances are a high arch spout faucet will not fit on that basin. You really need to pay attention to the dimensions of your faucet in this case.
Again, suppose you use the faucet pretty frequently to wash your face and to fill a glass of water or a flower vase. In this case, faucets with short arc will be useable, but inconvenient because of low space between the tap and the sink. It'd be better if you had a faucet with a high arc.
This is why you should be considering how you will be using the faucet, where you will be placing it, and what kind of faucet is the best for your specific scenario.
Conclusion
There you have it, the best bathroom faucet reviews as well as a buying guide for bathroom faucets. Which faucet is right for you will depend on your individual need and type of bathroom & sink you own. So carefully go through the buying guide, considerations, and reviews to find your perfect faucet.
I hope this guide had been of help to you in your quest to find the best faucet. Thank you for stopping by!
FAQ

 

About Best Bathroom Faucets
How to clean American Standard faucets?
It's quite simple. Just rinse it clean with clear water and dry it completely. Keep in mind that you have to dry it properly to avoid stains.
What is the length of a standard tailpiece?
Most faucets come with tailpieces of 4 inches. That's considered standard.
What is Ceramic Disc Valve?
The Ceramic Disc Valve is an innovative technology to improve the efficiency of the water controlling system. These smooth and hard valves being unaffected by temperature and other constraints regulate the water flow by gliding back and forth in an airtight seal. Consequently, it provides you with a life-long drip-free and maintenance-free service.