Without a faucet, a kitchen sink is nothing to you. We use faucet most of the time when we are in the kitchen. So, it can get dirty when we use it. It is better to know how to clean kitchen faucet to keep the sink beautiful with shiny a faucet. But you have to care about the faucet as you do for the other fixtures in the kitchen.
Take a look underside of the kitchen faucet. You may need to clean the spots often from it. Even it hard to clean after the faucet gets dirty for the last few weeks. Cleaning a faucet can be a super easy task if you know how to deal with it.
Let's discuss it in details about it.
How To Clean Kitchen Faucet – It's Simple and Super Easy
If you don't clean the kitchen faucet, it will get stained and will become a grimy one. If you don't clean the faucet regularly, then it will happen. After a couple of days, the faucet becomes gloomy. Your kitchen faucet needs proper care as early as possible. Knowing the right method and getting the right tool is the key to clean your faucet.
Don't make the faucet as the dirtiest part of your kitchen. It helps to develop bacteria. So, don't waste your time and take a proper step. You can easily make your faucet clean like new after knowing how to clean kitchen faucet. 
What makes a kitchen faucet Dirty? The common causes
To make your kitchen fresh and clean, there is no better alternative without a clean and shiny faucet. You don't need to go a long way to make faucet clean. Do you know what makes your faucet dirty and gloomy? Water has some minerals that cause the problem. Even the corrosive elements also make your faucet dysfunctional. Some of these are mentioned below.
Corrosion
Limescale build-up
Water spots
What You Need To Clean Faucet
A few things you need to clean a kitchen faucet. Almost everything you will find in your home. Let's check out all the necessary things.
Water
Dish soap
Cleaning cloths
Old toothbrush
Non-abrasive faucet cleaner
Basic Cleaning 
Let's try to clean the faucet with the basic cleaning. You just need a wet cloth. Wipe the faucet with it. After drying the faucet, the water makes a mark. Let the faucet dry perfectly. Now take a dry cloth and wipe the spot where you can identify the marks. This is the most basic method of cleaning kitchen faucet.
If needed, you can use some household cleaning products. But the process is the same. Apply the cleaning product with a cloth in the faucet. Let it dry and wipe the marks with a dry cloth. To make the faucet more hygienic, clean the faucet perfectly. Using vinegar for the cleaning will be the best method that actually works better.
This home remedy contains acetic acid. It's able to clean the unpleased odor. Vinegar is good for killing harmful bacteria. The good news is, it's not harmful to the individual and the environment as well. You just need to make a solution.
Mix vinegar with water. But the ratio should be 1:1. Sometimes using bleach also give better result if you want more potent.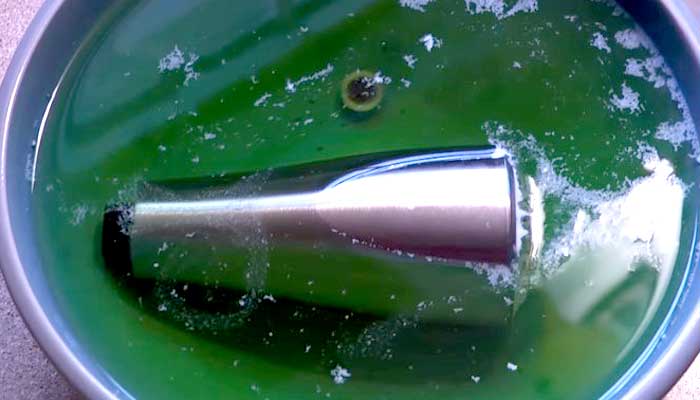 Cleaning the Kitchen Faucet Rust
Rust can be the hard spot that needs to be cleaned perfectly from the faucet. May be your faucet becomes brown after building up the brown or reddish-brown deposit. Cleaning these types of brown ring around the faucet is not easy. You need to use some product that contains acid. This thing is available in your home.
The environment offers us such a way to get solution of this rust problem. As an example, lemon juice can be used for this purpose. Take some borax and make a paste with lemon juice. Now take a cloth and wipe the faucet with the paste. The rust will come off.
Cleaning Limescale of Kitchen Faucet
After building up the limescale on the kitchen faucet, you will notice green-blue deposits. If you are living in an area of hard water, then you may face this problem. Ammonia is the solution to solve this problem. You have to use it to remove limescale. Mix ammonia with cold water. This mix will become a solution and the ratio should be 1:1.
Apply the mix on the spot where limescale builds up. Give it time to act. Now wipe it out with a cloth. After the cleaning, do not use the faucet instantly. Turn on the water and keep it running for a few minutes. It will clear all the ammonia from the faucet. Otherwise, drinking water with ammonia could be dangerous. 
Cleaning Dark Brown or Black deposits From Kitchen Faucet
Drinking water contains some harmless minerals. It may be not harmful to our body, but it sucks when its in contact with any other object like metal. In your faucet, you will find dark brown or black deposits because of these minerals.
As a result, your favorite fixture can be a storehouse of bacteria that is obviously harmful to your body. To remove such deposits you have to use tartaric acid and hydrogen peroxide. Mix these two items and make a paste. Now take a cloth and wipe the deposits with the paste. The deposit will be cleaned.
Tips for Cleaning Kitchen Faucet
If you installed a chrome faucet, then it's important to keep the faucet gleam and shine. For this, you can use baby oil with the cotton ball.
If your faucet comes with a living finish, then you have to be careful to clean the faucet. This type of faucet develops a patina. In this case, you cannot clean the faucet without water.
Most of manufacture companies offer a lifetime warranty for the kitchen faucet. If you applied any kind of caustic drain cleaner, then the warranty might be not applicable anymore. So, know everything about the faucet you are installing and its warranty-related terms as well. 
Don't use a sponge or abrasive brushes to clean the faucet. It does not allow for most of the faucet.
When you buy a white kitchen sink with a faucet then you can try the surface cleaner to clean your kitchen sink and faucet as well.
Final Words
To make your kitchen look more beautiful, you must keep your kitchen faucet clean. This is the fixture that is hard to keep clean all the time. But cleaning faucet is easy. After the cleaning, the grime, gunk, limescale can build up easily. So, getting back the spark of your faucet is not difficult.
All the methods I've discussed earlier can solve your problem. So, find out the problem with your faucet. Stubborn stain, clog, mineral deposits everything can be cleared in a moment by using the proper cleaning method. Don't leave your unclean kitchen faucet for a long time. Keep the faucet clean and shiny.