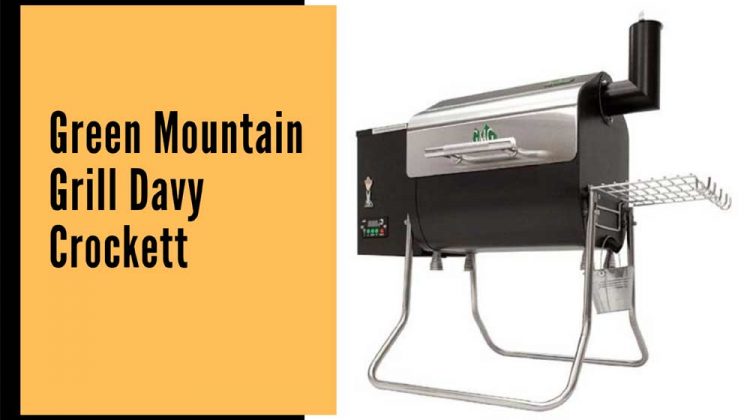 If you've been waiting for the perfect grill machine to make itself known to you, then you are going to be ecstatic with this precious find! We can guarantee you that the Green Mountain Grill Davy Crockett is the best thing to come into your life. It can bring a lot of flavor, joy, and activity in your life for sure.
It's perfect for small families – everything comes in the box, installation is easy, using it is very straightforward. You'll quickly learn your way with it, and soon you'll be making burgers for the entire neighborhood. 
Besides the modern features, this grill even looks like a million bucks.
So get ready to get all kinds of compliments when you invite guests over to your house!
Overview
This is a cart-style pellet grill that is giving tough competition to existing pellet grills giants like Tragar and Weber SmokeFire. One reason for their quick rise in popularity is that they have a solid build, a WiFi-enabled system, and are much cheaper than their opponents.
But despite all the important internal features, most people are immediately drawn to these grills because of their elegant exterior. With the sleek metallic temperature gauge atop the matte black Firebox, this grill box just stands out and holds people's attention.
And we dare say that once you start inspecting it, you'll be all the more impressed with it.
Firstly, this pellet grill is highly efficient. It consumes much less fuel to produce the same output as other grills.
Furthermore, the Green Mountain Grills Davy Crockett Wifi connection controller makes it even more desirable! With such technology installed in this machine, you'll be able to control it from anywhere in the house.
All you have to do is install the mobile application for this grill on your iOS or Android device, and voila! You'll be able to control the machine from any corner of the house.
Furthermore, you will also get a meat probe and a peaked lid to keep all the big slabs of meat level over the heat. There will also be a utensil tray on the side where you can keep all your grilling essentials and utensils at close reach. To monitor the temperature, there is a thermal sensor called Sense Mate, and it will give you an accurate reading of the grill temperature so that you have full control of the cooking process.
Lastly, the grill has great portability due to its foldable legs that can be easily tucked into the machine to turn the whole thing into a compact little packet ready for effortless transportation in a mid-sized family car.
The whole thing only weighs 68 pounds, so it won't require much muscle to carry it to and from the car either. It's the perfect grill for a small family picnic out in the woods.
Key features:
This Green Mountain Grill has a particular design to help it work with the highest efficiency and lowest wastage. There are some key features that help in its function. Let's get in-depth with them.
12V DC Supply
As part of the environment-conscious initiative, Grill Mountain has made their Davy Crockett grills capable of being fully powered up by a 12-volt direct current supply. 
Storing electricity is a tricky matter. But since DC is easier to store than AC, this is the perfect power supply for portable appliances like this Davy Crockett grill.
Besides power efficiency, there are other advantages to DC. For example, you will be able to start up the grill faster, and once you get the grill going, it will have a high combustion rate by only burning a small number of pellets.
The 12 DC supply is also safe to use as it has a very low shock hazard.
Pellet Hopper
The hopper is the identity of pellet grills. This is a box attached to the side of the grill where you put all the wood pellets that will fuel the burning. With this grill,  you get a hopper that can hold about 18 pounds of pellets at once.
This is its optimal capacity, and the advantage here is that you'll be able to put enough wood pellets in this hopper to finish cooking big meals on it without the hassle of refilling it halfway into grilling.
The hopper is connected to the cooking grate through an auger motor that efficiently rotates and keeps the pellets burning in continuous circulation. The main purpose of the hopper is to hold the pellets as they get burned to produce the heat for the grill.
There is a small viewing window on the hopper through which you can keep an eye on how much of the pellets have been burned. When you are done, cleaning the hopper is super easy – just open the door on the back and get all the debris out.
Auger Motor
From the hopper, the pellets have to move to the igniter in order to burn and heat up the grill. This is done by the auger motor – its what drives the running potential of the grill. Attached to the motor is a high-speed fan that moves the pellets towards the igniter.
The motor has a high RPM with which it rotates the fan and helps it to draw in the pellets in a continuous flow. From there, the pellets are directly sent to the igniter.
All this is set on the corner of the grill, and it moves in conjunction with each other. The high effectiveness of this corner of the grill allows it to heat up quickly and evenly.
Digital Temperature Controller
Temperature control is the secret to perfectly grilled food.
This grill has a range of 150 to 550 degrees Fahrenheit, and you can take the temperature up or down by increments of 5 degrees. This gives you a good amount of control on how you want to sear your food – from low and slow heat to a big and fast heat; you'll be able to choose conveniently.
Another point of advantage is that it has a built-in WiFi with which you can check and control the temperature from afar. You won't need to stand beside the hot grill all day anymore. Just come by when the food needs to change sides.
GMG App
Not only will you have control over the temperature and the heat settings of the grill, but with this app installed on your phone, a wide range of recipes will be available for you to try out. The app has a soothing interface that's easy to learn and use for anyone!
Igniter/Firebox
The igniter is located just beside the high-speed fan so that it draws in a lot of oxygen from outside and feeds it exactly into the area where the pellets are burned. This firebox is completely blocked out from any other external outlets by a burn grate. This grate prevents the oxygen and thus the heat from spreading out to the other parts of the machine.
All the heat stays trapped in with a rich supply of oxygen that is continuously passed to the igniter. As a result of this, the grill has a high combustion rate, with very little pellets being wasted.
FAQ About Green Mountain Grill Davy Crockett
How to stop the grill from turning off by itself?
You might not have cleaned the firebox properly. After you're done grilling, wait for some time to let the ash cool down. Then clean thoroughly before you use it next time.
In what ways is the Green Mountain Grill better than Traeger's?
They are cheaper, and they can reach a higher temperature than Traegar's grill.
Are these grills durable?
Yes, they are built to last for years.
Can I use this to grill in the rain?
No, you shouldn't do that with pellet grills. If water gets into the pellet hopper, then there won't be any proper combustion. And on top of that, you'll have to throw away those wet pellets.
Why does the grill keep making beeping sounds?
Sometimes it does that when there aren't enough pellets in the hopper. Open the hopper and check if the yellow sensor can be seen – if it can be seen, that's not a good sign. You'll need to put more pellets into it.
Conclusion
With this Green Mountain Grill Davy Crockett, you will be able to save electricity, use pellets to their highest potential, keep it in your family car, and travel to a serene spot for some good old grill picnic with your family and friends.
This grill will be worth every buck, and it will also last you a long time. With the WiFi controller and the GMG app, it will be a pleasure to cook on this effective machine. We hope you'll love it as much as we do.
Best of luck, and bon appétit!