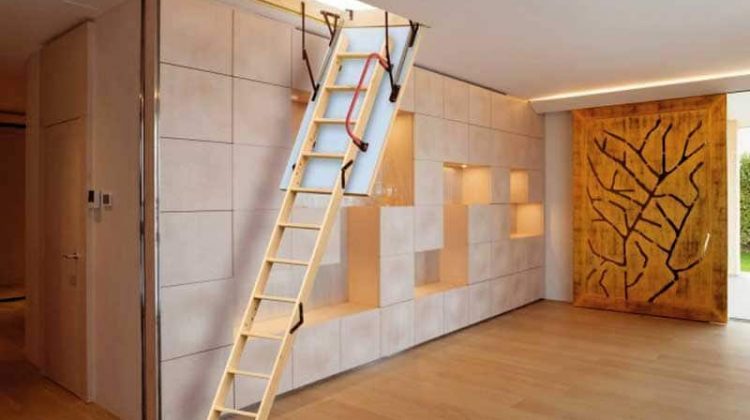 No more struggle to access your attic with any of these best attic ladders that we're going to review here.
An attic access ladder enables easy and safe access to attic spaces without the need for installing a costly staircase. It not only saves you money but also space. Moreover, it makes your every trip up and down from the attic faster, more comfortable and safer.
We've studied many attic access ladders and finally have narrowed them down to the 8 best. We hope this list of the best pull down loft ladder is exactly what you're looking for.
Read on our best attic ladder reviews to learn more.
While there are many options on the market, all things considered, we'd say that Louisville L224P wooden attic ladder deserves its "Premium" title. The heavy-duty hinges and reinforced grooved steps increase stability. Moreover, the exclusive EZ hang strap system makes it really quick and easy for installing. All in all, the 250-pound weight capacity and other user-friendly features will help any homeowner reach attic space with comfort and safety.
If you're on some tight-budget but looking for a user-friendly, light-weight loft ladder, then WERNER AA1510 will be a good buy for you. It's designed for small attic opening. Of course, its 250 lb. duty rating ideal for most household tasks. Moreover, it works best with 7 ft to 9 ft 10 in the floor to Ceiling Height. It fits most houses with standard constructions. And it opens easily and closes smoothly.
Top 8 Best Attic Ladders 2020 – Quick Comparison Chart
8 Best Attic Ladders- In-Depth Reviews 2020
There are certainly many brands offering attic pull down ladders of various styles, materials and types to choose from. But you don't have to rely on nameless reviews from strangers to pick out the best loft ladder.
However, these top 8 options are proven for ease of installation, user-friendly features, functionality and durability to serve as easier and safer access to your attic.
Read on to learn more.
1. Louisville L224P- Best Wooden Attic Access Ladder
For someone who prefers a wooden attic access ladder than an aluminum ladder, this Louisville L224P is a fantastic solution to consider. It's the ideal solution for obtaining smooth, unobstructed access to small attic or storage areas where regular staircases won't fit.
Accessing the attic with this wood attic ladder is incredibly convenient, and safe. Folding and unfolding this 22.5 attic ladder is also easy and quiet. It offers superior stability every step on the way.
Of course, the easy-to-follow instructions that comes with the ladder will greatly help you to fit it to the proper dimensions of your attic opening.
Want more specifics? Let's dive in!
Overall, Louisville L224P is a reliable option for a smaller or irregular attic access. It'll give you undisturbed reach to your tight storage area or ceiling compartment. Worth it considering the price.
Pro-Tip 1
Never dismantle your attic access ladder if it comes fully assembled.
2. WERNER Aluminum Attic LADDER AA1510
If you're looking for a compact, lightweight attic ladder for small attic openings, then this aluminum attic ladder from WERNER is the right choice for you. This compact ladder is a popular alternative to large attic ladders.
Werner  AA1510 is pretty much the only attic ladder that fits small attic openings.
In fact, it's one of the best telescoping attic ladder available. It has three sections that slide down like an extension ladder. This telescoping design makes it ideal for closets, hallways and other tight spaces providing quick and hassle-free access. It's thoughtfully designed for daily use.
Let's dig a little deeper
WERNER AA1510 is a great sliding attic ladder for compact attic access. OF course, it's also a good budget-option for budget-conscious people.
Pro-Tip 2
Prior to installation, inspect your wooden attic ladder for any cracks in the wood. Also, make sure that the metal elements are securely fastened and not damaged.
3. Louisville Elite AA2210- Best Aluminum Attic Ladder
Say GOODBYE to traditional spring-operated attic door-slamming. Thanks to the advanced cylinder design of Louisville AA2210 Attic Ladder. The gas cylinder design provides a wider clearance space for easy transporting of large boxes and to reach the attic.
Additionally, this unique design reduces the force required with conventional spring operated attic doors and allows the smooth operation of the door. It also eliminates the devastating door slamming.
The 375-pound weight capacity is a nice bonus of this Louisville ladder elite series. So, you can climb up with a decent amount of weight on this ladder. Nothing to worry!
Let's find out more about its top features
All in all, the wide range of user-friendly features of this Louisville ladder AA2210 will turn your attic climbing easy and safe. Considering its design, ease of use, weight capacity, and affordability, this Louisville elite attic ladder is going to be an excellent purchase for you. Moreover, if you want to carry a lot of heavy loads, this Louisville Ladder can be the best choice for you due to its impressive weight capacity.
4. FAKRO 66869 LMS Insulated Steel Attic Ladder
The addition of this FAKRO insulated attic ladder into your house might be far more beneficial than you would expect. Not only does it provide you a convenient way to reach the attic, but it also reduces the transfer of air and aid in lowering your energy cost.
This attic ladder wooden door frame features rubber gasket seal between the boards that is rated for 5.2 R-value. That means it will protect against the heat loss from your home.
FAKRO steel attic access ladder is built to provide an easy as well as safe access to the attic space. The powder-coated metal construction ensures long-lasting durability for carrying heavy loads up to 350 pounds.
Of course, the high-quality pine wood construction of hatch and box frame adds strength to use this ladder years after years. Moreover, the Adjustable length, door distance, and spring tension offer custom installation.
But that's not all…this fold-out ladder offers more
In a nutshell, this FAKRO LMS attic ladder is exactly what you're looking for easy attic access and decent attic insulation. The design and construction of this pull-down ladder are far better than many of its competitors.
Important!
If your loft ladder doesn't extend entirely to the ground or open fully, never try to modify it to use without manufacturer's instructions.
5. LOUISVILLE Ladder 16 AL228P Extension-Attic Ladder
This Louisville Everest series aluminum attic access ladder is designed for added convenience, comfort, safety, and stability. LOUISVILLE LADDER 16 AL228P is very well-constructed and a stable-feeling ladder. The high-quality aluminum construction makes the ladder lightweight, still provides ample support for transporting items to and from the attic.
The 22.5″ x 63″ rough opening offers easy access to your attic space. This fits 10′ – 12′ ceiling heights that make it perfect for high ceilings. Of course, strong springs and the tight door fits nicely in its frame. What's more, the insulated design offers an energy-efficient solution.
But that's not even the best part…
It's one of the few models with multiple handrails. This feature offers considerable convenience, comfort and safety.
As far as safety is concerned, the AL228P attic ladder meets or exceeds the safety standards set by ANSI and OSHA that ensure a safer and comfortable attic pull down ladder using experience for you.
Let's dig deeper into some more features of this product
When it comes to finding a decently priced, high-quality attic pull down ladder system, this LOUISVILLE 16 AL228P is an excellent option for you. Moreover, for higher ceiling height (over about 10-inch), this LOUISVILLE insulated attic access ladder could meet your needs perfectly.  Undoubtedly, you'll get what you pay for.
6. FAKRO LWP 66809- Best Insulated Attic Ladder
Make your attic access safer and comfortable with this FAKRO LWP 66809 insulated attic access ladder. This elegant, superior quality FAKRO LWP attic ladder comes with several useful features that make it an ideal choice for many homeowners.
Firstly, the quick fixing system lets you install the ladder easily by two people only. Secondly, the hatch's unique opening mechanism ensures the smooth opening and closing of the ladder. And there is no risk of sudden movements. Additionally, the insulated wooden door frame helps to conserve and thus reduce energy costs.
The best part is that this ladder features smooth outside, which is paintable to match your interior look.
Still not convinced?
Check out these features
If you're the admirer of a wooden ladder, then don't miss this FAKRO LWP 66809 wooden insulated attic ladder. It's somewhat expensive, but it's far superior and convenient to use.
7. FAKRO LST 66820 Insulated Steel Scissor Attic Ladder
Next, we have this modern and stylish attic ladder from FAKRO. This pull down attic stair has gained immense popularity among users for its trendy look and user-friendly features.
So, what makes this ladder stand out?
FAKRO LST 66820 is a scissor style, sealed and insulated steel attic ladder. It's made from powder-coated, high-quality steel that delivers a comfortable and safe entrance to the attic.
Due to its compact design, this scissor-style ladder is best for confined places. Thanks to its unique folding mechanism that allows you to install the ladder in smaller openings. This practical attic ladder gets hidden behind the attic door when not in use that makes it a perfect choice where there is no option to keep it permanently.
Let's find out more
This scissor attic ladder is an excellent invisible drop-down ladder. It's a perfect choice if you want a stylish yet practical, sturdy, safe, and convenient way of accessing the loft. We recommend this FAKRO insulated steel scissor attic access ladder for spaces where setting up the standard section loft ladder is complicated. If you can afford it, we highly suggest that you invest in this best pull down attic stairs.
8. Z6 W4-26-2 Aluminum Alloy Household Retractable Ladder For Loft
If you're looking for a wall-mounted telescopic staircase, you might want to consider Z6 W4-26-2 Attic pull-down Ladder. The unique retractable design is perfect for environments where it's not convenient to set up a large stair due to narrow space.
We loved the fact that this ladder adopts a simplified design. That means you can install it directly on the vertical wall surface next to the ceiling opening. Pull down to use it, and shrinks it upwards when not use.
But that's not even the best part…
Made from titanium-magnesium alloy material, the Z6 Retractable Ladder will give you great assurance that it's lightweight, rust and wear resistance, durable and safe to use.
The most notable feature, however, is the screws that connect the telescopic pedals. By using only a wrench, you can modify it if you require to customize the height.
Let's dig deeper into some more top features of this ladder
This Z6 W4-26-2 could be the right choice for attic access of your home, the roof without a ladder, or any place where you didn't install any stairs beforehand. Although this wall-mounted telescopic ladder costs more than others listed on post, you may find it's worth every penny because of its impressive features and capabilities.
What Is The Attic Ladder?
The attic access ladder is a collapsible stairway that permanently attached to the ceiling or attic floor. It pulls down from the ceiling and folds up or sliding back into the ceiling frame out of the way. This type of ladder is also called attic pull-down stairways or an Attic pull-down ladder.
Attic stairs or pull down loft ladder has decreased the necessity of portable ladder to access attic space.
Best Attic Ladders Buying Guide
There are several factors to consider as you decide to buy an attic access ladder.
So, go ahead and see which considerations you need to make before you buy the right loft ladder.
Space Requirements 
Make sure the space you have for attic opening is adequate. You need suitable landing space to safely climb up and down the ladder while carrying items. So, check for the adequate landing space. Finally, make sure the space on the floor below your attic opening is spacious to accommodate the fully extended or opened ladder.
Ladder Dimension
Attic ladder dimensions vary depending on the ladder-type and model. Hence, it's essential to check the manufacturer's requirements for the exact fit for your attic opening. If space is concerned to you, go for a compact attic access ladder.
Attic Ladder Lengths
Attic pull down ladders come in different lengths. So, the first thing you should do is measure the ceiling to room floor distance. Based on this distance, buy the appropriate size attic access ladder.
Weight Capacity
Take into consideration the attic ladder weight capacity. As a thumb rule, the more load capacity of a ladder, the sturdier it is. So, it's safe to buy a loft ladder with the load capacity that can handle the weight of the heaviest person of your family who may use the ladder.
Material
Before buying a loft ladder you should also check for the ladder materials. The aluminum loft ladder is lightweight, stronger, rust-resistant and not affected by humidity and temperature, so it's the best all-around choice. Although a high-quality wooden loft ladder will serve for a long time, it may become prone to the effect of moisture.
Styles
Loft ladders come in a variety of designs and styles to improve convenience. Some models fold out to expand, while some other extend and retract like a telescopic extension ladder. Additionally, some manufacturers offer attic stairs that extend and retract on scissor-like mechanism.
Attic Ladder Safety Features
First, check the build-quality of the ladder. Second, pay attention to the step or rung width. Attic pull-down ladder may come with shallow steps or ladder style rungs. Third, having a handrail with the ladder is a bonus safety feature. You can just use the ladder rungs or climb with a handrail.
Insulation
Attic frame is a significant source of air leakage and energy loss in a home. So, if your chosen model features tight-fitting doors and insulation, it'll be an added convenience for you to reduce energy loss.
Attic Ladder Safety
Like any other ladder type, you should follow some safe practices when installing and using an attic access ladder.
Types Of Attic Ladders
Based on the folding and unfolding mechanism, the attic pull down ladder is of the following types:
Folding style
Sliding style
Scissors style
Based on ladder materials:
Attic access ladders may be Energy- efficient (Insulated) and Fire-resistant.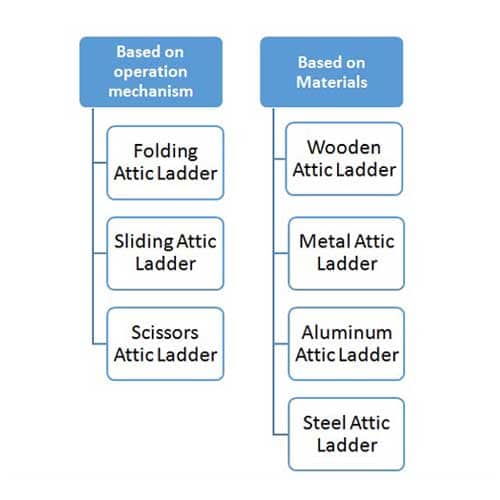 FAQ About Best Attic Ladders
How can I be sure that I get the right size ladder for my available attic space?
Before purchasing a loft ladder, measure the dimension of the space where you plan to set it up. Then, check the dimensions of the ladder you plan to buy.
My aluminum attic stair is somewhat short. It can't touch the ground under the attic opening with its foot attached. Is there any way to fix it?
Some manufacturers sell replacement foot for specific attic ladder models, for example, Werner AL2210 36-83 and Werner AH2210/AH2510 36-98. If you have those models and it's a minor cutting error, you can buy the replacement foot separately to fix it.
​My attic door doesn't close completely. How can I fix this issue?
First, shut off the attic door from inside the attic and check for obstructions. Second, check cords and shims to make sure these aren't interfering with the door closing properly. Third, check the struts or springs of the ladder and make sure they're working correctly.
​What's the difference between an insulated or energy sealed attic ladder and other common attic ladders?
Insulated or energy seal loft ladder doors feature panels within their structure. There are also a built-in jamb and weatherstripping around the attic frame (inside). These properties produce a tight seal that significantly decreases the amount of air that flows between your living space and your attic.
Is it possible to convert a traditional attic ladder to an energy seal attic ladder?
There are differences between traditional loft ladders and the energy sealed attic access ladder. So, generally it's not possible to convert a traditional loft ladder to an energy seal loft ladder. However, some brands/ manufacturers offer installation and trim kits that include weather stripping to add to the frame of the traditional loft ladder. You can also use pull down attic ladder insulation stair cover or attic stairs cover box to insulate your attic access apace.
How can I compare the insulation power of an insulated attic acess ladder to the other insulation types/ products?
In general, an energy sealed- or an insulated attic pull down ladder comes with R-value 5. Higher R-value means greater insulating power.
Is setting up an attic door with insulation is different or complex than common types of attic ladders?
No. Generally, you can install an insulated attic access ladder by following the same easy steps as other attic access ladders.
Conclusion
So, have you found the right loft ladder to get the most value for your money?
In this reviews, we've tried our best to give you a brief look at the specialty of each loft ladder and why it stands out as a top choice. Undoubtedly, it'll be helpful to you to pick the best attic ladders in 2020.
We hope you've enjoyed reading!
If you're looking to find a telescopic ladder or extension ladder for a specific need, and want to know what all of your options are in this regard, we also have several buying guides and reviews that are written for that very purpose.