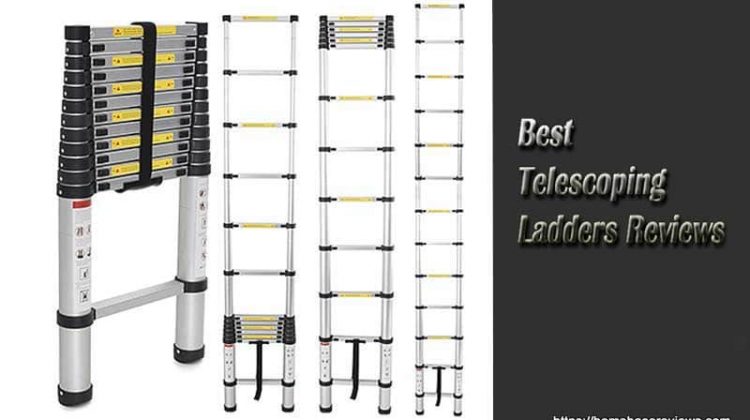 Are you tired of lugging around your long, bulky, cumbersome ladder that knocks down objects and things in your way?
Or maybe your ladder is awkward to store in limited spaces?
Either way, you've come to the right place if you want the best solution.
A telescoping ladder (also called telescopic ladder or collapsible ladder) is an excellent option to avoid these impractical aspects.
Sounds like a fantasy, right? 
Unlike conventional straight ladder, telescopic ladders have the retracting ability, which makes them convenient and even more favorable to deal with.
Below, you'll find out a list and review of 10 best telescoping ladders that are perfect for tackling a wide array of applications both indoors and outdoors.
So, if you're looking for the best telescopic extension ladder in 2020, this guide was written for you.
After going through the different features and benefits of each telescopic ladder of our top 10 lists, we must say that Xtend & Climb Pro Series 785P+ beats them all. First of all, it provides a perfect balance of quality and functionality that makes the ladder using experience quite hassle-free and safe. What's more, it's priced well for the performance it provides. It also receives many positives reviews from buyers who have used it. We're confident that it's the telescopic ladder that will work for you.
Yesker 12.5ft Telescoping Ladder is one of the best budget options on our list. This product comes with a very pocket-friendly price without compromising the build-quality and safety. In spite of its low price, it offers impressive weight capacity. You don't need to be worried about its safety as it's EN131 certified. Overall, this ladder comes with the right features that will deliver as per your expectations.
Best Telescoping Ladders – Quick Chart
In a hurry? 
Then, this quick chart will help you to compare these 10 best quality telescoping ladders within few seconds and decide the right one for you.
10 Best Telescoping Ladders- In-Depth Reviews
Let's find out more about these telescopic ladders in the detailed review and buying guide below.
1. Xtend & Climb 785P+ Pro Series- Best Overall
Xtend and Climb 785P+ is a heavy-duty telescopic ladder prefect for painters, commercial contractors, roofers and serious DIYers.
For those who don't know, Xtend & Climb is a market leader when it comes to manufacturing premium climbing products. This 785P+ ladder from Pro series comes with many useful features that lead us to place it in the #1 position to our top 10 list.
Let's go through 785p+ Xtend and Climb ladder review and learn more about it.
Firstly, it opens by 15.5 feet, making it great for the highest tasks. And it retracts down to a very low footprint (36.5 inches). You must love this compactness of this model.
With its airplane grade aluminum alloy construction, it allows for carrying 250 pounds weight. It also makes this ladder extremely durable and safe to use. Additionally, the clean Touch Anodized Finish makes cleaning this ladder a breeze.
785P+ telescopic ladder extends and locks by the feet with exclusive no pinch closer system. Thanks to its Angled Thumb Release that ensures proper hand position. The key to its stability is its double over-molded feet that offers traction and enhances its durability.
The ladder is easy to collapse, carry, and store. You'll certainly appreciate it's lightweight and compact design. Another impressive feature is its integrated carrying handle with heavy-duty closure strap for carrying it place to place easily.
Finally, it meets new 2019 ANSI/OSHA standards to make sure you feel safe and secure on the ladder.
Overall, Xtend & climb 15.5 ft. telescoping ladder is a decent option for serious DIY tasks or commercial purposes. It's a perfect alternative to extension ladder. If you absolutely need the most compact ladder due to storage issues, this telescopic ladder is for you. You should appreciate the overall build-quality, compactness, and simplicity of this ladder.
2. Telesteps 1800EP- Excellent For The Money
Next, we have this professional-grade telescoping ladder from TELESTEPS.
The Telesteps company is the inventor of the world's original telescopic ladder. And their climbing products are most innovative, reliable, and versatile on the market. Telesteps 1800EP telescopic ladder is not exceptional.
What's great about Telesteps 1800EP is the patented one-touch release system, which aids automatic extension and retraction of the ladder in seconds. In fact, it's one of the best fully automatic telescoping ladders available. You should love the aspect that it has only one button to push to collapse it instead of having to collapse each step individually.
The Aircraft Grade Aluminum alloy construction makes it durable, reliable, and of course lightweight. Also, the molded climbing rungs offer sure grip and added stability. It also has Silicone Feet which is adjustable to make sure you feel safe and secure while on the top of the ladder.
It's worth noting that there are safety indicators that show when each expanded section is locked into place. That means, it'll provide you the visual assurance that the ladder is secured and safe to use.
The Telesteps ladder scores some extra points for the reaching height. The useful aspect of this ladder is you can use it at full extension (18 feet reach). That means you can use the same climbing height as an 18 ft. extension ladder.
This lightweight and compact ladder is convenient to use and store. It fits in the trunk or seat of literally any car. Finally, 1800EP meets & exceeds Global Safety standards: ANSI 14.2 Tested, OSHA Compliant, EN-131.6, AS/NZ.
If you want to get multiple uses with multiple heights in just one ladder, then Telesteps 1800EP telescopic ladder is definitely the best option for you. Considering the design, safety, and functionality, we highly recommend this ladder, particularly for its reaching height. You'll never get disappointed using this best collapsible ladder.
3. Yesker Telescopic Multipurpose Ladder-Best Budget-Friendly
Yesker has brought this heavy duty telescoping ladder at a very pocket-friendly price. This well-designed aluminum telescopic extension ladder comes with several nifty features with an impressive weight capacity of up to 330 pounds.
Firstly, this ladder is built with 48cm pipes where most ladders are built with 41 cm pipes that make it great for the homeowner or professionals. Secondly, it claims to offer rock-solid stability in which it gives pride to the high-quality aluminum alloy construction. That's said to be the key to its durability and impressive weight capacity. What's more, the lightweight aluminum structure makes it easy to carry without sacrificing strength.
You'll undoubtedly appreciate the height adjustment system of this ladder. The 1-foot height increment system provides 11 different height adjustments. What's more, you can quickly and easily adjust it to the specific height you want.
This Yesker ladder is also a good catch in terms of safety and comfort. Firstly, the anti-slip end caps help to keep the base firmly in place. Additionally, the extra steps ensure safe climbing and comfortable standing. This ladder is also EN131 and SGS European safety standards complaint that brings further peace of mind.
Another impressive feature is its easy one-button retraction that lets you slide down effortlessly and safely from the completely extended condition. Of course, the intelligent locking pins hold the sections in place and thus they prevent sliding.
In conclusion, Yesker EN1 is a versatile must-have for all of your specific needs. It's a highly recommended product for those who are looking for a sturdy, compact telescoping ladder at an affordable price.
4. WolfWise 230EPE Telescopic Extension Ladder- Best For Durability
If you're tired of complicated expansion and retraction system of your ladder, then WolfWise 230EPE telescoping ladder will make your job easier and safer.
The upgraded one-button retraction technology lets you retract it in a few seconds from its full extension position. And you can collapse it down safely. The slow descending of every rung allows you to do it without pinching your fingers.
What's more, it comes with non-slip pads and stabilizer bar. Hence, you don't need to be worried about swaying when using this ladder. Besides, the skidproof pedals are comfortable and safe to step on.
WolfWise 230EPE is an excellent option for both home DIYers and commercial contractors. It provides 15.5 feet in height when fully extended. But you can adjust and lock the ladder at the appropriate height for painting walls, hanging picture frames and much more. Thanks to its exclusive locking system.
Of course, it's only 47 inches when collapsed. This compact storage size along with heavy-duty strap makes it easy for carry and store into limited space.
The built-quality of this ladder is impressive. The Aerospace Engineered 6061 alloy construction and Clean Touch Anodized Finish offer a respectable level of durability. Besides, the extra shatter-proof bumping prevents the ladder from easy crack.
To sum up, WolfWise 230EPE Telescoping Ladder is great for its impressive level of durability and stability. It's quite sophisticated but on the downside, it's slightly heavier than the rest. Nonetheless, it stands out as the most reliable and affordable for both professionals and homeowners alike.
5. Lionladder Telescoping Ladder- Top-Rated
You don't need to be worried about your safety while you're on the ladder for performing your task. This Lionladder telescoping ladder comes with lots of stability features that offer DOUBLE security.
It's a sturdy, reliable, highly safe telescoping ladder that comes with 360° rotating anti-skid stabilizer bars on the top and bottom to give fantastic stability. You should appreciate the rotatable rubber tops that prevent wall scratches.
Besides, the thickened and widened rubber feet and six independent non-skid points of this ladder enhance stability and optimize friction with the wall and floor.
Lionladder is a decent ladder that passes the 800 cyclic tests. That means it's durable and safe for various professional use. Although its frame is made of aluminum, there are some plastic parts that are reinforced with nylon fibre to improve stability, load capacity and extend service life. It features a matte finish that makes it safe and wear-resistant.
This 12.5 feet telescopic ladder is adjustable in height. So, you can use it in the state of semi extension according to your job requirement. Of course, the rungs are skidproof and locked automatically.
Besides, the one-button retraction lets you collapse down it simple by using a switch at the bottom. The slow descending mechanism allows it to be retracted safely without pinching your fingers.
Finally, this bad boy comes with an ergonomic handle and lockable belt that make carrying and transporting this ladder easier.
For home and professional use, this top-rated telescoping ladder is a versatile, convenient, transportable, safe and moderately priced option. Overall, it's a great alternative to any multi-position extension ladder.
6. Cosco 20313T1ASE Smartclose Telescoping Ladder- Simple But Modern Design
Made with industrial-grade aluminum, this Costco telescoping ladder provides the maximum reach of 16 ft., and a maximum working length of 12.5 ft. Of course, you can extend it to different heights.
With 300-pound load capacity, this innovative designed telescoping ladder is perfect for chores and projects. What's more, it extends by the foot, adjusting to the required height for any job.
Extending and retracting this Cosco 16 foot telescoping ladder is an also breeze. To open, you just need to pull upwards on the rungs. The locking mechanism ensures the extending ladder won't come slamming down when collapsed and won't pinch your fingers. In addition, it features locking indicator tabs at each step that deliver security to climb up with confidence.
What's great about Cosco telescoping ladder is its patented SmartClose system that allows the ladder retract slowly for safety and convenience. To retract it, slide the two green buttons of the bottom rung and the whole ladder will smoothly descend downward to close itself.
Cosco smartclose telescoping ladder is lightweight, and you can carry it with one hand. The carry strap makes moving it convenient. The compact footprint also makes it easy to store in any small area.
In a word, the Cosco Telescopic ladder is an excellent option for safe and quick access and limited storage space. If you need a compact and very portable ladder, go for this one.
7. Handvoll Multi-Purpose Telescopic Ladder- Great For Safety
For ticking off the chores at your home or professional construction jobs, this state-of-the-art Handvoll 15.5 ft Telescopic Ladder will serve you in any situation. It's a reliable option that you can depend on.
Handvoll's portable ladder offers the utmost versatility. Due to its impressive 330 pounds duty ratings and 15.5 feet height, it's a perfect option for both utility and domestic jobs. Each rung of this ladder features two locking pins that make it more practical.
It provides undeniable stability and ultimate portability. Surprisingly, this 15.5 ft. ladder weighs only 23 pounds. That means you can transport it anywhere you need. Of course, the compact storage size lets you store it in a car or truck when it's not in use.
No one around to hold your extended ladder in place? No worry!
Handvoll Telescopic Ladder makes all the difference when it comes to safety. For enhanced security, it has many innovative safety features. The Removable hook design and L-shaped rubber feet to the support frame make it more stable and safer by eliminating dangerous wiggles and shakes. Of course, the secure-locking safety spacers, ridged steps and snit-slip feet ensure the highest levels of safety.
Note that, in spite of all these excellent features and built-quality, it comes with a pocket-friendly price.
The Handvoll Ladder is the pinnacle of telescoping ladder technology offering a variety of beneficial features that make your ladder using experience safer and more versatile than ever.
8. ARCHOM Telescoping Extension Ladder- Best For Height And Weight Capacity
No matter it's a dirty window, a dusty fan, a dead light bulb, or a wall that needs painting, the maintenance won't stop. With the ARCHOM telescopic ladder, you'll be able to handle all of your tasks easily and quickly. Thanks to its height of 16 feet, a perfect height to reach a standard two story house. This is just what handymen, DIY enthusiasts, and homeowners alike need to get an indoor or outdoor job done.
Of course, the slide latches allow you to adjust each rung in one-foot increments to reach your desired height without any hassle. This ladder provides excellent stability and prevents slippage with non-slip big foot cover. It helps the ladder to grab the ground more firmly and safely.
The ARCHOM telescoping ladder is constructed from high-quality aluminum alloy that makes it strong to handle up to 330-pound weight. Certainly, this ladder will give you years of great use.
The ladder is both easy to transport and compact to store into smaller confined spaces which a larger ladder wouldn't allow. Thanks to its heavy-duty strap with integrated carrying handle that makes moving this ladder easier.
ARCHOM Telescoping Ladder will be a good pick if you're looking for more flexibility, especially when storage space is a concern. Moreover, if you're on a budget, still looking for a telescoping ladder with excellent weight capacity and height, you might consider it. In terms of material, design, function and safety features, this ladder is a decent option.
9. Sotech Aluminum Telescopic Ladder- Best 15.5 Feet Ladder
No more pinched fingers with this well-thought designed Sotech telescoping ladder. This ladder is not only easy to extend but also safe to retract. The anti-pinch soft close mechanism uses air pressure and allows you to close it smoothly and automatically from bottom to the top, avoiding finger-pinching.
Sotech is a portable telescopic ladder for Roofing Business, Home Inspector and Household Chores, which comes with many beneficial features to make your ladder using experience safer and versatile.
This 15.5 feet ladder is excellent for all types of work: decorating, cleaning windows, access roof, DIY and home inspection. The high-quality aerospace aluminum alloy construction makes this folding ladder stable and durable.
Additionally, this aluminum construction makes it lightweight and portable. When collapsed, it's compact and space-saving. That means you can store it anywhere- house, garage, truck or car. What's more, the securing grip offers more security in its closed position.
Each step features an anti-slip groove to prevent slipping. There are also two locking indicators in each step bar that are green when extended finished; if not, they show red.
A nice feature of this ladder is the Stabilizing Bar which adds more security and stability to this ladder than many of its competitors. The stabilizer bar and non-slip bottom cap minimize shakes and maximize stability.
All in all, Sotech 15.5 feet Aluminum Telescoping Ladder is a decent option for the price. It's durable, lightweight, compact and absolutely stable.
10. Xtend & Climb 780P Telescoping Ladder- Best Reviewed
Here is another excellent telescoping ladder from Xtend & Climb. And this time, it is 780P Professional Series Aluminum Telescoping Ladder.
Similar to our #1 recommendation (Xtend & Climb Pro Series 785P+, Blue) above, this 780P Aluminum Telescoping Ladder also offers some great features:
Made of 6061 Alloy aluminum, this Xtend & Climb 12.5 ft. telescoping ladder comes with Type IA 300 pounds weight capacity making it great for both commercial contractors and home do-it-yourselfers. Of course, it extends by 12.5 feet for handling most of the indoor and outdoor tasks. Moreover, the 32.25-inch storage height makes it one of the best telescoping ladders for RV, truck, car or garage.
In addition, aluminum construction makes it highly durable and lightweight. You can easily carry it anywhere without any hassle. Thanks to its heavy-duty closure strap and integrated carrying handle.
This Xtend & Climb ladders feature ergonomic designs and locking tabs for safe operation and added safety. In addition, each rungs are built tough to ensure a sturdy footing. Also, the double over-molded feet provides traction and enhances durability.
Finally, 780P comes with a no-pinch closure system and red/ green tab indicators to make climbing on the ladder safe.
780P is a really a good aluminum telescopic ladder. But don't be confused with the 785P+ Pro Series (#1 recommendation). The main differences are in weight capacity (780P: 300 pounds, 785P+: 250-pounds), length (780P: 12.5 feet whereas 785p+: 15.5 feet), storage height (780P: 32.25 in. whereas 785P+: 36 in.). Hence, consider your needs and choose between 780P & 785P+.
Best Telescoping Ladders Buying Guide
Choosing the right telescopic ladder for your intended use is essential. But purchasing the right and best one can be overwhelming. In fact, many people don't know where to start. However, this guide will help you select the best collapsible ladder for you.
Consider the following factors:
Type Of Your Project
The first thing you should consider is the type of your intended work that you handle with your telescopic ladder. Based on your working needs, select the height and weight capacity of the ladder.
Maximum Weight Capacity
Another important factor you should pay attention to is the weight capacity or ANSI duty rating of the ladder being chosen. Telescoping or extendable ladders come with different duty ratings. Some ladders can support maximum 330 pounds. When selecting the weight capacity, consider your body weight and weight of your tools that you'd carry with you while climbing on the ladder.
Ladder Height
The reach you'll need for your work is also a determining factor. Telescopic ladders can extend to different heights. You can extend them anywhere between 8 to 22 feet. However, keep in mind that the taller the ladder, the less stable it is.
No-Pinch Closer System
It' s a key safety feature to consider when buying a collapsible ladder. No-pinch closures or angled thumb releases will ensure that your fingers won't get caught or crushed when you collapse your ladder.
The Visual Identification Locking Indicator
Many telescopic ladders come with locking indicator in the form of dots or colored tab on each section. This delivers an added assurance that your ladder has been appropriately expanded and ready and safe for climbing up.
Other Safety Features
Make sure that the ladder you choose has the essential safety features. Non-slip feet, and rung will enhance ladder safety. Having a telescopic ladder with extra-wide steps or rungs is also an added benefit.
Certification
Finally, don't forget to check the safety labels of the ladder. Make sure that the ladder is OSHA/ANSI rated to carry your weight.
What Are The Uses Of Telescopic Ladder?
The telescopic ladder is a more versatile form of the traditional ladder. It's a handy tool to keep around the house, the job site, or even in an RV. It can handle almost every common task that you can manage with a traditional ladder. Some excellent uses of a telescopic ladder are:
Is It Wise To Invest In A Telescopic Ladder?
It won't go wrong if we say the telescoping or extendable ladder is a hybrid of a step ladder and an extension ladder. This versatile design ladder has many beneficial aspects over conventional ladders. For this reason, it's a perfect tool for performing close detail work in a home, office, or apartment. It's also an excellent tool for professionals when it comes to multiple job sites and projects with varying heights.
1. It's extendable and collapsible to a compact size.
The first thing that makes a telescopic ladder stands out due to its ability to both extend and retract to reach different height. This type of ladder allows you to extend it only as much as you need to reach a specific area, making this style of ladder an actual multi-functional tool for performing different works.
2. It provides full comfort.
You can enjoy the full comfort from a telescopic ladder. In fact, it doesn't require more than 10 minutes setting it up and adjusting to a new height.
3. It offers a higher level of portability.
As telescoping or retractable ladder collapses down to a smaller size, portability is no longer be a problem. You can easily maneuver it into small places where a traditional ladder might not be able to reach due to space limitations.
4. It's compact once collapsed.
Telescopic ladders are capable of retracting down to a very compact size which is very convenient for storage. It's particularly an essential aspect if you're a professional and needs available space in your truck or car to accommodate other mechanical tools and equipment when moving from different worksites.
5. It's durable but lightweight.
In general, this kind of ladder comes with an aluminum construction that makes the entire ladder lightweight without sacrificing its durability and weight capacity. So, these are easy to carry and transport to and from worksites. For a traditional bulky ladder it's quite impossible that poses a potential safety hazard.
Telescoping Ladders Vs. Other Types
Besides telescopic ladders, different types of ladders are available in the market today. Some of these are step ladder, extension ladder, attic ladder, multipurpose ladder and much more.
Conclusion
Telescopic ladders vary in their material, quality, height, and weight capacity. But these selected top 10 models are best in terms of quality-to-price ratio.
Whether you're a DIY who needs to fix things around the house in hard-to-reach places or a construction worker, any of these best telescopic ladders will be right to get the job done.
Hope you've found the right one to meet your needs.
Thanks a lot for reading our best telescoping ladder reviews.
FAQ

 About Best Telescoping Ladder
How Does an Extendable or telescopic ladder work?
Just like a telescope, each rung/ level of a telescopic ladder extends and slides down to stack on the next bottom rung. Each step locks into place once extended.
Is it safe to use the telescopic ladder when fully extended?
In order to safely work upon an extendable ladder, the ladder doesn't have to be fully extended.
Is a telescopic ladder safe and secured for heavy-duty projects?
For light-duty projects, this type of ladder is said to be the best. However, many people believe that heavy-duty project may weaken the integrity of the locking system that may result in injury. However, this is not true with all manufacturers. Consider the brand and built-quality of the telescopic ladder.