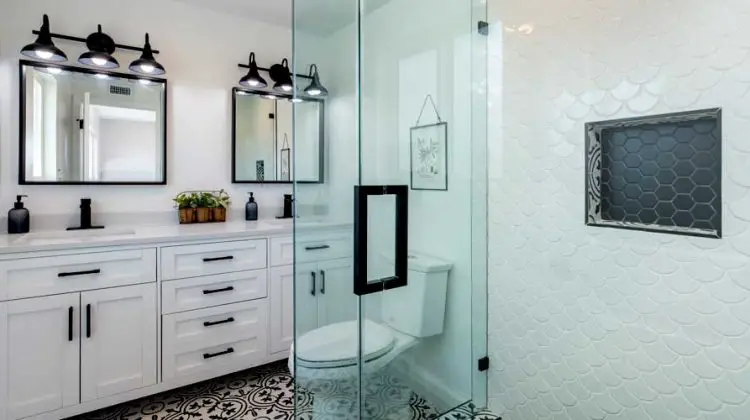 The bathroom is a sanctuary for personal hygiene. But not that if the bathroom itself is gross, right?
Well, there are many ways to make your bathroom a good place to be in. If your bathroom is clean and neatly organized, it will be a real nice place for you.
Bathroom vanity is important here. This is the main area for storage in the bathroom, but it's also where the sink is. So that means there will be a lot of water around it.
Make sure you get the best bathroom vanities at once. Otherwise, as time passes, you'll have to suffer the consequences of a cabinet that's getting rotten too fast.
Make every corner of your house beautiful. Buy water-repelling appliances, and organize your items in a way that keeps your spirits up.
Nothing but durable and quality materials will do. You can't always keep your bathroom dry, so make sure you get the right kind of bathroom vanity installed.
We'll help you find the good ones. No worries.
Our best budget pick is the 24-inch free-standing single sink Vanity Set from LUCA Kitchen & Bath. This has a simple modern design with a clean, minimalistic tone to it. It's nothing too fancy; there are only 2 drawers and a single sink. However, it is the quality of this small set of vanity drawers that makes it well worth every single penny you spend on it. You'll be quite satisfied with this product for a very long time.
1. RunFine RFVA0069W Vanity
Vitreous China Coating
Nothing can make you feel more of a dramatic betrayal than a loved piece of furniture aging badly. Maybe the shine was there when you first got it, but then it tends to lose itself over time, huh?
Well, this one won't do that. This basin is made of porcelain, which is already a very popular substance for making basins because of their shine. To top that off, there is the special vitreous china coating that has been put on top of this ceramic basin to give it an ever-lasting shine and smooth texture. Wiping the surface clean is easier due to the coating, and you will feel more and more secure with it as time goes by.
Operational Purpose
This basin has two handles, one for hot water and the other for cold water – this is pretty basic stuff, but it's also the most important function of the vanity. 
Knobs
The knobs are made of chrome, a durable material that is most popular for these sorts of fixtures because they are easy to clean, resistant to rust, and so on.
Design
There are two doors underneath the sink and then below it a drawer. Between these three units, you will get plenty of room for storing all your necessary toiletries so that they are never hard to find when you need them.
If you want a solid little basin for your average-sized bathroom, then this one will be the perfect option for you to consider.
2. LUCA Kitchen & Bath LC24GBP Sydney 24" Free Standing Single Sink Vanity Set
Compact Design
This vanity is only a rectangle with very smart options for storage and hygiene management. There is a small sink that has all the holes necessary for installation.
Drawers
The top drawer has a small wooden tray that tips outward when opened. The bottom one is a regular drawer with sections cut out in it for the better arrangement of your items.
Appearance
This vanity set is made of solid hardwood that has been coated with a semi-glossy polish so that it can repel water and protect itself against rotting.
The color is to die for – a deep blue of the darkest cloudless nights, with little golden brass, handles on it that make it look so gorgeous in the bathroom.
Your guests will love it, and you'll never get used to the beauty of this appliance.
Want elegance in the house? Well, leave it to Luca. If your bathroom is small, and if you like elegant neatness, then you'll adore this midnight blue small makeup vanity very much.
3. UrbanFurnishing.net - Jocelyn 60-Inch (60") Bathroom Sink Vanity Set with White Italian Carrara Marble Top
Adequately Spacious
The vanity is huge. It measures 60 inches wide, and it features lots of drawers and empty shelves. If you like abundance, you will definitely want this vanity in your bathroom.
There are 4 small rectangular drawers in the middle panel of the cabinet, and on the left and right panels, there are two more drawers at the very bottom.
Above these drawers in the left and right panels is a lot of space where you can keep your towels, or showpieces as you desire.
Long Marvelous Countertop
The countertop is gorgeous. It is made of white marble with delicate grey-splash patterns on it. The color is very clean, and it keeps the ambiance in the bathroom very soothing to the eye. There are two sinks that are both fixed with 3-piece faucets made of stainless steel coated with brushed nickel on the surface.
Drawers
The drawers are never going to give you any pain. They have been installed with soft hinges that exert very little pressure on the inner door frames. They are going to always function smoothly so that you love having this vanity in your bathroom.
If you have a big bathroom, and love for extraordinary elegance, then this is the white Italian Carrara blue vanity will be your new favorite household item.
4. Fresca Manchester 30 inch Gray Traditional Bathroom Vanity
Enclosed Storage Area
There are two doors with soft hinges that are very delicate – they open easily and never slam hard on their frames. This makes it easy to use them and keeps them in good health for a long time. Unlike other vanities at this price range, these doors are not going to come off their frames with continued use.
Ceramic Sink
The sink is white, and it's quite plain in appearance. There is an overflow that is going to stop the water from flowing over the countertop and soaking into the wooden panels underneath.
Materials
The vanity is made of solid wood, and the panels are medium-density fiberboard. The combination holds up well and makes the cabinet quite sturdy.
This is a modern vanity that is quite straightforward in its design aspect. It's durable, strong, and quite perfect for modern bathrooms.
5. Design Element Moscony Double Sink Vanity Set
Scratch-resistant
The cabinet is made with hardwood, but it has an unusually smooth and rich texture. To make the wood last long, multiple layers of premium DURA-lacquer has been put on top of it. This is to prevent scratches from showing on the dark polished surface of the furniture.
Water-resistant
The lacquer has been sealed in place with a semi-gloss polish. This polish is characteristically very sleek and radiant. It makes everything look new and fresh even after years of use. The polish is very smooth and easy to clean. Any water or other stain on it can be wiped away easily with a soft cloth.
Spacious
This vanity is quite big. It's 60 inches and has 3 cabinet drawers and 2 traditional pull-out drawers. There is plenty of room inside, and the tight seal on the drawers keep the stored items safe from insects, and other kinds of invasion.
This is a good vanity of quality that looks expensive and also feels rich due to the intricate lacquer and polish on the surface. This is one of the best quality bathroom vanities you get in this price range.
6. URBANIA Vanity 30" Wide -2 Door/Shelf, Walnut Color, with Sink
Elegant Construction
This is made with walnut wood, which is a very high-quality, durable material. There is a visible grain on it that has been polished to perfection – black frames join the bottom panel to the upper cabinet doors. The vanity is available in three different colors, all of which are timeless and highly complimentary.
Compact
If you have a small bathroom, this will look very good in it. 60% of the cabinet is for storage, and the sink covers the rest of it. There is no unnecessary fanciness to the furniture, and its upkeep is thus very simple and hassle-free as well.
Storage
The cabinet doors have soft-closing hinges that never slam hard into the door frame. Storing items is going to be a pleasure here because of how effortless it is to work around the vanity.
This is the perfect vanity for a minimalistic bathroom. It looks clean and elegant. There is no hassle of extra wooden panels – it only has enough storage to meet all your demands, without extending out even by half an unnecessary inch in any direction.
7. Aria 36-inch Bathroom Vanity (Carrara/White)
Solid Construction
Thick panels of plywood have been used to assemble the whole unit together.  No medium-density boards have been used so as to avoid splintering.
The hardwood is protected from water and damage by a coat of high-quality paint and polish.
Soft-closing
The cabinets and drawers have soft-closing hinges. They are not heavy and not at all difficult to pull out. Working with them is going to be a complete breeze. 
Plenty of Countertop Space
The sink is relatively small. But the countertop has ample space where you can neatly stack up all of your daily essentials. The countertop is made with top quality Carrera marble that is glossy and quite very easy to clean.
This is a nice clean vanity for your bathroom. It is of great quality, and it is easy to work with.
8. Benton Collection Cottage Look Abbeville Bathroom Sink Vanity
Unique Antique Design
If you have a certain penchant towards the traditional way of life, then this is the design for you to look at.
Although, it really does go without saying that the arched panel arrangement on the cabinet doors and the rustic color palette of this antique blue piece will grab your attention before you even realize it.
This is among the top stylish bathroom vanities you'll find anywhere!
Assembled Units
This vanity comes with a white marble countertop, a porcelain sink, and a big mirror that matches the shade of the cabinet underneath. The whole set will give your bathroom corner a different ambiance altogether, and everything comes pre-installed except the faucets, so you won't have to be worried about the panels either.
If you want a piece of the traditional architecture inside your house without spending tons of money on it, then this blue vanity with the marble countertop will be quite up to your alley of choice.
Buying Guide
The more you know about vanities, the better decision you'll take. After all, this is not something that we can just change after a few years – it is supposed to serve you much longer than that. So, let's learn more about these here. 
Vanity Styles
There are two options here: built-in and freestanding.
Freestanding versions are smaller in size. While built-in vanities are bigger, heavier, and more expensive, they are a bigger commitment than the free-standing ones for sure.
Types of Wood
The cabinet is made of some type of wood. Now which one you get depends on your budget. Your options will range between pine, birch, oak, maple, engineered wood, and so on.
The most commonly preferred is solid wood in this case. It could be a bit expensive, but it sure makes up for that by being reliably durable and definitively strong in character. 
Sinks
The sink comes with pre-installed holes. If you have a preference between a 1-hole faucet or a 3-hole faucet, then check for the appropriate holes in the sinktop before you buy it.
Materials mostly used for making sinks are porcelain, ceramic, and fireclay.
A ceramic sink topped with vitreous china polish is the shiniest and glossiest of the lot. They look very good and are easy to clean as well.
Porcelain sinks are harder than ceramic ones, and they are impermeable to water. So, they last long as well.
Hardware
Most sinks have pre-installed holes for their faucet. They don't usually come with the faucet, though.
So you need to pay attention to this aspect of the design beforehand.
Otherwise, you'll have to drill more holes into the sink, and that will definitely come at the risk of the porcelain surface cracking through.
Storage Capacity
The vanity must always have plenty of space for storing your essentials. So, buy something that allows closed storage spaces and also open storage spaces.
Don't buy something that's too big for you – that way; you will have to give more effort to keep the vanity clean.
Conclusion
The best bathroom vanities are those that have a solid construction, plenty of storage capacity, a good flushed sink, and a good plumbing system. You won't have to worry about the wood getting rotten on those either.
And since these are a hassle to install, buy a vanity won't require a replacement.
The ones we've mentioned are all top of the list among the available options in the market.
We hope you find yours here. But if not, you will surely find a good one as long as you know what to look for when buying a vanity.
Goodluck.