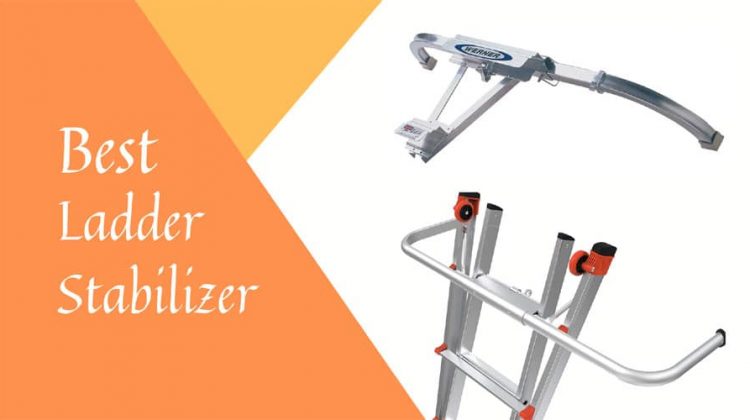 Are you scared of ladders? We don't blame you; ladder fear cripples us too. But with so many chores around the house that require a ladder, we have no other option than to find a way to climb them without fearing for our lives. If only we were a bit taller, right?
Well, since height enhancement isn't possible for adults, we've found some other kind of help to overcome this fear of ladders. We've found ladder stabilizers!
There are some good ones in the market, and you must inspect them before deciding which one would be the best ladder stabilizer for your nerves. With the right support, you'll be able to hold on.
There are many factors that determine the stability of the stabilizer itself. If you don't know what to look for, you might come home with something that will give a fatal boost of confidence.
To help with that, we have outlined a guide about the necessary details you have to pay attention to.
Check out the list, and you'll have no problem finding the right one!
Best Ladder Stabilizers Reviews
In case you are looking for good and reliable stabilizers in the market, we have 7 of them here. Check them out and compare them side by side to choose the best among them!
1. Ladder-Max Stand-Off Stabilizer
Ladder Max is one of those stabilizers that give you all the support you need by the merit of its simple and straight-forward design. Take a look into some of the details that help it to do so.
Adequate Space For Movement
The stabilizer has long arms, and this length is particularly made to be of advantage to you. It will give you 19 inches of space to assist unrestricted movement.
Slanted But Firm Angle with the Roof
The ladder will have a more slanted but firm angle with the gutters, and thus it will relieve you from the discomfort of being uncomfortably close to the wall. 
Best for Slanted Roofs
There are rubber grips at the ends that will form a firm hooking grip with the roofing tiles. You will be quite secure on top as your ladder gets the complete support from the connection between the rubber caps and the roof itself.
Doesn't Tear Down Rain Gutters
The long arms of the stabilizer will go over the gutter and grip onto the tiles of the roof.  Thus, your rain gutter will not have to bear any weight of the ladder itself, and consequently, it won't be in the way of damage.
This is definitely the best ladder stabilizer for cleaning gutters. If you live in an area where the rain gutters need frequent cleaning, then this will be a good fit for you.
2. Little Giant 10111 Wing Span/Wall Standoff
Little Giant is the perfectly simple tool that has no extra hassles, but just the necessary dimensions to make you feel safe on a ladder.
Wing/Arm Span
The wing span is the defining feature of the stabilizer because it is responsible for holding the base up strong. This tool has wings that spread to a width of 50 inches. This forms an especially good base for the ladder when it stands at a slanted angle to the wall.
Big Standoff Space
The standoff space allows your hands more space to work. This stabilizer is constructed in such a way that there will be a stand-off space of about 12 inches between you and the wall. That makes it a comfortable setup where you are not restricted in movement.
Wings Can be Angled
You can use this stabilizer upside down or downside up. The upside-down angle will give it a roof standoff, whereas, the downside up angle will give it a wall standoff.
Great Versatility
With the stability and freedom in movement comes increased versatility. You'll find that you are being able to use your ladder in more areas than before.
Overall, if you want to increase the usability of the ladder, then this will be a great tool. It angles on both horizontal and vertical support to give you the best of both ways.
3. Louisville Ladder LP-2200-00 Stabilizer
If you are not only planning to clean the gutters on your roof but your windows too, then you need this Louisville Ladder Stabilizer to enhance your safety and offer you great versatility of movement.
Quality Build
This ladder is made of aluminum – a metal that can be exposed for half a decade in the outside air and still not corrode. Aluminum is almost as strong as stainless steel for half the price. Therefore it's good value for money if you don't want to spend a lot on it.
Stability
If you are working on the roof, the long arms that extend 48 inches on the sides will form firm pivoting points on the roof tiles. And for working on windows, the arms will spread wide enough to give your good stand-off space without touching the window panes at all.
Versatility
You can attach this tool to single ladders as well as extension ladders. They are quite suitable for most ladders in the market, and so you'll be able to get a lot done quickly.
If you want a good quality ladder without spending too much behind it, then this ladder is the perfect deal. It cleverly makes use of the aluminum body without compromising on any of its stabilizing features.
4. Werner AC78 Quickclick Stabilizer
If you are looking for a fast locking tool that requires no extra hassle or tools, then this stabilizer from Werner will be the right fit for you.
Spring-Assisted Locking
There are many types of stabilizers in the market, but none offer to work as fast as this one. Snap it onto the ladder and quickly pull it away by the help of the spring-attached locking latch. This will help you to keep things simple and hassle-free.
Good Stand-off Dimensions
The stabilizer has a span of 44 inches and a standoff length of 10 inches in total. This is incredibly effective at giving your ladder that extra bit of stability without keeping you at risk of slipping.
With such space and freedom in movement, you will be able to do more jobs while standing up high on the ladder. It will definitely take away much of your acrophobia and free you up for work. 
Accessories to Help 
This tool has space for accessories like rubber caps and a paint bucket hooking system. The rubber caps will keep the hard corners of the stabilizer's arms from damaging the surface of your walls or tiles. And the paint bucket system will, of course, help you to keep your hands free to do the painting job properly.
This ladder is the best thing for you if you need something that will guarantee a quick bit of extra help, along with all the stability that you require.
5. Louisville Ladder LP-2210-00, 1-(Pack)
You have looked at quite some of these tools already. But if you want true versatility in your work, then you have to consider this one above all. It has the most attractive feature among all these other stabilizers. Find out what it is below.
Adjustable Wing Length
Well, this seems like an obvious upgrade, right? All stabilizers should have it, and yet, they don't.
When you have a stabilizer with adjustable wings, you can take your ladder anywhere. No matter how long or narrow the opening of your mounted project is, you can prop up this stabilizer on your ladder, make the necessary adjustments and get dive right into work without fearing any damage to the surface.
Uses U-bolts to Attach
If you are going to work on something so high, you can't prioritize the ease of attachment, but the quality of attachment should be given more importance.
As such, with the u-bolt attachment style, this ladder stabilizer stays fixed on the rung of the ladder by the merit of a tight steel grip.
Once you attach it in place, you won't have to stress about it anymore, so you'll be completely safe.
If you want to work in a selection of wide and narrow places, then this is a good-quality adjustable ladder stabilizer to consider for all your jobs.
6. Roofers 220539 RT-LM Mount - Ladder Stabilizer That Fits Inside Gutters
If you primarily use the ladder for gutter duty, then nothing could be better than this stabilizing dock. It will give you the best stability while you clean out the mess that has been collecting up there for so long.
Quick Attachment
Many such docking stations are a hassle to put up with. But not this one. You can easily insert this mount in the underside of the fascia. Then with a little push of the long broom handle, the mount will click right into place.
Convenient Insertion Position
Upon insertion, the dock will rest in the fascia. This is an area right below the gutter. Therefore, the tool will not push against the gutter at all.
The ladder will stay leaning on the outer side of the stabilizer, and its weight will be fully balanced with the docking station. As a result, your gutter will stay equally safe from dents and peeling paint.
Made Entirely From Plastic
Very heavy duty plastic has been used to make this stabilizer. This was done because plastic keeps the set up more secure and user-friendly. Rubber pads are attached on the front-facing side of the tool, and this allows the ladder to stay firm without any slipping or sliding.
This gutter guard is really the best solution for someone who needs to frequently climb up the ladder to clean the roof. They will add stability to your climb, and also boost your confidence while you work.
7. Qualcraft 2470 Corner Buddy Aluminum Ladder Stabilizer
This stabilizer is really going to be your best buddy in climbing heights. It has a friendly yellow color that works as a caution sign as well. If you are working in construction sites, this stabilizer will assist your mounted work in every way.
Helps You Maneuver The Ladder
There are connecting rings on this stabilizer that can be attached to the rungs of the ladder. These rings allow you to move the ladder around, with the aluminum stabilizer still on it. This will save you a great deal of time and effort. The tool is also very lightweight, and this makes moving with it much easier.
Gives You Great Reachability
The tool has an irregular shape. Due to the shape, it can turn corners, stand on level surface, and even work on circular wall surfaces. It will give you vertical stability in all the corners where you could never take any regular stabilizer before.
Good Stability and Safety
The tool will roughly give you a standoff space of 12 inches in a corner, and about 18 inches when you put it on a flat surface. You will not only be secure in your stance, but you will also get to use your hands-free as you will stand a comfortable distance away from the wall itself. This will help you to finish your work more quickly.
Perfect for those who work in corners. If you want great quickness and stability at work, then this friendly stabilizer is all you need. But be careful with the clamps. If you don't secure them in place before climbing, they might cause your ladder to slide a bit much.
Buying Guide For Ladder Stabilizers         
Using a good stabilizer is guaranteed to make your ladder significantly less scary. But to buy the wrong one will be a mortal wound for your nerves. Pay attention to understand these factors below, and you'll be safe.     
Build Quality
It goes without saying that your ladder must be very sturdy, and without a sturdy stabilizer, there is no chance of that. So, the first purchasing factor is the quality of the build. In other words, the quality of the materials that were used to make it.
If the material is not strong and resilient, the body of the stabilizer will crack or snap into pieces. We don't want that – it would be a nightmare. So go for stabilizers that are made of steel or aluminum – these elements are themselves very strong, resilient, and durable. So, they make reliable stabilizers.
 Accessories
Accessories will affect the build quality of the device. You might add a tray, a small rack, or even tiny attachments like bolts and end caps to it. In that case, make sure that the accessories are of good quality as well.
Also, see that they do not add extra weight to the stabilizer. If they do, then your balance might go a bit off point, and that would have a considerably undesirable effect.
Compatibility with Ladder Types
There are several different types of ladders available. In your house, you might have a single-pole ladder, a huge extension ladder, or some other type of ladder. To buy the stabilizer, you have to match it with the ladder you have at home. Ladder stabilizers aren't universally compatible. Compatibility is highly important when you are working on your rooftop. Therefore, make sure you find the best ladder stabilizer for roof.
Safety Level
This is the no-brainer point, right? You are indeed buying the stabilizer for your own safety. But where to look in order to know whether it will be safe enough for use?
Inspect the extensions on the side. They play a key role in holding the device level and sturdy. The extensions should be uniform and must be made with the same material as the body – preferably steel or aluminum.
Another indicator of safety is the size of the opening. A wider opening at the mouth of the stabilizer is contingent with a higher degree of safety than a device with a narrow opening.
Installation
you are not going to keep the stabilizer attached to your ladder because that would take up an unnecessary amount of space in the house. So, we recommend that you get something which has an easy attaching mechanism.
To identify easy installation devices, ask if the installation process requires the use of tools. Better to avoid the ones that do, because the tools might get lost as well.
Just opt for an easy put-on/put-off stabilizer with no extra hardware attachment. That way, you can put the stabilizer away without any hassle. 
Conclusion
That's it from us! Hope you have read through to get to the end to get here. We've added some recommendations up at the top. But if you still can't make up your mind, then be sure to remember the buying guide.
The best ladder stabilizer will be easy to attach and detach, it will give you the confidence to climb to the top, and it will give you enough mobility while you work at the peak.
Hopefully, you'll choose wisely. But try to be careful when you're on the ladder even if you have these accessories. Good luck.