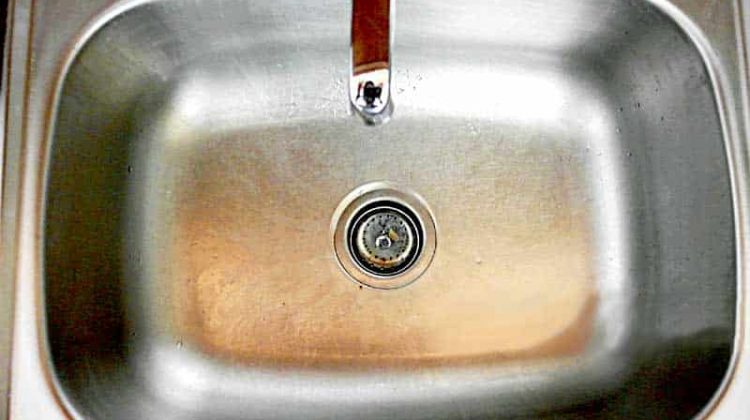 Your kitchen is a great example of beauty if you can keep clean the kitchen sink. You need to learn how to get rust off stainless steel sink if you are not paying attention as it needs. It gets dirty and rusted easily that simply destroys the beauty of your kitchen. So, pay proper attention to clean your stainless steel sink.
Rust is the biggest headache for the stainless steel sink user. So, don't wait for a long time to remove all the rust from your stainless steel kitchen sink. Know the best way to solve this rust problem with this article.
Let's discuss it and follow the instruction.
Best Tips To Remove The Rust Out of The Sink At Home
Nowadays, most of the kitchen appliances made of durable stainless steel. It does not only offer better service but fit for every type of interior of a kitchen. So, People make this material as their first choice, especially as a kitchen sink. You should know how to get rust off stainless steel sink to avoid your frustration about it.
After some time you will notice some rust on your favorite stainless steel sink. It happens when you are less conscious about the health and beauty of the sink. So, here we come with the methods that you need to keep the sink free from rust.
Rust of Stainless Steel Sink: Reason Behind It
Do you have any idea why an old or a brand new stainless steel sink rusting? Before you find out the solution to this problem you should know what is this and why it grows. Rust takes place over stainless steel for many reasons, but you should know the actual and common reasons.  Maybe your stainless steel sinks shiny and easy to clean, but it's not free from getting rust.
When your sink gets rusty you should apply the method to clean it as early as possible. Some external elements influence the rust problem. Here are the circumstances we are going to describe that influence to take place the rust.
Putting Things In The Sink For A Long Time
May be stainless steel is a better material for preventing rust. When you put something of other material on it, then you cannot be sure about the rust. As an example, we can say about the can that is made of tin. If you put this can for a long time in the sink, then it can grow rusty circle.
Minerals in the water
In water supply, you may don't notice the iron. This is an invisible factor that helps to grow rust on your sink. At some point, you will notice the marks of rust on your stainless steel sink. If you do not clear the water drop from the sink then it happens. After drying the water that contains iron, make marks on stainless steel easily.  
Using Stainless Steel Soap Dispenser
Most of the time people put the dishwashing soap on the sink. But the bad habit is they use stainless steel soap dispenser and put it in the sink. As a result, you will find some rust spots on the sink. If you buy a good brand of soap dispenser then you can avoid this problem.
Consideration before starting the cleaning
Stainless steel may be one of the most solid materials, but without proper caring, you can make this metal scratched. It can be scratched easily if you do not follow the instruction to wipe this material to clean. Try to scrub the material gently to clean the rust. Otherwise, you can make scratches easily.
What We Need
Cleaning the rust from your stainless steel sink is not easy if you don't follow the proper method. Clearing the rust is one kind of stainless steel sink reconditioning. If you don't know the process perfectly, then it can be the most irritating problem for you. To remove the rust from your stainless steel sink easily you should get some household things. Let's check out all of them below.
Pammy store
Baking soda
Lemon or lemon juice
Scrubber
How to Get Rust off Stainless Steel Sink- Ways to get rid of sink's rust
To clean the rust from the sink you need to follow the process step by step. It doesn't take much of your time. It's simple and easy to follow.
Using Baking Soda
As a first step, you have to use baking soda. This home remedy is available in almost every home. Now get the baking soda. Find out the rusty spot and sprinkle it. If you can, use a good amount of it over the rusty spot.
Using Lemon or Lemon Juice
Take a lemon and sprinkle it in the same way you sprinkled the baking soda on the spot. But you have to do it over the baking soda. The drop of lemon makes a reaction when it comes to a touch of baking soda. You will hear the fizzing form it.
Using Vinegar
Now take a spray bottle that is filled with vinegar. Spread some of these over the rusty spot of the stainless steel sink. You have to do it also over the spot where the lemon and baking soda makes a reaction. This is a natural acid that also makes a reaction with lemon and baking soda. As a result, you will hear more fizzing from it.
Scrub The Area
It's time to scrub the spot. Take a soft scrubber that cannot make any scratch on the surface of the sink. Start scrubbing softly until the rust is completely off the sink. Maybe there are more spots you will identify after cleaning the rust. So, clean all those spots too. Rub the spot properly until you are satisfied with the cleaning. You also need to focus on the edge of the sink. Because this place also tends to rust.
Use Pammy stone
Rust is not a thing that can be cleaned easily. After scrubbing it you might still have some stubborn rust. For this, take a pammy stone. It will help to remove the stubborn rust from the stainless steel sink.
Wash the sink perfectly
After cleaning all the rust spots from the sink, wash it perfectly with fresh water. Wash as much as you need to get the shiny and rust-free sink. If possible, clean the sink every day.
Tips To Maintain Stainless Steel Sink
To prevent your sink from rust and other elements, dry the sink regularly.
After every use, you should do a light cleaning. It will help to prevent from getting your sink dirty.
Don't let the liquid element sit on the surface of the sink for a long time.
Try to wear protective gloves to clean the sink.
Before using a commercial sink cleaner read the manual carefully. Otherwise dealing with the cleaner wrongly can produce dangerous gases.
Try to keep this sink dry, especially when you are not using it.
Don't place any kind of metal object on the surface of a stainless steel sink.
Avoid using any kind of steel wool and carbon steel brushes. Otherwise, it will make scratches.
Final Words
A clean and shiny kitchen can dramatically increase the overall beauty of your kitchen. You have to maintain the sink and need to keep clean it all the time. It's easy to wipe all the smudges or fingerprints with a cloth.
When you notice rust on your kitchen sink, then it may draw your attention for a long time. It is a nightmare for the stainless steel sink user. To make the sink shiny again, you need to clean all the rust from the sink. This article is not only to cure but also the way of preventing rust from your stainless steel sink.