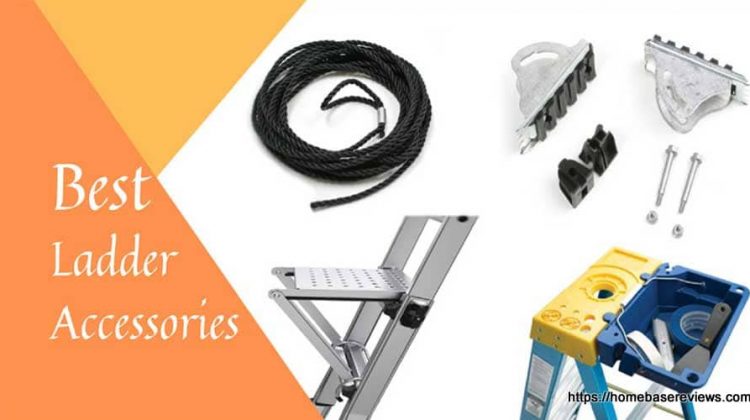 Ladders are scary, aren't they? We are convinced that anyone who disagrees with this has either got incredible courage or has never stepped on a ladder themselves!
If you are a normal individual, a little help with those poles will go a long way. And help, in this regard, comes in many ways. So never be wary.
You can find tons of ladder accessories in the market. They are going to make sure that you are stable up there, have free hands, and are comfortable while working.
In fact, many of these accessories come with such extra benefits.
If you are painting walls, for example, you will need to take not only yourself up there, but also have the paint bucket with you. In that case, without a good tray, you'd be in a tight spot.
To avoid such cases, you need to think of all your ladder work ahead of time and pick out the right accessory for your situation.
Fortunately, such choices are not difficult to make. There are some common accessories of very good quality. Let's discuss them down here! Take a look.
12 Best Ladder Accessories Reviews
There are many types of accessories to make you comfortable on your ladder. If you are keen to find out more, then please check out this in-depth list we have prepared for you below.
1. Racor - LDL-1B, Ceiling Ladder Storage Lift
Good at Lifting
Any good ladder lifting system should be able to hold the ladder without having its weight become trouble for itself. Owing to that rule, Racor employs a special mechanism that makes good use of the pulley system that has been meticulously made to balance out the weight of the apparatus.
You might not believe this in theory, but this system is actually capable of reducing the ladder weight by 4 times, which does well to keep it hanging without causing any damage.
Construction and Durability
The materials of the pulley system are extremely important in this regard, as they will directly affect the reliability of the system. This one does well on that front because it is partly made of steel, and the rest is a composition of an extremely capable set of strings from which the pulley hangs.
There is a fixed hook which should be drilled into the ceiling, and that is going to hold the ladder itself.
Simplicity of Use
You're going to be extremely satisfied by the ease with which you can use this system. Hang the ladder up on the fixed hook mounted in the ceiling and drag the pulley to fasten it to the bottom of the ladder, and voila! You're done. It's a simple design!
If you want to clear up space in the garage, then this is a great ceiling mount system to consider. Just make sure to tie all the strings in place so as to avoid the ladder falling on your head.
2. Ladder Stabilizer Standoff Brackets with Silicone Elbows
Good Load Capacity
Having a good load capacity is crucial. Without it, your stabilizer will not be able to give you the mental comfort of safety. But thanks all the good graces, because this stabilizer is certified to hold 300 pounds of weight.
This will cover all ladders that are extra heavy-duty Type IA and below. So, you are well covered to use this for many types of ladders.
Great Compatibility
This ladder stabilizer is suitable for ladders of different types of build. For one, it will hold extension ladders as well as aluminum and fiberglass ones that have rung holes shaped like O or open Ds.
The minimum clear distance between the rungs should be about 15-16 inches, and this makes it incredibly convenient because that is the standard hole clearance for most ladders anyway.
Most ladder specifications are on par with this stabilizer's requirements, so you can buy it with no hesitation at all.
This is a simple ladder stabilizer that supports most ladders we tend to have at home. However, it doesn't do that good when there is a lot of movement.
3. Werner Shoe Kit 26-2 Extension Ladder Parts
Suitability
These ladder feet will be compatible with a wide range of extension ladders, and they'll be just as good for aluminum ladders as well. You will find specific measurements on the box. These ladder feet are perfect for giving solid stability to ladders that might have gone loose with age. As they are made of aluminum and with correct dimensions, you will find that they are quite pleasing to work with, and can also be shared with neighbors if required.
Strength
Due to being made with aluminum, these ladder feet are incredibly strong and sturdy. They withstand the force put on them by weight and retain their shape for years.
Quick and Safe Installation
They come with aluminum bolts and nuts that are required for the setup. There are spacers in the kit as well, and these spacers are going to enhance the stability of the ladder by allowing it a larger space for placement. 
With these attachments, you will be able to get yourself a nice ladder set up very quickly.
Great ladder shoes for all types of ladders. They will give new confidence to you as well as add a few years to your very old ladders. In terms of new ladders, then, of course, they are quite phenomenal too. You will have nothing to complain about. 
4. Qualcraft 2420 Two-Rung Short Body Ladder Jack, Silver
Strong and Resilient
This jack is made with aluminum, which is a strong metal by itself. But it has been further strengthened by the use of the MIG welding techniques.
Moreover, there are several rivets all around the body of the jack, and they make the whole unit strong enough to support most kinds of ladders used in construction and repair sites.
Compatibility
These jacks are compatible with ladders that have planks of about 18 inches wide! So you can buy these without worrying about the fit because this will cover all ladders of standard rungs and more. 
Also, jacks are mostly used in pairs – in this case, you will, again, be quite satisfied to see that this jack is versatile enough to be used in combination with other jacks quite well.
High Functionality
Whether your ladder has round rungs or D-shaped ones – this ladder jack can be installed with both styles. You will also have the freedom to install them on the inner side of the outer side of the ladder. Thus being installed, you will be free to use it for a wide range of applications, starting from siding work, painting, repairing, and so on.
If you need to do a multitude of different kinds of work with the ladder, then these jacks will prove to be very useful to you. They'll ensure your increased safety at work, and also be by your side for many years without wearing down.
5. Little Giant Ladders, Work Platform, Ladder Accessory
Multi-Purpose Functionality
There are two ways in which you can use this ladder. You can install it as a scaffolding system for the times when you need to stand high above the ground for extensive stretches of time. And you can also use this as a tray to keep your paint bucket or other such essentials that are required for your task.
Quick Installation
You can quickly set the platform up by the click-on mechanism incorporated into the system. Whenever you are working, you can take it up with you and have it at your convenience.
Strong
The platform can hold up about 375 pounds without a problem. You will also be able to use this with articulated and portable ladders at any height.
Little Giant ladder accessories such as this, are very good in freeing up your hands when you are working on the ladder.  With hands-free, you will also be able to get a better balance while you stand on that thin rung up there.
6. Werner 55-1 - Attic Ladder Spreader Hinge Arms
Solid Installation
These hinges will last you a long time, but initially, you might struggle a bit over the installation. It is not a simple process and will require you to pay attention to the guide. But once installed, the hinges will stay in place without giving way to pressure, or any sort of loose nuts to deal with.
Thick Arm
The main arms that are in charge of holding the ladder are thick enough to withstand time and force. You won't see the arms bend. On the contrary, they'll sit themselves into position as you go on using it.
These hinges will keep the ladders tightly pulled into the attic, and when pulled down, it will stay sturdy in position.
7. Little Giant Ladders, Project Tray, Ladder Accessory
Has Several Slots
The best thing about this tray is that it comes with all the slots you could ever have a need for. There is a special slot for keeping your machines in check – the screwdrivers, the drill machine – they will each have a place of their own, and you won't need time to look around for them while you work.
Special Slot For Paint Bucket
Your paint bucket is a disaster waiting to happen, right? Well, this tray has a special area pressed a bit further into the board – by keeping the paint bucket inside this slot, you will be able to keep it secure.
It won't just topple over with a slight brush of the hand. Rather, it will actually stay put in its place.
Magnetic Area
The tray has a rectangular side with magnetic properties. In this area, keep all your nuts and bolts safe. Do not worry about them slipping away because they won't be able to escape the magnet.
This is a great tray for you if you are someone who works with a lot of things at once. This provides a great area for keeping all the essentials in place.
8. Little Giant Ladders, Cargo Hold, Ladder Accessory
Easy Usability
This is a pouch that can be used on its own to carry your kit of necessities, and also as an accessory with the ladder. If you have this by your side, you won't need to transfer the tools and keep them away when your work is finished. Just unhook the pouch and carry it with you simply.
Two Handles At Both Sides
There are strong steel handles on both sides of the bag. These handles will help you to hang it up on any rung of the ladder as you see fit. You are really going to love the characteristic versatility of this pouch.
Sturdy
The pouch is not soft – the main material that has been used to make this is nylon. Nylon fibres are quite tough. As a result, the pouch won't hang inwards like cotton pouches. Thus, you will get a good amount of space to keep all your essentials without getting them scattered inside the bag.
If you want a pouch that can serve alone and also work as an attachment, then this is a good choice. However, we must say that heavy things like hammers weigh down on the bag, so you have to be a bit careful about keeping those inside. 
9. Ladder Accessories 604 Replacement Rubber Feet
Snug Fit
The rubber used to make these feet are quite incredible. They are cut thick, and they are quite susceptible to shape. You will find that these ladder feet will cling on to the metal levelers and keep everything very firm and stable for you. They will give you that sense of security that is required when working up on the ladder for long periods of time.
Replaceable Metal Plates
The metal plates on such ladder feet sometimes wear out and ruin the feet altogether. However, the metal plates that come with these feet are widely available, and they are going to be really easy to replace if they get worn out. 
As such, you will be able to use these rubber feet for a long time.
If you are using ladder levelers, you will definitely need these feet. Without them, the levelers will slip, and that would be uncomfortable.
10. Werner Ladder Lock-in Utility Bucket (Carton of 3)
Space for Storage
The width of this plastic holder is 13.4 inches, and it has a depth of 10 inches. With such proportions, the tool bucket will be able to hold tools like hammers and also keep tiny nuts and bolts safe inside. You can reach in to easily get a hold of anything you need.
Easy Installation
The bucket can be locked in position with a simple yet firm clip on system. This will be very convenient for you in the workplace because the setup takes almost no effort, and it will be a quick process for you as well.
If you want a simple bucket to take up the ladder with you to keep your tools in, then there's nothing better than this at such a price. Werner utility bucket is reliable, easy to install, and is exactly the kind of help you need. 
11. Werner AC19-2 Extension Ladder Covers
Protection From Ladder Marks
If you see the top of your ladder, you will see that some of them have very sharp ends. These ends can damage your walls when they are stood up against them.
However, when you put on these ladder covers, you won't have to be worried about the ladder keeping any marks at all. You can place the ladder up against any wall and peacefully finish projects.
Convenient
These covers have a very simple snap-on mechanism. You won't have to spend much time to get them up in place. Also, when you use them, you'll have to better grip on the ladder as it will work as support for you.
Resistant
No textile has gone into the making of this ladder. The ladder is made with wear-resistant plastic which is really tough, and sustainable. Thus, you'll be able to use these covers for a long time without stopping for replacements.
These covers are quite necessary for you if you see that your ladder is starting to leave dents around the house. These caps are quite comfortable and easy to use. Get them, give up the worry of accidentally damaging your walls, and work freely.
12. Werner AC30-2 Extension Ladder Replacement Rope
Flexible and Tough
Extension ladders rely quite a bit on their rope for proper functionality. Now, the rope that comes with extension ladders is tough but quite inflexible. This rope is not so. It has flexibility and toughness in equal measures. So with this rope, you will be able to use the pulley system of the ladder much more efficiently.
Good Length
The rope fits extension ladders that are up to 40 feet high! Oh, and not only does it fit, but you will also get a few spare inches and tie it properly down on the other side of the pulley for installation.
Easy to Install
The installation is quick, and all the steps are provided in simple steps. Just follow them and get the ladder into the pulley in no time!
Extension ladders work with a pulley system. Without the rope, your ladder won't open, and this rope has all the toughness required to keep the pulley system going.
Buying Guide
This guide will tell you about the accessories you can get for boosting up your sense of security while you're on the ladder. Irrespective of whether you are buying ladder accessories for roof or stairs, this guide got you covered.
Proportions of the Accessory
Whichever accessory you get has to be a good fit with your ladder. You might decide to get a scaffolding or a tray for your work. But if they have ill-suited proportions, then they will be of no use to you no matter how good they are as individual products.
The next part you have to pay attention to is the material used to make the accessory. When you buy something that is supposed to improve your safety, you have to give special attention to the strength of the material. You can't buy a set of ladder cap covers that get punctured under pressure – you have to choose wisely even if they cost you a bit more.
The installation has to be as simple and quick as possible. You can't spend 10 minutes getting the set up ready. This is especially true for construction sites, where you will probably be doing quite a bit of work.
Look for accessories that have snap-on locking mechanisms, or such easy features as that.
This is sort of similar to looking at the quality of materials. But there's just a little extra something that requires your attention here. Durability is ensured by the quality of materials and also by the way in which the accessory has been assembled.
You can't have a pouch, for example, with a soft bottom that droops when heavy objects are kept inside. So make sure that the materials, the rods, the arrangement, they all work together – only then will the product be desirably long-lasting.
Conclusion
Working on a ladder is unnerving, to begin with. But if you have a stable position, a stable tray to hold your essentials, and a good supporting scaffolding to hold you up, then everything is much less daunting.
There are many kinds of ladder accessories in the market. Anything you need can be found. Starting from ropes, ladder feet covers to trays – you can accessorize your ladder as much as you need.
So, we hope the list we have provided has the item you were looking for. Remember that you need to prioritize comfort and safety when you're up on a ladder. Choose your accessories wisely. Good luck with future developments!