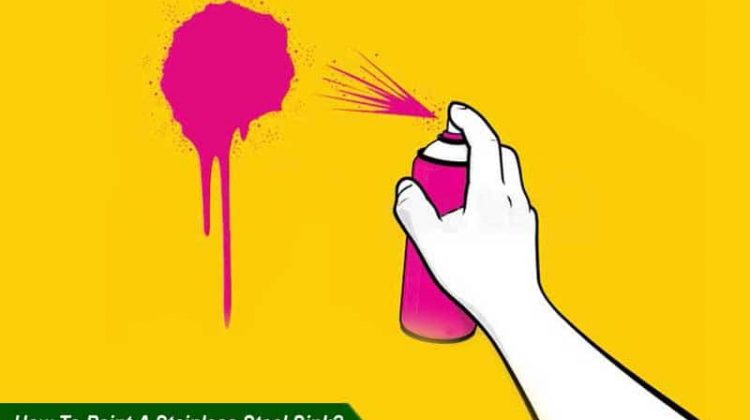 Stainless steel sink gets rusty looks throughout long time usage. Else, 80% of homeowners don't like the typical grey color of the stainless steel sink.
So, it might become a necessity to paint stainless steel sink to get back the shiny and classy look or match with the home décor.
Most of the homeowners across the globe buy a stainless steel sink, mainly for its clean, glossy look and corrosion resistivity. Though you've got the best stainless steel sink painting on them can be a bit difficult task as the stainless steel surface is completely smooth.
Do you know how to paint a stainless steel sink?
Luckily there are few techniques by following them you can get the task done easily. So, if you don't know then you can follow our below-described step by step guideline.
What Type Of Paint Do You Use On Stainless Steel?
The stainless steel comes in a nonporous nature. So, whenever you're going to choose the type of paint for the stainless steel, you must be careful about paint adhesion. As you've to apply the definite type of primer on the sink before you're painting on it, so any kind of paint will work or attach easily on the surface. Primer tends to bond the paint perfectly on the stainless steel metal.
Though most of the paint will be flexible for stainless steel, some of them still work best in every way. Like you can choose two-part epoxy paint coating for the steel surface. It assures you the best glossy and shiny look with the durable functionality.
How To Paint A Stainless Steel Sink Like A Pro?
Who does like scratches or grey color all over the kitchen stainless steel sink? We don't like that for sure and want to transform the sink into something that matches with our home décor, right?
So, this is the guideline for you to paint on stainless steel sink by yourself at home.
Start With Necessary Ingredients:
To paint your stainless steel sink expertly, get these ingredients.
Hand gloves
Eye goggles
Stainless steel paint
Epoxy primer or etching primer
Painting brush
Degreaser or steel cleanser
Painter's tape
Fine-grit sandpaper
Sponge
Utility knife
Screwdriver
Soft microfiber cloth
Drop cloth or plastic
Remove The Sink
If possible, remove the sink as it will make the whole process easier. First of all, turn off the water supply of your kitchen sink. Remove the water supply line and the faucet using a screwdriver, cutting through epoxy resin with the knife.
Keep all the parts aside safely. Place the sink on a flat surface and cover the floor with plastic or drop cloths. If there is any part you don't want to paint, cover that with painter's tape.
Scuff Up Your Sink
If your stainless steel sink has had years of abuse and showing signs of wearing, you can skip this step as the paint will adhere easily to this rough surface. And if your sink is relatively new and doesn't show wear marks, you must sand it before starting painting. To scuff up the paint effectively, you can rent a sander from a nearby home improvement store. And if you find it difficult to manage a sander, you can try doing manual abrasion. Take a wire sponge and scrape the stainless steel sink with it. But do it carefully to make sure you are not damaging the protective coating.
Clean Up And Prepare The Surface
So that you have scratched the surface of your stainless steel sink, it's time to clean the surface thoroughly. Clean it very carefully so that any dirt or dust is not left. This step is very important as it will determine how effectively the paint will bond with your stainless steel sink.
Simple dish wash or soap is not enough for cleaning the sink surface, here you would need degreaser or specialized steel cleanser. Both of these products are available at home improvement stores. Whichever you use, make sure to note the drying time suggested by the manufacturer and follow the same.
Get A High-Quality Primer
You can't just apply the paint directly on the stainless steel surface. You would have to coat your stainless steel with primer before applying color or paint. Because primer adds bonding agents to the surface of the stainless steel surface. You can use any kind of primer, but make sure it is rated for stainless steel.
Usually, white primer is used mostly, but you can also get a dark-colored primer if you intend to apply a very dark color to your sink.
Apply Your Primer
Stainless steel primer can be applied both manually and with the help of a sprayer. If you want a very smooth application, you should rent a spraying machine from a local home improvement store. Or else, you can complete the job manually using a paintbrush. Apply one coat of primer over the area you wish to paint. While using a spray machine, it's obligatory to paint in one direction so that it looks consistent. And hold the nozzle of the sprayer 12 to 18 inches away from the stainless steel.
After applying primer, allow it to dry completely before you start painting.
Now It's Time To Paint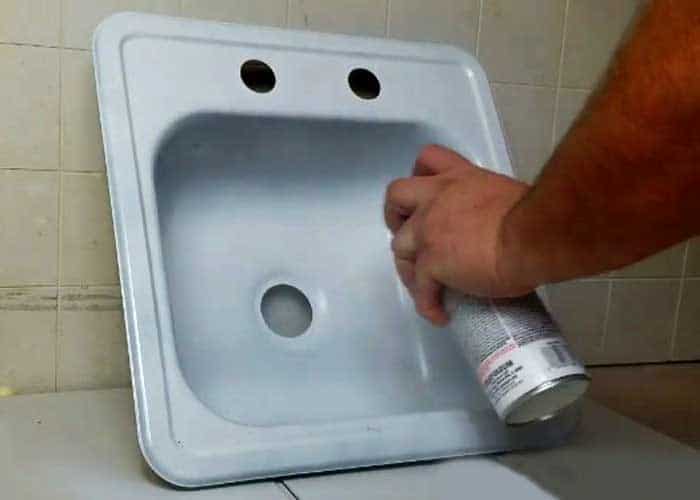 Once your primer has dried completely, now you can start adding layers of paint to your stainless steel sink. Various types of paints for stainless steel are available and you need to find quality paint for you. After applying one coat of paint, you should wait for drying the surface before adding another layer. Never try to get full coverage with a single coat. Because several thin coats are way much better than a single thick one, which can dry unevenly.
Just like applying primer, here also you've got two options to apply stainless steel paint on your sink. If you have used a paintbrush to apply primer, you should use the same here also. And if you have used a sprayer to apply primer, use that for painting purposes also.
Let The Sink Dry Completely
The manual of the paint should state how long the surface will take to dry completely. And if you couldn't find the direction, it'll be best to wait for 24 hours. Then, you can attach the stainless steel sink to the counter and plumb it back.
Apply Some Wax
Once the paint of your sink dries completely, consider applying a thin coat of wax over the area you painted. This wax layer will produce a hazy look. To ensure the desired look, find a high-quality wax that is specifically made to use for metalwork. Now buff the wax with a clean, dry cloth and seal it finally. Once the wax dries completely, you can enjoy working on your painted sink.
Apart from the above-mentioned method, there is some other way as well. Powder coating stainless steel, varnishing and applying nail polish are few of them.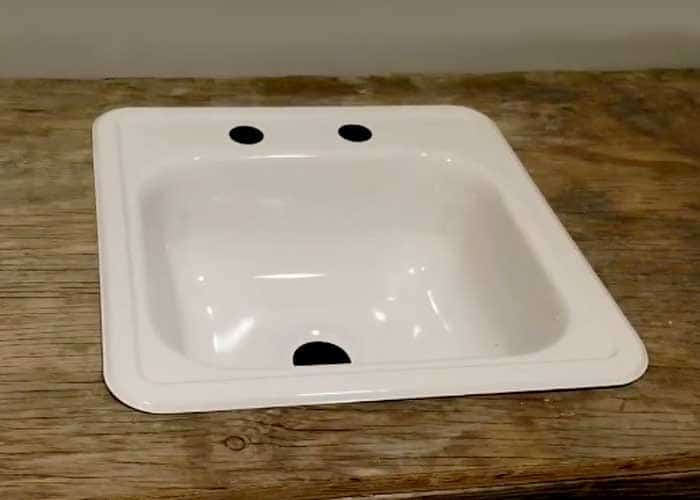 FAQ
Can I directly use paint on stainless steel?
You can't apply paint on the stainless steel material directly. Since the stainless is tend to have a polished surface, it needs a lot of preparation before applying the paint.
Can I use acrylic paint on stainless steel?
It's the wrong decision to use acrylic paint on stainless steel. Acrylic paint gets rusty and washes away being engaged with water or rain.
Can I use spray paint on a stainless steel sink?
If you want to use spray paint then you can do it. But you've to make sure that you've applied the primer before applying spray paint on stainless steel material.
Is powder coating more durable than paint on stainless steel?
Yes! You get durable performance from powder coating paint than wet paint.
Conclusion
​So, now you know how to paint a stainless steel sink. Wasn't it easy? To paint your stainless steel sink perfectly, all you need is the patience to follow each step precisely. If you follow each step properly, you would be able to get the job done effortlessly and save a good amount of bucks.
Now, you can relish the beauty of a stainless steel sink like the way you want!