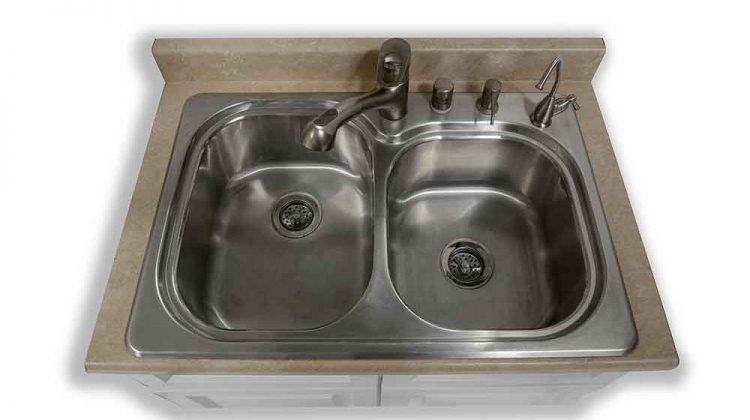 Stainless steel is resistant to stains to some degree, but it's not completely impenetrable. When you are using the sink every day to clean your dirty dishes, the gritty water will have impediments that will leave a layer of color on your stainless steel sink.
Therefore, you must make sure to clean it every day.
But how to remove chemical stains from stainless steel sink? You can't just go in with steel wool and go at it – that will damage the surface and cause all other sorts of problems that you probably would very much despise to deal with.
So, without causing more damage to root out from a single one, let's dive into proper solutions. Let's check out some viable options that will help to do a thorough cleaning of the steel surface without causing further damage to it.
Types of Stains
Well, if you are wondering what can stain stainless steel, then the answer is 'loads of things.' You're probably doing it to your own sink without knowing.
But some stains are forever, whereas others can be cleaned and washed away. You can help both cases by being cautious and knowing about the different types of stains that stainless steel is so often plagued by.
This problem that is more commonly known as hard water is a primary problem that will occur in most of every modern household. Water naturally contains a lot of mineral deposits, like calcium and magnesium. And these are good for our health too. All water contains these minerals.
However, this mineral containing water evaporates from the surfaces where they have fallen but leave the minerals behind. Over time, these minerals accumulate and show up as a film of white residue. The residue might have different colors, as well. Each mineral leaves a different layer of colored residue.
If you see any build-up of residue that is white, black, reddish, or even greenish in color, then know that you are dealing with stains caused by evaporated mineral-rich water.
Do not leave these stains as they are because, over time, they are going to make your sink look dull and lifeless. They will absorb the fatty impediments of food more regularly, and make the sink area very unhygienic.
This type of staining is not very common, but most of us don't realize what they are, and they are quite irreversible.
Pitting is much more serious than hard water residue because this is caused by chloride ions from water settling into the steel surface by eating away the ions of the metal used in stainless steel.
Most of the chloride ions come from table salt that is used in making food. If you leave food on your dishes and then keep those dishes in the sink for a long time, then this might happen.
Your sink might also get it from tap water that contains a high concentration of chlorine bleach.
In appearance, pitting will look like tiny indentations on the surface of the steel. The problem with these is that you are most likely to not notice these until there are too many of them for you to fail to take notice.
Once pitting starts, it will start to eat away the layer of chromium oxide on stainless steel and leave it open for water and air to further corrode the steel once the chromium oxide layer is broken. So, this is a problem that will spread very fast if allowed to take place once.
This happens when you let salty water collect in the sink. The salt has a lot of electrolytes, which makes it capable of carrying charge. Now, if the sink has any other metal like aluminum in it, then the electrolytes will carry charge over between the two metals, and this will lead to the formation of rust.
Once rust starts forming, your sink is doomed. It will have the stain forever, so try not to let this happen.
This is also a pretty common problem that causes sinks to stain. Any acid which has a pH value lower than 1, can start the process of acid staining.
But acid can clean fast and effectively as well. This is why many cleaning agents nowadays come with strong acid – they are sold as a means of cleaning your sink, which they are capable of doing. But what acid also does is cause a sort of staining on the steel that is going to make it look dusty, underkept, and unclean.
No matter how much you scrub, you won't be able to get the shine back on because the acid causes discoloration on a structural level.
To avoid this, be wary of the cleaners you use. Stay away from cleaners that have a high proportion of sulfuric acid in them.
Unlike the other ones discussed above, this type of staining is just entirely on us – iron staining happens when the sink is cleaned with steel wool.
No matter how much fat gets deposited on the sink surface, you simply should not use steel wool to scrub that away. The steel wool not only scratches the chromium oxide layer of stainless steel, but some bits of it break off into fine particles which penetrate the surface and stay there.
Being so small, they often go unnoticed until gradually they cause a big rust formation from which there is no turning back.
Bleach is often used as a disinfectant to clean surfaces that cannot afford to get infected. The sink is such a space, so you might be using bleaching agents occasionally to keep up the hygiene of the kitchen. However, if you do that, the effect might be quite contradictory.
Bleach contains sodium hypochlorite, which quickly reacts with carbon dioxide to produce chlorine gas. Now, this gas is a strong oxidizer that will react with the oxide layer of stainless steel and then with the metal in it. That will inevitably open it up for further corrosion of all kinds.
To get rid of bleach stains, you have to give your sink a quick rub with it and then let a lot of water run on it. The water will wash away the bleach and stop it from binding with the oxide layer. And if you do notice any discoloration, then you have to scrub it all away. If the corrosion is only just begun, then you'll be able to get it off.
Once you do, the steel will reform the chromium oxide layer and heal itself. But remember, scrubbing will only work if the corrosion is only surface level. So if you absolutely must use bleach to clean the sink, then you must finish the whole thing very quickly.
The Importance of Removing Stains From Steel
If you are investing in a sink, you probably want it to last a long time. It is not often that we want to take the trouble and the time to replace something that is as permanent to the house as a sink.
This is why it's important to remove stains, or rather to prevent stains from forming on the surface of the sink. If the stain sits on the surface for too long and then starts to settle in it, then it will become a magnet for more stains and filth.
First of all, the stain bonds with the steel chemically. So this will take away the oxide layer of the stainless steel and leave it open for rust and corrosion.
Secondly, microbes and tiny bugs will settle in the rust, feed off of it and form a whole colony of their own kind. When this happens, consider the cleanliness of your kitchen compromised. Bugs attract more bugs, so it will be a rather growing problem for you.
The kitchen should always be hygienic as that is the place where all the food is made.
Also, if you want low maintenance set up where bugs can't infest that much, then it's better to get an undermount kitchen sink. But regardless of that, regular cleaning is a must for all sinks.
How to Remove Stains From Stainless Steel?
Every problem has a solution, and so is the same with these stains. Follow the following advice, and you'll be able to restore the glisten and shine of your sink.
You should be cleaning your sink regularly, even if you don't see any stains on the surface. A regularly polished shiny surface will be less likely to hold on to stains.
This is a general procedure that is to be applied weekly.
Step1: Put baking soda into the dish soap you use for your dishes, mix, and make a paste.
Step 2: Take a microfiber cloth and soak it in the mixture to pick up the soapy soda.
Step 3: Rub the surface of the sink with the soap-soaked cloth by making gentle but firm motions.
When you are rubbing the soap on it, take note of the direction of the steel's lines and rub along those lines to avoid leaving random scratch marks on the surface.
You can also use a soft-bristled toothbrush here to scrub the corners and other unreachable parts.
Do this every week, and you'll have no reason to worry about your sink going rusty or dull.
If you buy a stainless steel sink and it soon starts to become dull or catch rust in some parts, then identify the reason for it by consulting the section above about the types of stains. And then apply any of the following procedures that you specifically need.
Procedure 1: Remove Mineral Stains From Sink
This is good for deposits of iron, calcium, and manganese.
You will need to take some white vinegar for this. White vinegar is a very mild acid that only reacts with the stains but not with the stainless steel or with the oxide layer. So, it's safe.
Step 1: Clean the sink by using the general procedure, but do not wash away the soapy soda. 
Step 2: Put the vinegar on the areas with rust or corrosion over the layer of the soda. The vinegar will react with the soda and act as a binding agent with the superficial rust. 
Step 3: Leave it there for some time to finish reacting, and then wash away the liquid with a lot of water.
If the rust was only on the superficial surface level, then it could be gone by now. If it doesn't go away, then the rust has reached deeper into the steel. In that case, continue to use this procedure to slow down the rate of corrosion.
Procedure 2: Remove Rust Caused By Abrasive Washing
This is for you if you have used steel wool that has broken off by bits and gotten stuck in the superficial layer of the sink's surface while you were cleaning
Step 1: Buy a cleaning solution that does not have sulfuric acid but has oxalic acid instead.
Step 2: Take some of that cleaner and pour vinegar into it to make a mixture.
Step 3: Pour a bit of the mixture to cover the areas where the steel wool bits have gotten stuck.
Step 4: Let it sit there for an hour or overnight and then put some more vinegar on it. 
Step 5: Let that sit on it for some time, and then wipe the area firmly down with a cloth. Any tiny pieces of steel wool that got stuck in it should now cleanly come out of the dents they've made.
Procedure 3: Remove Bleach Stains, Acid Stains, and Iron Stains
If you are suffering from the counterproductive effects of using too much bleach on your sink, then there is a remedy that goes as follows.
Step 1: Wipe the whole sink dry and then merely dampen the area where the stains are.
Step 2: Pour baking soda directly onto the stains, and spread it out in an even layer.
Step 3: Let it sit for 1 hour. 
Step 4: Put a bit of water or drops of lemon juice on the soda, and after the fizzing stops, start scrubbing with a sponge.
Step 5: After scrubbing, wash away the baking soda with water, and the stains should now be gone.
Procedure 4: Deal with Pitting Stains
We say 'deal with' and not 'get rid of' because pitting actually refers to the formation of tiny pinholes in the sink's surface. The best way to avoid this problem is to prevent it from occurring because there is no practical cure here.
Avoid letting pitting start. For this, you have to be mindful of your cleaning habits. Never use steel wool or any other abrasive material to clean the sink, do not let water collect in the sink for too long and also do not leave undone dishes in your sink for a long time.
To slow down the problem, you can also put some salt in the areas where pitting has started. This will deprive oxygen of the area, and thus the reaction for pitting will not be able to occur.
Conclusion
Hope you have now learned how to remove chemical stains from stainless steel sink.
There is no telling whether the rust or corrosion has already reached the deep layers of steel before you notice it. And in case that happens, none of the procedures are likely to work. Rust cannot be undone; it can only be prevented or slowed down.
So, we'd say nothing can beat regular cleaning. Make time for that every week, and you won't even have to take any of this hassle.
Good luck!