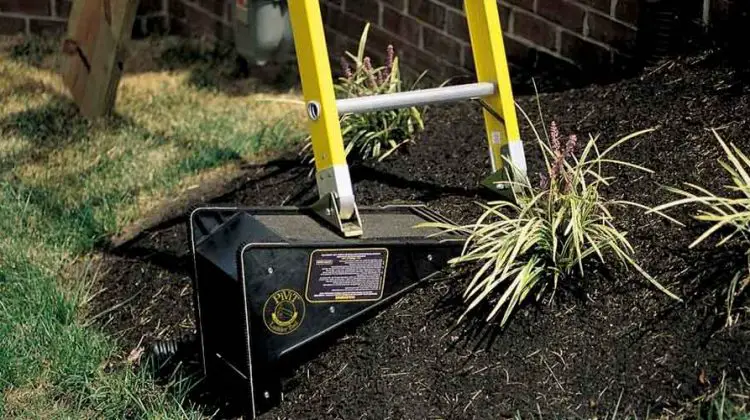 In our opinion, ladders are one of the most important inventions to have graced human life. Suffice it to say that this piece of equipment has equal relevance in both the homes and workplaces of most people.
If you use your ladder frequently, though, chances are you've run into situations where it's actually more dangerous than convenient to use the ladder. Yes, we're talking about bumpy planes, staircases, or uneven concrete, amongst others—the worst enemies of a ladder, especially one with misaligned side-rails.
As a solution to this problem, today we present 6 of the best ladder levelers. As the name suggests, a ladder leveler allows you to match the height and alignment of your ladder with whatever uneven surface you're dealing with.
Typically, tradespeople (such as carpenters and painters) and DIYers will benefit most from this product… but you never know when the need arises to use your ladder on an uneven surface, so we'd recommend considering purchasing one.
Find our reviews below, along with a comprehensive buying guide.
As far as permanent ladder levelers go, the LeveLok Ladder Mount Style Leveler definitely stands out for its unique and innovative self-leveling mechanism. Its strong aluminum construction, combined with attached triple-plated pivoting clawed feet, make it suitable for a large variety of outdoor and indoor uses. It's built for ultimate safety, meeting or exceeding relevant OSHA and ANSI safety requirements. It's compatible with the vast majority of ladder types, as well!
Sporting a robust steel construction, the permanent mounting LADDER ACCESSORIES 600C extension ladder with adjustable legs resembles stilts for your ladder. Its base pads are made of durable silicone that helps you keep your balance as you work. With an extension height of 8.5 inches, these levelers are great for both domestic and professional use.
6 Best Ladder Levelers Reviews
After spending hours researching and discussing available ladder levelers on the market, the following 6 are the ones we came up with. We hope our reviews help you!
1. ProVisionTools PiViT LadderTool Extension Ladder
Built with durable materials for ultimate strength and stability, the PiViT LadderTool is one of the most highly-rated ladder levelers out there. Here's how it got its good name.
Heavy-Duty Specifications
Your ladder is a serious business, and so should your leveler be! This tough guy is able to accommodate up to 500 pounds of weight. So whether you're using this thing for its intended purpose or as a step tool, you can rest assured it won't topple.
Sturdy, Dependable Construction
The robust construction of the PiViT LadderTool is one of its winning features: it's made primarily from polypropylene, while the non-skid material helps you keep your stability. This is further facilitated by rubber gripper feet on the leveler's bottom.
Offers Multiple Uses
The PiViT LadderTool is nothing if not versatile. It's suitable for use on nearly any and all terrains, be it rooftops, stairways, or uneven concrete. It also doubles as a platform which can be hooked onto your ladder's rungs.
With its rugged construction, compatibility, ease of use, portability, and super strength, it's easy to see why this is such a popular ladder leveler. However, it might be a bit too expensive for some.
2. LADDER ACCESSORIES 600C
If you're searching for a ladder leveler will suited to domestic purposes, then this pair from LADDER ACCESSORIES is sure to stand out to you.
Easy to Use
These levelers only require a one-time installation to the selected ladder of your choice. All you have to do is attach the leveler to your ladder's feet, and you're good to go. Oh, and you can also adjust the height, and then lock it for safety.
Versatile and Usable
One of the reasons why this pair of ladder levelers is so popular is because it can be used in many different applications. Extending up to 8.5 inches, they're perfect for use anywhere, be it on an angled roof or by the side of the house.
Built for Stability
Made from hardy, durable steel, these levelers are bound to last you for many years to come. Its base pads are built from silicone, which is what allows the levelers to stay firmly in place as you work.
Strongly built, versatile, and portable, this is one of the best ladder levelers you can get for the money; and of course, its universal fit is convenient, too. Just don't use it on a slippery surface!
3. Levelok Quick Connect Ladder Leveler Kit
Complete with leveler having a strong aircraft-grade aluminum body and sturdy side mounting brackets, this kit is a complete solution to your ladder-leveling needs.
Dependable and Resistant Build
No matter what sort of uneven ground you're attempting to use this leveler on, your safety is ensured thanks to its aircraft-grade aluminum construction. Not only does this offer super strength and stability, but the levelers also have a protective coating to guard against rust.
Convenient and Easy Usage
This kit from Levelok includes one leveler and two base mounting brackets, which are to be attached to the ladder's sides. This means you can avail of the use of the leveler whenever required. Although switching the leveler's side can be time-consuming, it's still a convenient set-up.
Fits Most Ladders
These levelers are designed to fit the majority of ladders out there. No matter whether your ladder is made of wood, fiberglass, aluminum, or whatever else, this leveler will most likely fit it with ease.
Although its ease of use is debated by some users, on the whole, this is a very dependable leveler. Given the price, the kit should come with 2 levelers instead of 1, but its structural integrity makes up for it.
4. Ideal Security Ladder-Aide
Widely recognized as one of the most dependable ladder levelers, the Ladder-Aide provides the best leveling solution for professionals. Here's a rundown of its features.
Compatible and Versatile
One of the most prominent features of the Ladder-Aide is its compatibility with several ladder types. Whether your ladder is an extending, telescoping, or straight type, this leveler will be compatible.
Convenient and Easy
Unlike mount-type ladder levelers, the Ladder-Aide does not require any prior installation. So not only will your ladder stay unmarred, but you'll be able to set this leveler up with ease in just a few minutes. No need to compromise your mobility on the job!
Built for Professionals
As this ladder leveler compatible with most ladder types, it's the perfect match for professionals, even more so because of its lightweight and portable build. It can accommodate ladders having a width of up to 19 inches and feet of 4.5 inches. It'll work with stairway steps between 5.125″ and 7.875″ in height, and between 8.268″ and 13.975″ in depth.
Thanks to a superiorly sturdy build, convenient usage features, and portability, this is our top pick in ladder levelers for professionals.
5. LeveLok Ladder Permanet Mount Style Leveler
This leveler has more to offer than just a catchy name. Adaptable, safe, and strong, the LeveLok mount-style leveler has earned its high rating fair and square.
Reliably Safe and Secure
Equipped with robust aluminum construction, the LeveLok is built for safety. Even in difficult terrains such as ice or gravel, you can depend on this leveler to stay in place using its triple-plated clawed foot, which not only pivots but can be flipped back. Furthermore, it has a weight capacity of 375 pounds.
Adaptable and Convenient
One of the best things about this leveler is that it's usable in most outdoor and indoor situations, with an extension height of 10 inches. No matter whether you have a fiberglass, aluminum, combination, articulating, or sectional ladder, this guy is your friend.
Permanent Solution
As a mounted leveler, the LeveLok has to be permanently attached to your ladder's side rails; although some users might think this an inconvenience, in the long run, it's a dependable, long-term solution if you frequently need to use your ladder in unfamiliar situations.
With high-quality, durable construction and ease of use, this permanent mounting ladder leveler is the perfect match for frequent ladder-leveling needs, although it is expensive.
6. Werner PK80-2 Master Pk80 Automatic Ladder Leveler
With a unique self-leveling mechanism, this is one of the most convenient ladder levelers we have come across during our research. But that's not all–keep reading for more great features.
Smooth Self-Leveling Mechanism
This permanently mounted ladder leveler offers compatibility like almost no other we've found. The levelers adjust themselves automatically up to 8.5 inches; although the process takes some getting used to, all you have to do is set the ladder down on some uneven ground and let the levelers slide down and lock automatically.
Fortifies Ladder Base
A ladder with the Werner levelers attached will be 3-3/4 inches wider, and will also be heavier at the bottom. However, if you frequently experience ladder-leveling needs, this can actually be a huge convenience!
Safe and Secure
Beyond their dependable fiberglass construction, these levelers have been designed for your safety with their auto-locking capability. The bolt-and-nuts installation process further ensures a secure fit. And yes, this leveler meets OSHA standards, so rest assured!
We like this product particularly because it combines, with ease, all necessary features of a great ladder leveler with its unique self-leveling capability. It's mainly suited to professionals, however, as it's a permanent, heavy-duty fixture.
Buying Guide
The purpose of a ladder leveler is to be convenient, safe, and easy to use. So make sure you keep the following factors in mind when deciding on one for yourself.
Ladder Leveler Type
Ladder levelers come in two main types: mount and wedge. Let's have a look at each in turn.
The most common type of ladder leveler mechanism is the mounted kind. These usually make use of side-mounting brackets, which must be installed permanently into your ladder to hold the leveler in place.
With adjustable heights, they're convenient to use in many different applications. Some stilt-like mount-style levelers, which come with silicone pad bottoms, offer great stability but aren't compatible with slippery surfaces.
Wedge-style ladder levelers are ideal for use in light-duty applications. This is because, although they provide superior stability, they aren't as adjustable for height or positioning. However, they can be used in various domestic situations, such as roofing or even on stairs. Plus, they usually provide a more dependable universal fit.
Or, you could skip both these types and opt for the IdealSecurity Ladder Aide, which has a patented right-angle design!
Height of Extension
In order to match your needs, your ladder leveler must be able to extend to the required height. Especially if you're searching for a ladder leveler for stairs, you need to consider the height intervals between the steps of your home's staircase. Thankfully, most levelers can extend up to 10 inches.
Quality of Construction
Your safety, while using ladder levelers, should be your first priority. Accordingly, it's crucial to pick out a leveler which is made from durable, dependable, and resistant materials. Particularly for levelers with multiple parts, it's important to check the construction material.
The majority of levelers, regardless of style, are made from steel or aluminum. These are sturdy and long-wearing for sure, but look out for protective coating if you want to avoid rust.
In the case of a ladder leveling wedge (such as the ProVision Tools, PiViT Ladder Tool), however, polypropylene or other sturdy plastics are preferred. Honestly, the best-made levelers cost a little extra, but it's a worthwhile investment.
Weight Capacity
Whether or not your ladder has a high weight capacity, your leveler definitely should, as it will be holding up both you and your ladder in precarious positions. However, this also depends on the intended use.
While some professional-grade levelers can accommodate weights of up to 500lbs, that isn't required for most domestic purposes, so you can settle for something like 300lbs. The best method is to consider your body weight and the ladder's weight together to find the right fit.
Portability
Last but not least, it's important to many that their ladder leveler should be portable. Especially if you're getting one for professional purposes, it's important to choose a model that doesn't weigh you down. However, be careful you don't end up sacrificing structural integrity for a lightweight body!
Conclusion
So that concludes our look at the 6 best ladder levelers to be found currently on the market. The LeveLok Ladder Leveler, as we discussed at the beginning, is our favorite; but don't let that stop you from considering other models.
The Ladder-Aide, for example, is definitely one of the most popular choices on the market, thanks to its patented design. And on the topic of wedge-style levelers, we'd also recommend looking into the ProVisionTools PiViT LadderTool.
Whichever you choose, make sure it's safe, dependable, and durable. Good luck!