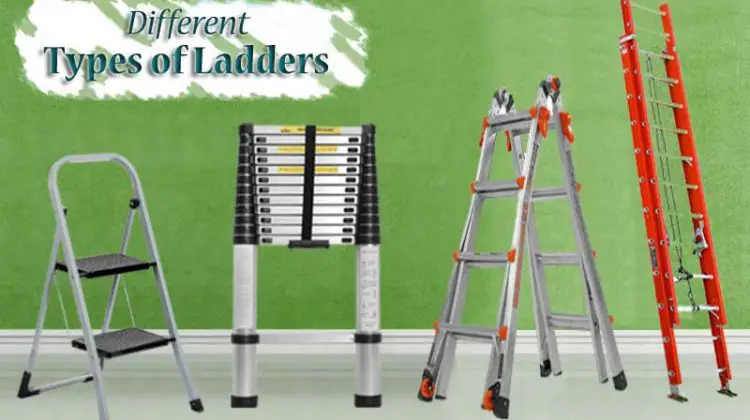 Whether it's complex DIY projects or something as simple as reaching the attic trapdoor, ladders are an indispensable part of most households. And for professional contractors, well, a ladder-less life is probably impossible to imagine.
One of the best things about modern ladders is the unfettered variety in which they're available. The different types of ladders today exist for a number of functional purposes. Starting from simple step ladders to more sophisticated telescoping ones, it seems there's a ladder suited to every job.
It can help to know the functions and capabilities of each type of ladder as you navigate your domestic or professional landscape. Find below a rundown of the 10 most used and useful ladders.
10 Different Types of Ladders and Their Uses
Below, we've laid out the 10 most important ladder types, along with an illumination of their uses and practicality. How many types do you already know?
The most common type of ladder seen in homes, the step ladder is so called because of, well, its steps. The two sets of steps come together at the top with the help of what is sometimes called a "spreader," which determines how far the two sides can be moved from each other.
Step ladders are perfect for accomplishing menial domestic tasks such as changing light bulbs or reaching for objects on high spots. They're self-supporting, so they can be taken anywhere; plus, the "feet" of the ladder are typically supported with anti-skid material. Step ladders can vary greatly in height.
Typically, step ladders come in two main types: the simple-front and the twin. The simple-front ladder has rungs only on one side, with the other side existing for purposes of support. The twin step ladder has rungs on both sides.
Extension ladders are characterized by the option to have their height extended when needed, hence the name. These are a bit less secure in comparison to step ladders, as they can't support themselves; despite this, extension ladders are commonly seen in domestic situations.
An extension ladder has two components: the base and the fly. The base is the part of the ladder that comes into contact with the ground, while the fly refers to the part of the ladder that can be extended. The fly is typically supported by hooks, a rope, or a pully system.
When it comes to proportions, these ladders offer a large range: you can find extension ladders measuring anywhere from 16 feet to over 40 feet. So as you can imagine, the best extension ladders can come in handy in a variety of domestic and commercial situations.
If you've ever been acquainted with the best telescoping ladders, you'll know that they're super convenient. Just like the telescope, which is its namesake, such a ladder is able to be extended or shortened to great extents.
The way a telescoping ladder works is that it has to be slid up or down using sections within the ladder. So if adjustable height and flexibility are what you're after, then a telescoping ladder is what you need.
The mark of a good telescoping ladder is a functional and fail-safe mechanism by which its rungs can be secured in place. So if you're going to get one of these, we would not recommend going for a cheaper option as their structural stability is a bit questionable.
What do you see in your mind's eye when you hear the word "multipurpose ladder?" Maybe a shape-shifting, high-functioning thing with several legs, rungs, and attachments? In truth, you're not far from imagining what they really look like.
A multipurpose ladder mainly combines the functionality of a step ladder and an extension ladder. Accordingly, they can come in self-supporting styles, but sometimes they also need to be supported against a stable surface. This type of ladder is well-suited to heavy-duty DIYers and commercial handymen.
The most sophisticated multipurpose ladders have the ability to be used in many different positions; usually, more complex, the more expensive. One advantage of multipurpose ladders is that they're typically very easy to store, as they can be folded.
Also called a loft ladder, the design of an attic ladder means that it's meant to be installed in the attic floor or, alternatively, the ceiling right below the attic. These ladders are retractable, able to be extended down when required. The best attic ladders are made from sturdy and robust materials as they have to hold their own.
If it isn't obvious, attic ladders are meant to stay put, so you won't be able to use them for any purpose other than getting into your attic. However, thanks to their collapsing design, these ladders are not limited to being used in attics. Since they articulate on hinges, you can use them to gain access to any crawl space or even a basement.
Platform ladders are some of the most convenient ladder types to exist, at least in our opinion. Imagine a step ladder, but with wider steps that allow you to be perfectly stable as you stand on them. These are the "platforms" from which the ladder derives its name.
This type of ladder also comes with a guardrail 2-3 feet above the last platform, which facilitates safe climbing and standing. Something else we love about platform ladders is that they are available as stationary and mobile models, the latter of which is made possible thanks to caster wheels.
If you're given to undertaking long periods of intensive DIY work or if you're a contractor, then you'll no doubt appreciate the benefits of this ladder.
The articulated ladder is mainly defined by its portability and versatility. The best thing about an articulated ladder is that it can be folded with great ease, making it super easy to store. The best ones also allow you to adjust height effortlessly, making them ideal for use in day-to-day tasks.
The versatile design of an articulated ladder is facilitated by a series of locking hinges which secure it. These are the same hinges that can be manipulated to change the shape and height of the ladder according to your needs. Plus, articulated ladders also tend to be quite lightweight, which is always a plus in domestic situations.
Undoubtedly one of the most versatile types of ladder to exist, the flexible ladder wears its functionality in its very name. It differs entirely from the conventional ladder in its design and structure, as its frame is typically made from nylon rope or other similar materials.
A flexible ladder is meant mainly to facilitate escape in the middle of an emergency situation, e.g., a fire. As such, these ladders are typically stored by the window or in easy-to-reach spots from where they can be easily extracted.
One prominent advantage of flexible ladders is that they're extremely portable. This means that you can also bring them along on recreational trips, etc. And of course, they're very easy to store as well. However, flexible ladders are, of course, much more difficult to climb and get a proper foothold on.
This type of ladder usually has as its main feature a set of wheels. The design is similar to that of a step ladder, but with a completely self-sustained support system which makes more of a pentagonal shape than an A-frame.
Portable ladders can come in many varieties, with some having platform ladder-like features, such as a guardrail. These ladders are typically helpful in warehouses and in under-construction buildings and are considered too large and ungainly for domestic purposes.
We've saved the smallest for the last: the step stool. Although not a ladder in the truest sense, a step stool offers the same basic functionality of a ladder, in that it gives you an extra foot or two of height. Step stools usually don't exceed two steps and are typically foldable. That makes them ideal for domestic use, and you'll frequently see them in kitchens, basements, or attics.
Conclusion
With your new-found knowledge of the different types of ladders, we bid you now go forth into the world of convenience and practicality. Whether it's a long-overdue DIY project or simply greater ease in carrying out contracts, the right ladder can make all the difference. We wish you good luck with finding the right fit for yourself.