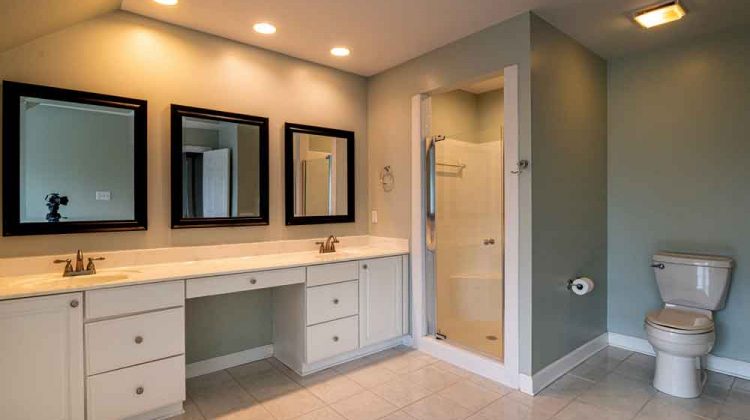 The bathroom is a sanctuary and let no one tell you otherwise. It is the one place where you can choose to be alone whenever you want. So make sure that it's a nice place to be in.
One of the first things that dictate the mood of your bathroom is its lighting. If you know how to light a bathroom properly, you will have creative controls over it. You can make your bathroom cool-toned or warm-toned to suit your mood.
The design of the light fixture is also an important decision. So, let's dive into all the details and see all the ways in which you can install the correct lights in your bathroom so that it has an uplifting effect on you.
How To Light A Bathroom?
Let's discuss the different ways you can light your bathroom. 
Install Light in Layers
Layering is not only cool when it comes to clothes; it's cool in terms of lights as well. Installing one single light bulb to illuminate the whole bathroom is a thing of the past, and to be honest, it looked quite dull too.
One way to instantly give the bathroom a more cheerful look is to add lights to it in layers. There are three layers that we are primarily going to talk about.
This is the light in the vanity area. In other words, it's the light that you put on the bathroom sink area so that you can see yourself best in the bathroom.
Now let's admit it – a bathroom mirror is a place where a lot of important things happen- you give yourself pep talks, face your worries, go back to all your lost conversations, and make yourself win.
It's an instant boost of energy, and it's most usually the first place where we find ourselves after and before going to bed.
So, having a good task light is instrumental.
Try adding two lights, each in the outer 1/4ths of the mirror. The lights should be at eye level so that they don't cast shadows on the face. With a shadowproof task light, your face will be illuminated in the best way for shaving, make up, and so on.
This is to beautify the bathroom. If you have added decorations to the bathroom, then you can place accent lights over them to make it pop a bit more.
Accent lights are used to accentuate parts of the bathroom where you want to direct attention to. So if you have plants in the bathroom or a magazine rack, then you could place lights over there to bring those parts up. This will also add depth to space and make your time in it a more relaxing one.
This is the type of lighting that will plainly illuminate the whole bathroom. It will serve as the primary source of illumination of the entire space, while task and accent lighting will bring up the ambiance inside.
Now, the fun part is that you can make this as decorative as you want. You can go with multiple recessed ceiling lights to do this, or mimic the look of candlesticks on the wall by using sconces of fancy design, and so on.
Select the Correct Color Temperature
Color temperature is important because it affects the subconscious receptors of our mind. It is the tone of the light. To elaborate, there can be a blue hue to the light and then can be an orange hue too. Of course, these won't be bright orange or blue, but just a slight tint behind the whiteness of the light.
You have to find light bulbs with just the right color temperature, or it'll make you uncomfortably dull or uncomfortably warm. 
The best range, in terms of color temperature, is lights that are 2700 to 3000 kelvin on the color scale. At this range, you will have a warm incandescent light that will be the most flattering to your features and the most calming on your nerves.
Pay Attention to the Color Rating Index
Commonly known as CRI, this is a measure of the number of different colors that the lights in the bathroom can illuminate correctly. If the CRI of your bulbs is low, then colors won't look accurate. This will create a dull effect on your mood and also make your facial features less flattering.
So, it's important that you check the CRI of the light bulb before you buy it. The safe way to go is to get lights that have a minimum CRI of 80. But you can also go with bulbs that have a higher CRI than this. The more CRI a bulb has, the more accurately it will be able to reveal colors to your eye.
Get Lights That Are Certified
If you are not keen on wasting money on fancy light bulbs that go out in a few months, then you have to lay an eye on the certification that the light bulbs have. The most common and reliable certification is a rating by Energy Star.
An Energy Star rating means that your light bulbs were tested and have proved to be effective and efficient for long term use.
Tips to Keep in Mind When Lighting a Bathroom
Here are some tips that you can follow when lighting a bathroom.
Do not use a single light source
No matter how small the bathroom vanity mirror is, never use a single light source to illuminate it. No vanity light is better than a singular light. A single light bulb on the mirror will cast shadows on your face and make you older.  And it may also impact the looks of the bathroom faucets.
If you want to add a simple hint of fancy elegance in your bathroom without spending too much, then lighting bathtubs is the simplest way to do it. Another great option is getting a bathroom exhaust fan with light.
They are easy on the eyes because they provide a very soothing illumination from behind cabinets. They'll help you see without waking you up from sleep when you go to the bathroom in the middle of the night. 
Conclusion
Now, that's all you need to know about bathroom lighting. We've included all the major pointers necessary and tried not to over complicate this task for you. We hope you now have a clear idea about how to light a bathroom in the right way so that both you and your bathroom look good.
Remember, decorating is the first step, while proper upkeep and hygiene are the main indications of the quality of your lifestyle. So, make sure to take care of your bathroom and keep everything clean. Good luck!